These Halloween cocktails are frighteningly fun to mix up.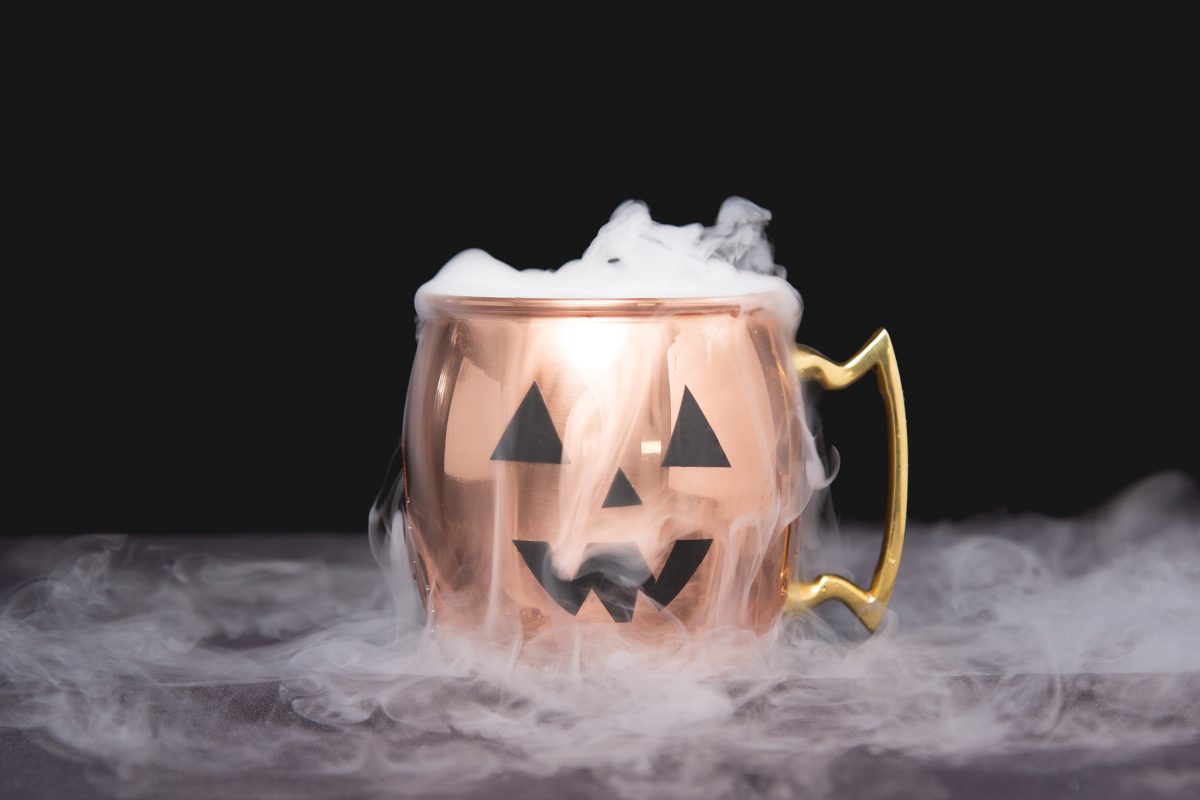 Looking to add extra spooky touches to your next Halloween party? Try these 10 scary good Halloween cocktails. From crowd pleasing punches to sophisticated martinis, these delicious Halloween drinks will both charm and frighten any party going guests.
---

Searching for something spooky for your guests to sip on this Halloween? Look no further than the Ghostly Spirit Shooter. Made with vodka, white chocolate liqueur and topped with a ghost marshmallow– this dessert-like Halloween cocktail will be the costume winner of the night.
---

Vodka + sprite with a syringe of grenadine – this drink will be easier to make than your last minute Halloween costume. Prep a few ahead of time to get your Halloween night started!
---

At Halloween time, moscow mule mugs are especially appropriate given their vague resemblance to pumpkins. To play up that likeness at your next Halloween gathering, all you need is an exacto knife, some black electrical tape and a little dry ice.
---

Still hungover from your last night's Halloween party? This classic cure-all, Corpse Reviver No. 2, may bring you (and some ghostly spirits) back to life.
---

What better excuse for indulging in a dessert-style martini than Halloween–a holiday premised on the overconsumption of chocolatey treats? This take on the classic Chocolate Martini steps things up with homemade cookie-infused vodka and marshmallow simple syrup for a cocktail that ends up tasting like a boozy Oreo.
---

Who said Halloween fun was just for kids? Spookify your next adults only Halloween get together with this sweet, yet tart, spiked Halloween punch. While the preparation is simple (less than 10 minutes) the lychee 'eyeball' garnish will be sure to leave an impression.
---

Looking like it could be right out of the Tim Burton movie, the Sleepy Hollow Cocktail is a classy addition to any Halloween party. With its smoky flavors from the Mezcal and sweetness from the Allspice Dram, the Sleepy Hollow Cocktail is an easy seasonal sipper.
---

A rich, cognac-based cocktail with a touch of creme de cacao and chocolate bitters. It gives nod to the fun of childhood while still catering to a grown-up palate. Think of it as the dried fruit and nut dark chocolate bar of the cocktail world, without the sugar high. We like to serve this at Halloween parties, hence the skull glasses.
---

More fun (and spooky) than a Halloween drink should be. The Scorpion Venom Punch is great for a crowd and can be made for kids to enjoy as well (just remove the vodka). With it's bright yellow color from the jello mix, this 'stinger' of a drink can't be missed.
---

Need beverage inspiration for your pumpkin tap? We recommend filling yours with this delicious Spiced Pumpkin Punch Recipe.