Indulge in a dessert-style Cookies 'N' Scream Chocolate Martini this Halloween.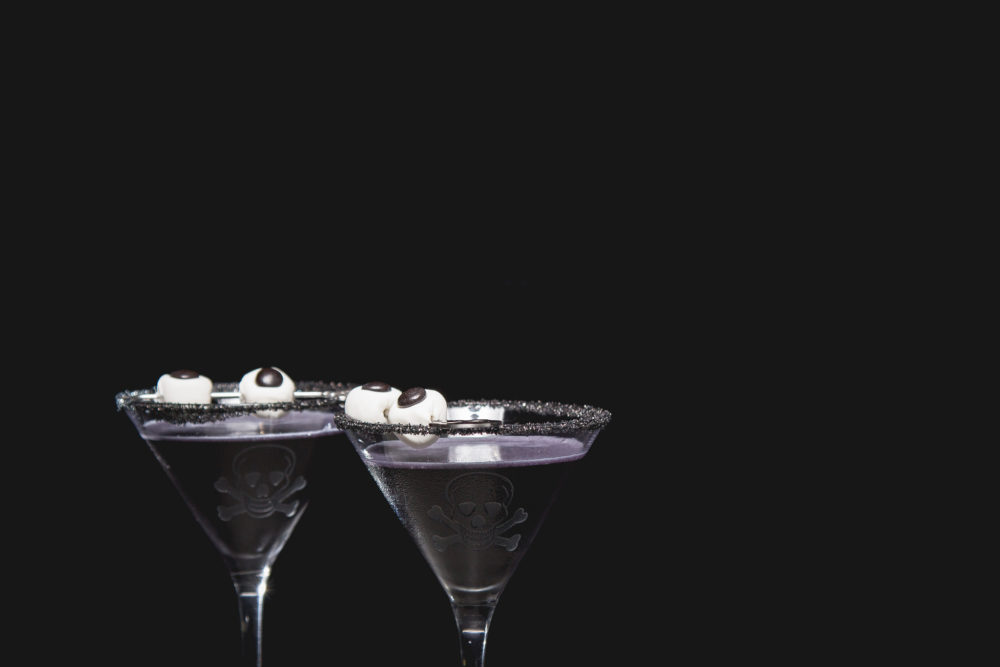 What better excuse for indulging in a dessert-style martini than Halloween–a holiday premised on the overconsumption of chocolatey treats? This take on the classic Chocolate Martini steps things up with homemade cookie-infused vodka and marshmallow simple syrup for a cocktail that ends up tasting like a boozy Oreo.
To play up the deep dark Dutch cocoa of the cookies, we added a capsule of activated charcoal, which adds black color but little to no flavor. Drink it anytime of year, but if it IS Halloween season, consider rimming the glass with black sprinkles and garnish with skewered fondant googly eyes.
---
Cookies 'N' Scream Chocolate Martini Recipe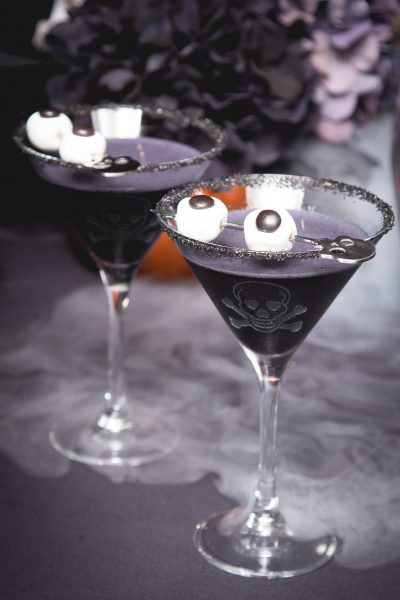 Yield: 1 Cocktail
Ingredients
2 ½ oz Chocolate cookie-infused vodka*

(see instructions)

8 oz Chocolate wafer cookies

16 oz Vodka

1 oz Marshmallow simple syrup*

(see instructions)

½ Water

1 cup Marshmallow creme

2 Eyeball Garnishes*

(see instructions)

1 ½ oz Creme de cacao

1 Activated charcoal capsule

Ice
Glassware
Tools
Instructions
Step 1: Make Cookie Infused Vodka
Fill a 16 oz mason jar about halfway with chocolate wafer cookies. Muddle the cookies to crush them and expose more surface area, then fill the jar with vodka. Seal the jar, give it a good shake, and leave it to infuse. After two or three days, filter the cookie bits from the vodka using a strainer and cheesecloth. Store in an airtight container.
Step 2: Make Marshmallow Simple Syrup
Whisk 1/2 cup boiling water into 1 cup marshmallow creme to thin it to syrup consistency (you may need more or less water; start with a few tablespoons and add more as needed). Let cool to room temperature before using in a recipe. Use within one day, as the mixture may separate. You may need to give it a stir before using it in your cocktail.
Step 3: Make Eyeball Garnish
To make eyeball garnish, roll white fondant into two equal-size balls. Stick on black candies for pupils. Set aside.
Step 4: Assemble Cocktail
Cut the charcoal capsule with a scissors or knife; dump only the powder into a cocktail shaker, discarding the spent capsule. Add remaining ingredients and fill with ice. Shake vigorously until the outside of the shaker frosts. Strain into a chilled Martini glass. Skewer with skull cocktail picks and lay over glass.
Want A Taste? Shop The Recipe.