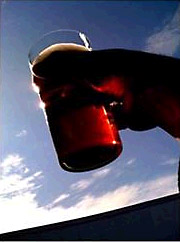 With the outdoor temperature reaching 69° today, I admit I find myself a tad distracted. My body is here and I'm doing work, but part of my mind is somewhere else - in the months ahead of us, contemplating the much warmer summer season ahead.
Those will be the days of wearing shorts and tees, the smell the grill, the sound of friendly chatter at family gatherings, and long, lazy days at the beach or at least poolside. No doubt there will be the day or two when the summer will be unbearably sweltering and I'll long for a nice cold beer, cool breeze or at least an hour or two indoors soaking-up the AC.
In the months ahead there will be celebrations, fireworks, and late nights watching the sun slowly set below the horizon – just in time for bed. It will be the time for lightning bugs and sparklers and winter will be a long distant memory.
Aaaaaaah… summer!
Tags: