The first step in getting your dream home bar? Knowing what you want.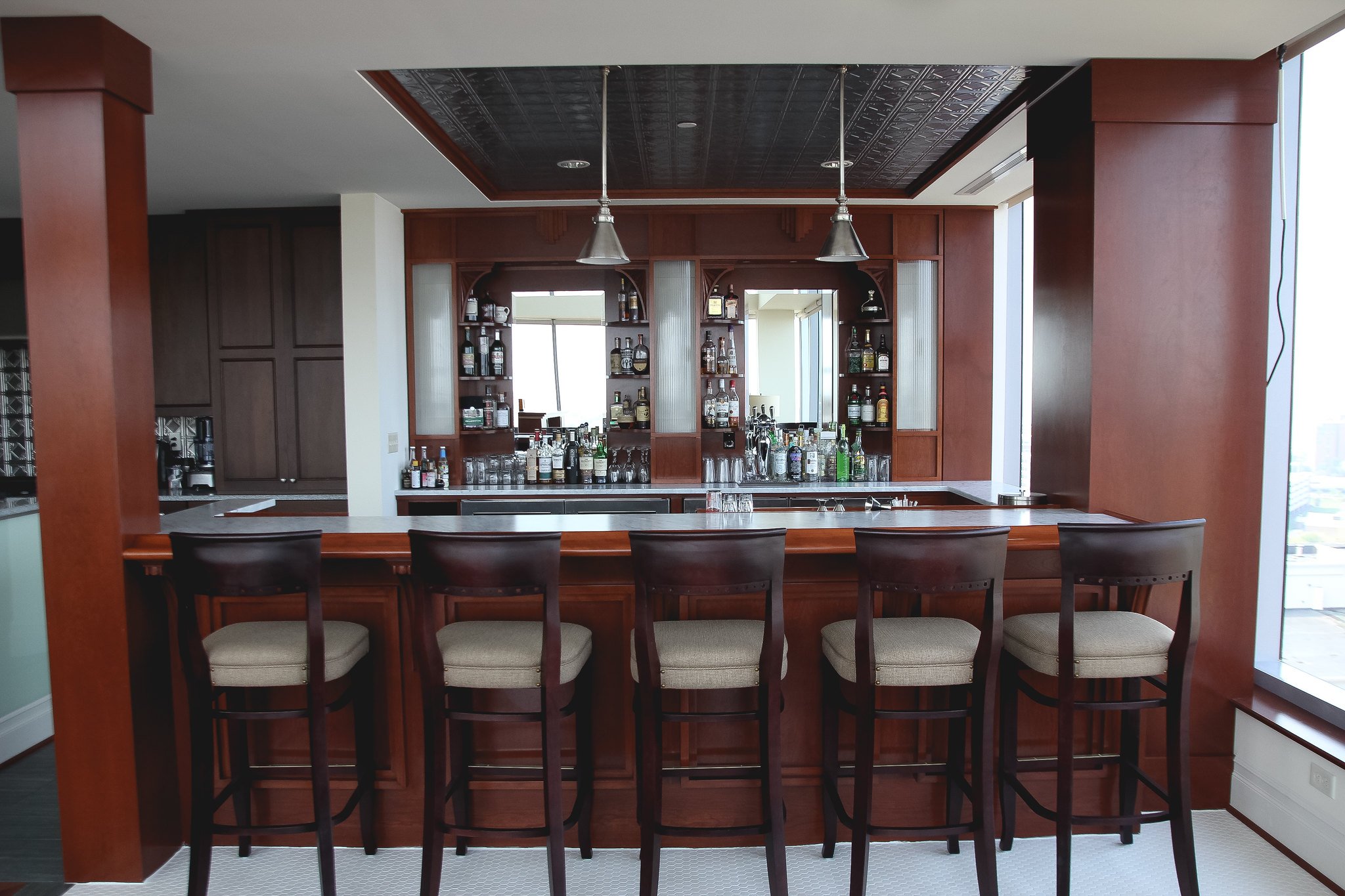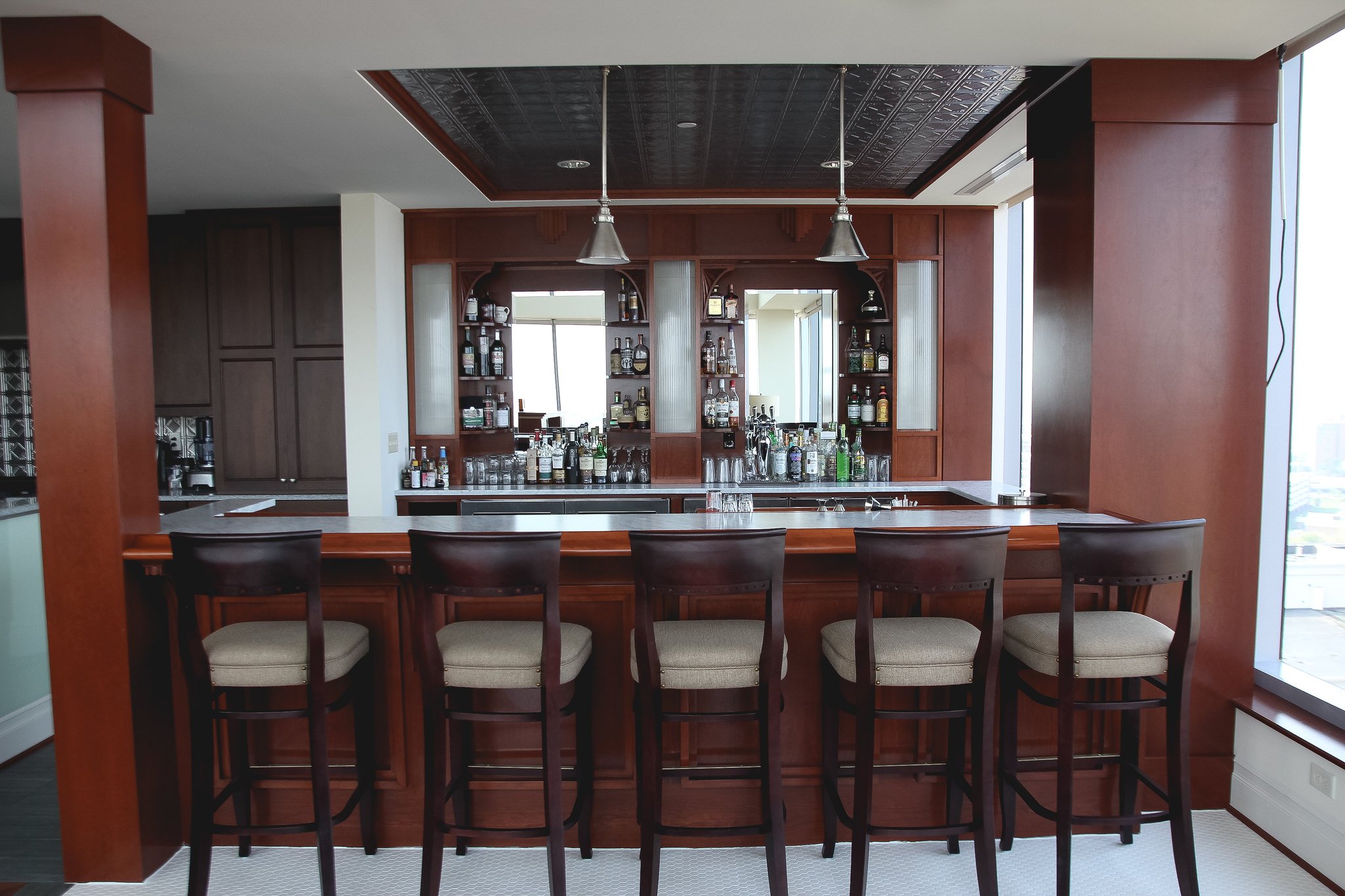 There are tons of options to consider when you're building your home bar, so you'll have to make some key decisions upfront.
Step 1: Determine What You Want
If you don't already have a good idea of the home bar you'd like to build, ask yourself the following questions to get you in the right mindset.
Do you want…
This?
Or This?
Points to Consider
Moveable Bar
Permanent Bar
Do you want your space to be flexible?
Will this room be used for things other than entertaining?
DIY Project
Professional Contractor's Job

How handy are you? How handy are your friends? Are they willing to work for beer? In a post to come, check out Building Yourself vs Hiring Out for the nitty gritty on both options.

Wet Bar (Sink)
Dry Bar (No Sink)

Will you be washing your glassware in your home bar area?
If you want a wet bar you'll obviously need to run water lines and a drain system.

Full Back Bar
Wall Shelving

What type of look do you want? Casual or professional?
How much room will you need for "bartending" and storage?

Draft System / Beer on Tap
Refrigeration Units for Bottled/Canned Beer
How much beer do you drink? What about your friends and family? Having draft beer at home can save you valuable time and money so it's a wise option for any beer drinker to consider.
One "All-Purpose" Refrigeration Unit
Different Fridges for Different Drinks

If you're installing a draft system, you'll certainly need a kegerator for your beer but you may also want a refrigerator for soda, mixers and bottled beverages. If you're into the vino, a separate wine refrigerator could be a nice option for you as well.

Built-In Ice Machine
Temporary Ice Accommodations
How much entertaining will you be doing? How far is the closest ice source? How much money will you spend on bagged ice when you throw parties? If you're using a fair amount of ice for your bar, a built-in ice machine can save you lots of time and hassle and over time, it'll save you lots of money too!
Bathroom in the Bar Area
Existing Restroom Usage
If you've got the space and the resources, you might want to consider adding a half bath nearby. A restroom in the vicinity seriously cuts down on extra house traffic when entertaining.
Set Theme
"Evolving" Décor
Do you have a particular interest or theme that you want the bar to reflect?
Step 2: Layout & Design
Completing the layout and design of your home bar is where it gets exciting and your vision starts to come together. Going through this important part of the planning process will help you determine what size bar your space can accommodate, what type of bar furniture and beer refrigeration you'll need and the time and resources that you'll need to make the dream a reality.
Design Inspiration
We suggest that you start your planning process by visiting your favorite taverns and/or restaurants and take a close (sober) note of what you like in a bar.
When visiting your favorite establishments, pay close attention to elements you like. For example: Do you like a big glass mirror behind the bar? What types of stools and bar rails fit your style? Take special note of the bar's structure – how it was made and what it is made of. Bring along a digital camera if you've got one – pictures always help!
Design Elements To Note:
Overall look and feel

Bar surfaces

Bar stools

Carpentry

Draft beer system styles (including beer towers, tap handles)

Bar foot rails

Bar décor, like signage
Measuring & Planning
More important than what you want, is what you can actually have. Identify possible restrictions and obstacles in your home, particularly in the room where you will be building your home bar.
Factors To Consider:
Ceiling height

Doorway and stairway widths

Sump pump location

Electrical outlets

Cable TV hookups

Access to water lines
Developing A Blueprint
When you are ready to layout a blueprint for your home bar – the first thing to think about is how much space you're working with.
Size
The average home bar is 42-inches high and 24-inches deep. Of course you can customize your bar's size to fit the area that you have available and your preferences. Just remember that most bar stools are 30-inches tall, so your bar should not be much lower than 42-inches high,to allow for comfortable seating for your guests.
Shape
You'll also want to think about the shape that you'd like your bar to be. There are several options to consider including L-shaped, horseshoe shaped or rectangular bar designs.
If you're starting your project in an area with a concrete floor, it's smart and simple to outline your layout on the floor where the bar will be, in chalk. If you're working in an area with finished floors, it is still important to make an outline – you might consider using string or painters tape to protect your flooring.
Remember that your bar will be three-dimensional. The outlines on the floor won't visually take up as much space as your finished bar will, once height is incorporated.
Sinks and Stuff
During the planning stages, you should also take anything that will be housed behind the bar into consideration, particularly sinks and refrigeration units.
Sinks are usually placed under the front bar but putting them in the back bar is not unheard of. The location of your existing plumbing may play a part in where you decide to build your bar or install the sink and drainage. From simple, shallow one-bowl hand sinks to standard bar sinks (with legs, up to three bowls and a drain board) you'll have tons of options when selecting a sink to best fit your space, needs and design.
Refrigeration needs will depend on whether or not you're including a draft system and also what kind of entertaining you do. If you are planning on having beer on tap, you'll need a kegerator or refrigerator to keep your keg cold. Big wine drinkers may also want to install a separate wine refrigeration unit for their favorite bottles. KegWorks suggests that everyone should assess how much refrigeration they will need for bottled beer, malt beverages and mixers.
Television placement is also key. You'll want to position or mount your TV so as many people as possible can have a clear view of what's on.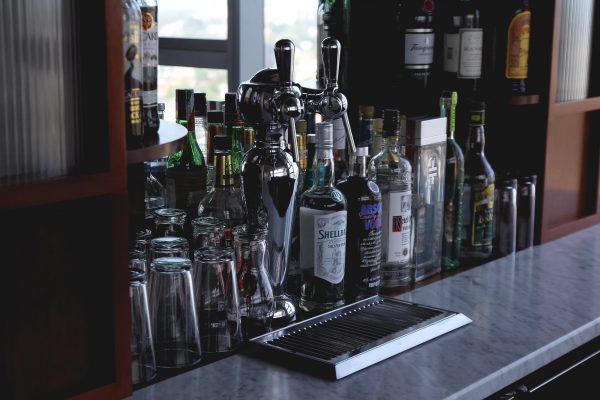 Step 3: Building Yourself vs. Hiring Out
When putting in a home bar, you initially have three basic options. You can purchase and install a Ready-To-Assemble (RTA) home bar, build a custom bar yourself, or hire a contractor to do the custom job for you.
The right option for you depends on the amount of free time you have, the amount of money you're looking to spend, how handy you are, the time frame in which you want to complete the project, how many capable buddies you have who might be willing to help and some other important factors.
Hiring A Contractor
For big or complex projects you'll probably want to seriously think about hiring a general contractor. A home bar has many facets and could require the expertise of several different craftsmen. A contractor will handle all the plumbing, electrical, carpentry, permits (if needed) and cleanup. The contractor can also work with you on design and they'll alert you to any potential problems and/or concerns. Most likely they will get the job done quickly, with minimal stress on your end.
Before you start, get a few estimates. They are typically free and you will have greater bargaining power on price in the end if you do.
Have your wish list ready in writing, so that neither you, nor the contractor overlooks anything. Take the advice from above, sketch out your ideas and plans, and have this ready as well.
Once you receive your estimates read them over carefully! A good estimate will include a contract, price breakout, total cost, and payment terms. Make sure every element that you want in your bar is included in the estimate, before you select the right contractor for the job.
Once you select a contractor, make sure you discuss a timeline for completion. Have the contractor include this date in the contract, along with a penalty clause if they don't meet it. Most reputable contractors will do this. Beware of the guy who has six jobs going at once! You want your contractor to show up everyday and get the job done.
It is wise to purchase all of the refrigeration units, sinks and large-scale items that you will need for your bar, before your contractor begins on your project! Don't let the contractor guess on sizing – have all of items at your house. This will eliminate unpleasant surprises and greatly reduce the potential for screw-ups.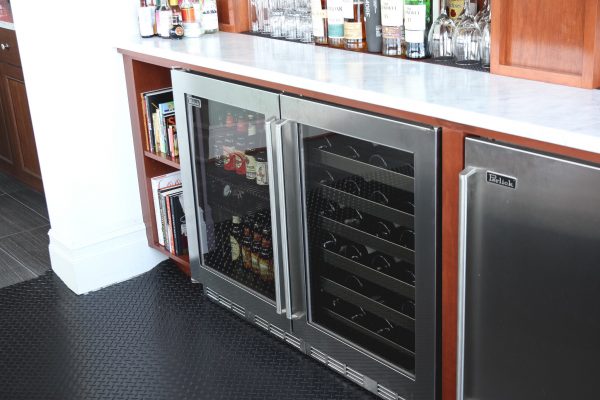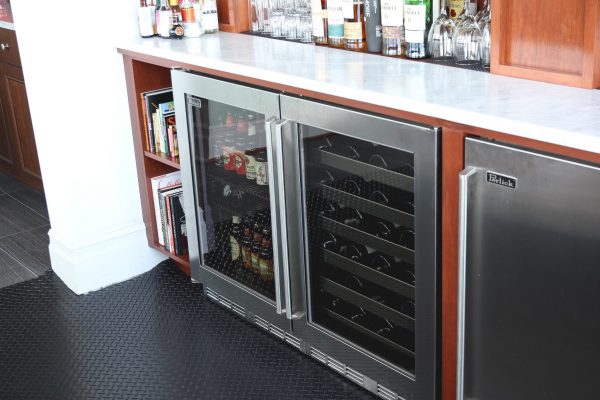 Building The Bar Yourself
If you're up for the challenge, building your own bar can be a very rewarding experience! If you're fairly handy or have fairly handy friends who might be willing to work for beer, your home bar project could be a darn good time.
Check out some real life bar building advice, learned from experience:
Make like a boy scout and be prepared! Get everything you need before you break out the hammers. You should plan, measure and then build.

It never hurts to have extra materials on hand. Mistakes and surprises happen and when they do, having extra pieces and parts available can save a lot of headaches.

Don't be ruled by dollars alone. Staying within your budget is important, but the quality is pretty important too! Inexpensive components don't always last and when you've gotta fix 'em or replace 'em, you're losing valuable time that could be spent relaxing in your bar.

Give our friends a place to rest!

Arm rests and bar foot rails

give your bar a sleek and professional "finished" look and they're easy to buy and install yourself.

If you are enlisting the help of friends, have them over to check out your drawings. Get everyone on the same page. The masterpiece that you're envisioning might be different from your buddy's dream bar—so make sure he knows he's in for.

'The more the merrier' might sound like a good philosophy, but realistically one or two helpers at any given time is plenty. The more people you have helping you at once, the more likely it is to morph from making progress on your project to a Joe-telling-Jeff-about-his-hot-new-secretary party. They can discuss the latest babes over a beer,

after

the bar is built!

If you have a workstation located in another area, keep in mind that you need to be able get every piece of the bar from your shop into the actual bar room. There's nothing worse than putting something together, only to realize that it won't fit through the doorway.

Don't crack open too many beers until after you're done working for the day—especially if you're using power tools.
Bars are for drinkin' and drinks have to stay cold, which makes refrigeration one of the most important components of your project.
There is nothing like pulling a stool up to a well-designed and well-built bar. Few accessories can take your bar to the level of authenticity and comfort that bar foot rails can. Learn how to easily attach bar foot rail end caps with our simple trick.
A good home bar or man cave is all about the details. Ensure that your guests enjoy cushy comfort and a world-class atmosphere with our wide variety of bar stools, bar signs, and so much more.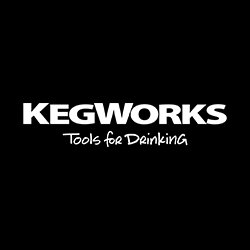 KegWorks has been selling cool tools for drinking and serving knowledge on tap since 1998. We are all about enjoying good drinks with good friends.