A DIY Wedding Bar is a kick-ass way to serve up drinks to your guests. Check out our step-by-step instructions and watch our how-to video to learn how to build your own wedding bar for your big day.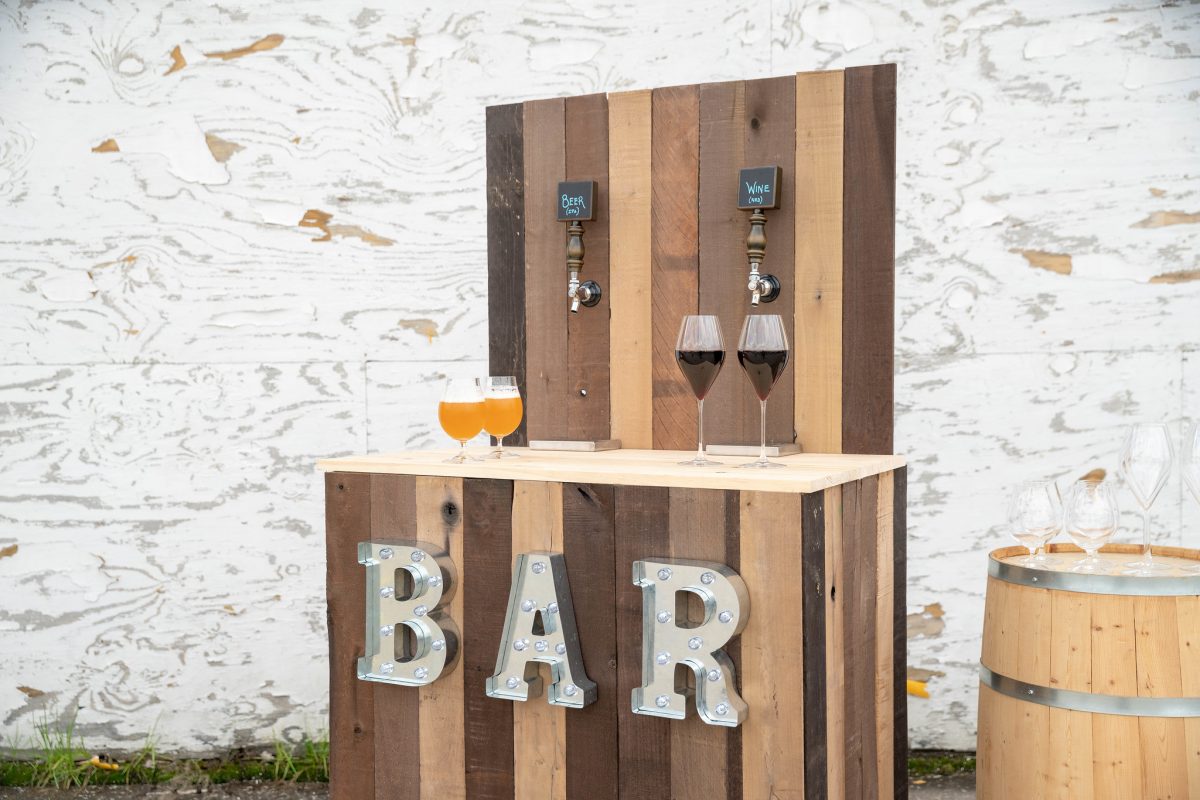 Getting married? Don't want to spend a fortune on an open bar? Or just looking to do something unique to serve drinks? A DIY wedding bar is a show stopper at any wedding.
---
5 Reasons You Should Build A Wedding Bar
1. Decor Accent
A DIY wedding bar can fill your wedding reception atmosphere wonderfully. No matter your theme, you can make your DIY bar design fit.
2. Money Savings
Weddings can be expensive. Between the food, facility, band, photographer, and whatever-the-heck else, the bills stack up quickly. Buying and serving your own kegs is cheaper than using the venue's options. Cut out liquor, and you'll save even more money.
3. Low Maintenance
Forget constantly stocking bins, tables, and coolers with canned and bottled beers. Hook up your keg(s), ice 'em down, and enjoy the party while the beer flows freely.
4. You'll Own It Forever
After the wedding, the bar is yours. Keep it in your house, your garage, your basement – wherever.
5. Conversation Starter
Beyond people simply seeing the bar and asking about it, it's a magnet for smaller, more private gatherings and a great way for guests to get to know each other.
---
DIY Wedding Bar Ideas
For our wedding bar design, we chose a pre-stained material available at retail hardware stores, but upcycled pallets or barn wood are other great options. Here are some of our favorite DIY Wedding Bars made by KegWorks customers.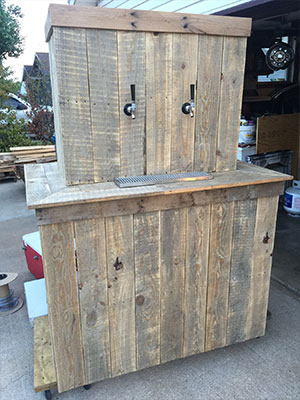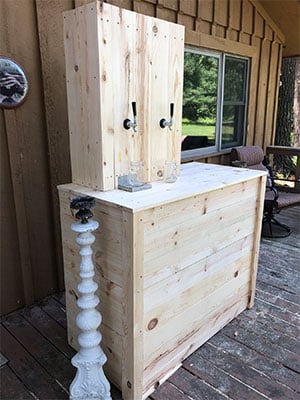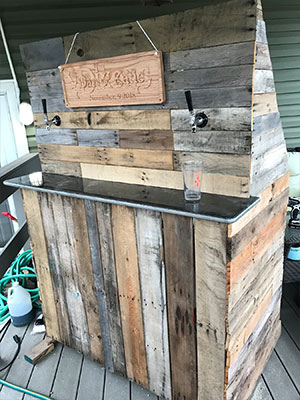 (Left: Photos submitted by KegWorks customers Robert A, Dan D and Amy O)
If the rustic look isn't your theme, not to worry. There are plenty of wedding bar designs that work for all types of wedding themes. Check out our Pinterest board for more Wedding Bar Inspiration.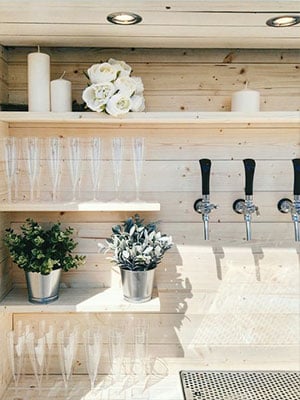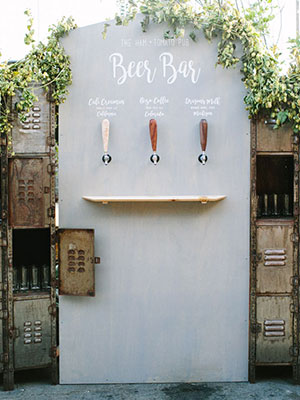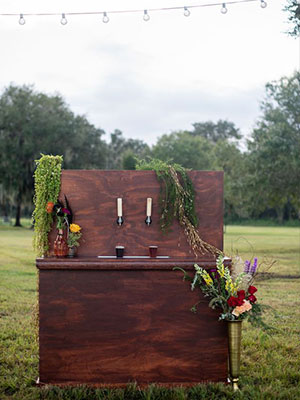 (Left: Photos from BrindApino Vintage Van, Green Wedding Shoes and Rustic Bride)
---
Wedding Bar Menu Ideas
When building a wedding bar menu, you'll first want to determine what types of beverages you'll be serving. Serving up beer on tap, wine on tap or cocktails on tap will require different draft equipment. For more tips on what type of draft beer equipment you will need for each, download our full step-by-step guide provided below.
If you're a homebrewer, an occasion like a wedding is the perfect time to show off your skills and passion with family and friends. You can easily serve up your latest recipes in a corny keg to guests.
More into cocktails and mixology? Developing a signature cocktail to serve on tap to your guests is another great way to save some cash and further incorporate your theme.
How Much Alcohol Should You Have At Your Wedding?
How much alcohol you serve at your wedding will depend on how many guests you will be having. Refer to our keg sizes guide or our quick reference chart below if you plan to serve from a keg.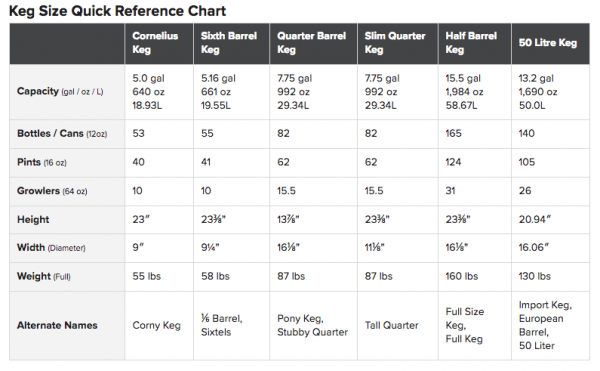 In general, the rule of thumb for buying alcohol for your wedding is plan for each guest to consume (2) drinks at the cocktail hour, and then (1) drink every hour after that. Take into consideration the day of the week of your wedding is happening (weekends will likely have your guests able to drink more). Also consider the time of day of your wedding, daytime vs nighttime may change what or how much you want to serve.
How Much Beer To Buy For Your Wedding
For 100 guests, 7 cases of beer (168, 12oz bottles) or a half barrel keg (165. 12oz bottles) should be sufficient - as most people will not only be drinking beer.
You may want to purchase more if you know your guests are beer lovers.
How Much Wine To Buy For Your Wedding
For 100 guests, 12 bottles of white (60, 5oz glasses) and 12 bottles of red (60, 5oz glasses) should be sufficient - as most people will not only be drinking wine. If purchasing a wine keg, a Cornelius Keg (640oz) will work best for this serving size.
If you are having an evening reception, your guests may be likely to drink more red wine than white, so adjust your wine purchasing accordingly. You also may want to purchase more if you know your guests are wine lovers.
How Much Liquor To Buy For Your Wedding
For 100 guests, 150 servings of your signature cocktail should be sufficient - as most people will not only be drinking your cocktail. Depending on your signature cocktail of choice, your serving size will vary. If you are only serving your signature cocktail, 300 servings will be needed to last you through a 3 hour reception.
---
How To Make A DIY Wedding Bar
Below are the general steps KegWorks' draft beer expert, Justin, took to build our DIY Wedding Bar. Outside of having a deep knowledge of draft equipment, he also happens to be an event planning guru for his side business, Nickel City Novelties. For complete step-by-step instructions on how to build your own DIY Wedding Bar, download the guide provided below.
Step 1: Draw Out Plans
First, decide what types of beverages you'll be serving. Consider having beer, wine, cocktails or even coffee on tap.
Next, decide how many beverages you will serve.
The type and number of beverages you'll have on tap will determine the overall size of your wedding bar, as well as which draft equipment you will need.
Before starting to build, we recommend drawing a rough sketch to finalize your bar dimensions and tap location.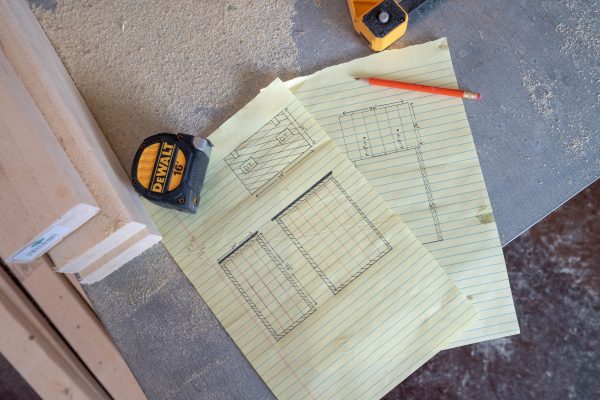 Step 2: Gather Tools & Materials
The materials you need will vary based on the size and style of the wedding bar you plan to build.
In addition to standard building tools and materials, you'll also need a kegerator conversion kit from KegWorks.com.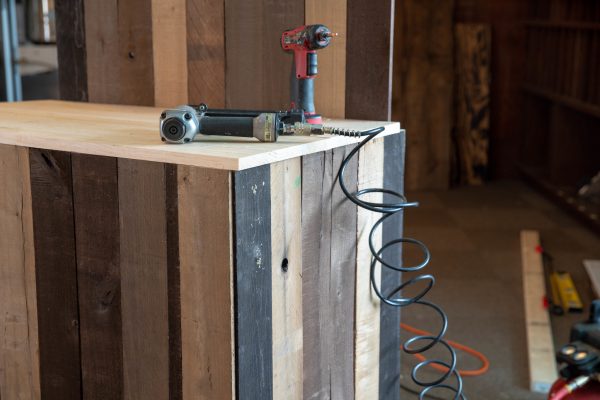 Step 3: Build Your Wedding Bar
Cut your materials to size based on your sketched plans. Then, start with building the bar base.
We recommend using 2x4s for strength & stability.
After the base is built, install the bar top.
Once the bar top is installed, add the face boards to the bar base.
Then attach the top frame and add the face boards as well.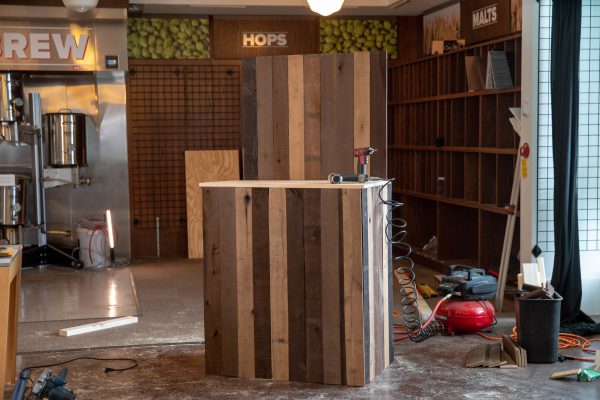 Step 4: Install Draft Equipment
Using a power drill and 1" hole saw, drill a hole in the desired location.
Insert the shank through the hole and secure with lock nut.
Attach the faucet and tap handles.
Connect the beer lines to the shank and to the top of the keg coupler.
Next, connect the air line to the coupler and the regulator and secure with screw clamps.
Then attach the regulator to the air tank. When you're ready to serve, connect the coupler to the keg, open the air tank and adjust the pressure to ensure a proper pour.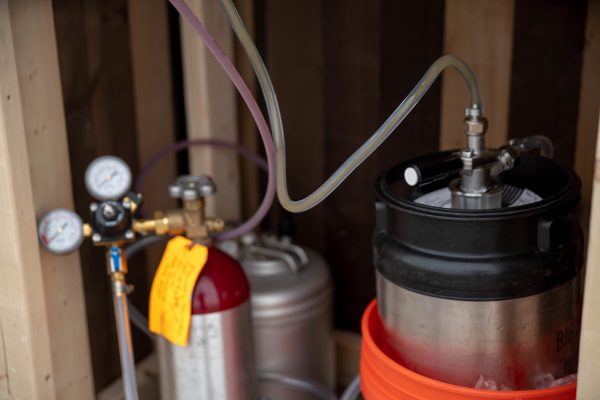 Step 5: Add Final Touches
Once you've set up the draft system, it's time for the finishing touches. Add some decorative lights and glassware.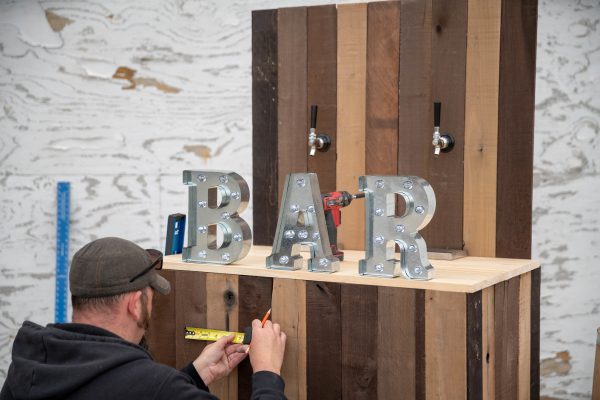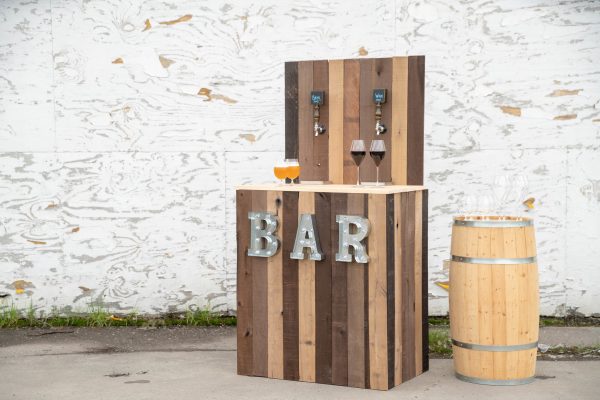 ---
FREE Download: How to Build a Wedding Bar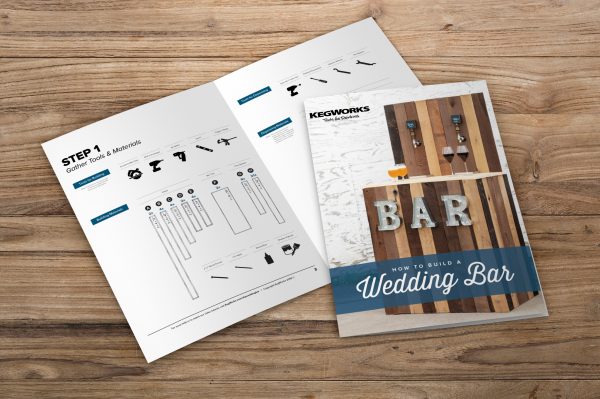 *Discount valid for first-time subscribers only. Some restrictions apply. See email for details.
Enter your email address to get your FREE guide on how to build your very own wedding bar. New subscribers will also receive an exclusive discount to help build the wedding bar of your dreams!*