Every year around this time, alcohol industry pundits extol various wines, beers, and ciders as ideal Thanksgiving libations. But no one seems to be taking a stand for the humble and very American Old Fashioned. Here's why I think this unassuming cocktail deserves a place on your holiday table.
It's as American as Apple Pie
Cocktails are to the United States what wine is to France and beer is to Germany; that is, we may not have been the very first people to mix and modify spirits, but we certainly perfected cocktails and gave life to the culture that surrounds them. And we have been drinking them, in spades, since at least the 18th century. It makes sense then that we should honor America's cocktail legacy on Thanksgiving.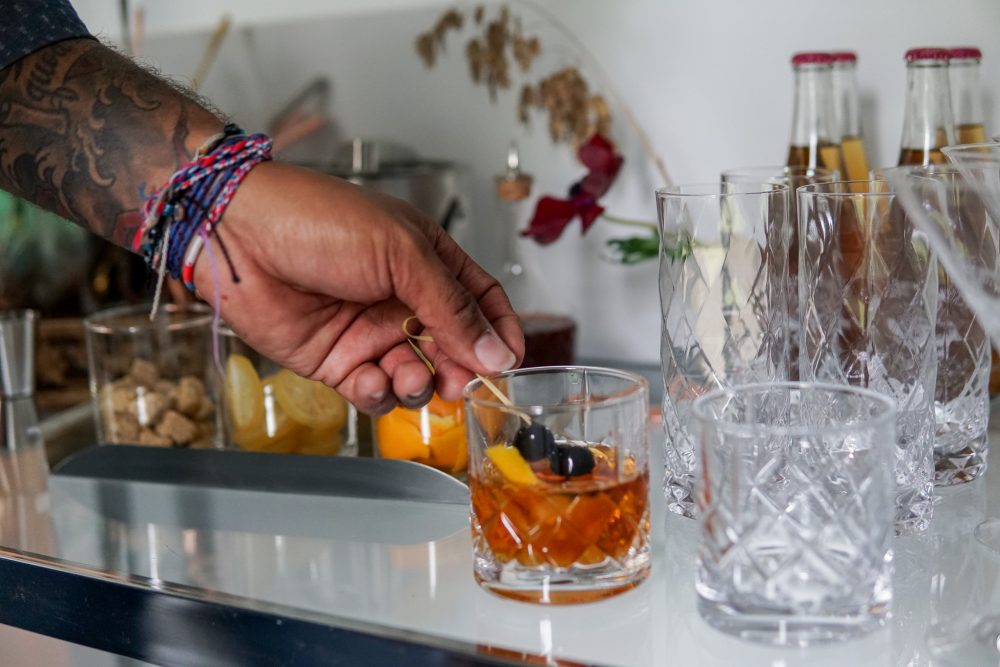 More specifically, we should honor the Old Fashioned because it is the OG American cocktail. In fact, in the early 1800s, a cocktail was, by definition, an Old Fashioned. People just didn't call it that. We know this because the earliest printed reference to cocktails uncovered to date comes from an 1806 issue of an Upstate New York newspaper, The Balance and Columbian Repository. In it, the editor defined a "cock tail" as "a stimulating liquor, composed of spirits of any kind, sugar, water and bitters." Sounds like an Old Fashioned to me.
It's Easy to Make
To build an Old Fashioned, all you need is a few, easy-to-procure ingredients (cocktail bitters, sugar, water or ice, and your spirit of choice). Here's a recipe if you need one.
Unlike most drinks in the craft cocktail lexicon, the Old Fashioned doesn't demand that you buy specialty barware or learn any advanced mixology techniques. If you have a rocks glass and a spoon, and know how to stir, you can make an Old Fashioned as good as any professional. More importantly, so can your Thanksgiving guests. That means you can spend less time playing bartender and more time on important matters like stuffing. And football. And naps.
It's Crowd Pleasing
In 2016, a Drinks International poll of the best bars in the world declared the Old Fashioned the most popular drink of the year. According to the survey, three-quarters of the bars reported it was among their top 10 best-selling classics and a quarter of those polled said it was their number one seller. Odds are, then, your Thanksgiving guests are Old Fashioned fans, too.
They're Endlessly Adaptable
Just because the Old Fashioned formula is straightforward doesn't mean you can't have fun with it. There are practically an infinite number of ways to make the recipe your own while still keeping things simple. For instance, you could:
Change up the base spirit. Rye whiskey is the standard, but there isn't any reason you can't make an Old Fashioned out of, say, aged rum. Or mezcal. Or tequila. Honestly, you can try just about anything,
Change up the sweetener. Replacing the standard sugar cube with a more flavorful source of sweetness is an easy way to give your Old Fashioned personality. Maple syrup, honey, and agave are good choices. Or you can opt for a flavored simple syrup. Ginger, burnt sugar, and orgeat could make for interesting variations.
Change up the bitters. We are living in an artisanal bitters golden age; take advantage of it! Off the top of my head, I think fig & cinnamon, cranberry, chocolate, black walnut, and Mexican mole could all make for a Thanksgiving-appropriate Old Fashioned. But really, you are only limited by the base spirit you choose and the bitters at your disposal. If you put out a variety of both, your guests can experiment.
So, what do you say, is this the year we trade in Beaujolais and Oregon pinot for Thanksgiving Old Fashioneds? I am pretty sure our colonial forebearers would be totally on board.
Related: