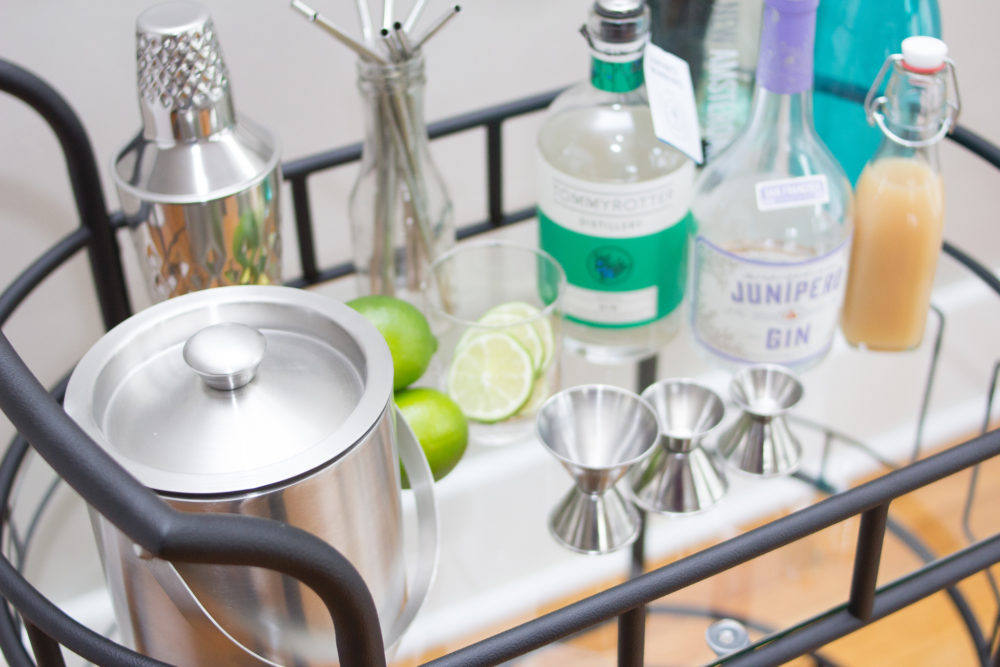 If you recently bought a bar cart or are in the market for one, you may be wondering how to best stock and style it for usefulness, efficiency, and visual appeal.

In short, that all depends on how your bar cart is being used. For most people, a bar cart falls into one of two categories: it either serves as your primary home bar (which may be the case if you live in a small apartment), or it is auxiliary to a larger home bar or to a separate liquor/china cabinet.

If your bar car falls into the latter camp (that is, you have separate storage for most of your liquor, glassware, and bar tools), then how you style and stock your bar cart will depend on the type of event you will be hosting. Since bar carts are typically on the small side, and because you don't want to be saddled with making every drink under the sun on the whim of your guests, it's a good idea to feature just a couple of signature drinks and curate your bar cart to those cocktails.
While that may seem restrictive at first blush, designing a cocktail theme and customizing your bar cart to fit that theme allows you room to more creatively flesh out your idea, since a pared down menu means you bar cart won't be weighed down with the clutter of too many bottles, glass styles, and bar tools. And less clutter makes for a more aesthetically pleasing and efficient space.
Below are some general tips for styling your party-perfect bar cart, followed by three bar cart themes for inspiration. Use them as starting off points for your own bar cart-facilitated cocktail party!
Tips for a Party-Ready Bar Cart
Think carefully about what you will be serving and stock your bar cart accordingly. Display just the things you will need for your cocktail menu. Any extraneous alcohol, tools, or glassware you might have should be stored elsewhere for the evening.

Use trays and garnish bowls to divide and organize the elements on your cart.
For an extra elegant presentation, transfer bitters and other small volume ingredients (juices, flower water, simple syrups, and shrubs) into attractive glass bottles. You could also consider transferring spirits and wine into glass or crystal decanters.

Add detail, but not too much. Knickknacks and other decorative items like fresh flowers are great for showing off your personality, but don't go overboard. Remember that above all, your bar cart should be conducive to making drinks. Clutter is counterproductive to efficiency.

Add style to your bar cart without adding clutter by having fun with the functional items. Bar tools in gold, copper, and stainless steel each bring a different mood to the table. And decorative napkins, coasters, drinking straws, cocktail picks, and swizzle sticks can all be swapped out depending on the occasion for not much money.
Bar Cart Inspiration

Gin Lovers' Happy Hour
Gin is definitely having a moment in American bars. Celebrate its resurgence with a cocktail party featuring two of gin's most approachable cocktails. Even guests who swear they don't like gin (probably because they had too much of the cheap stuff in their youths) will happily swill one of these.
To complement the drinks, we opted for a blue and stainless steel British vibe, capped off by one of our favorite pieces of wall art.

On the Menu
Spirits
Your favorite bottle(s) of gin
For an almost effortless upgrade, add a bottle each of Chartreuse and Luxardo Maraschino Liqueur. Then you can make Last Words, too.

Ingredients
Premium tonic waters in assorted styles and flavors

Freshly squeezed lime juice

Whole limes and lemons, for zest and wheel garnishes

Ice

Tools
Glassware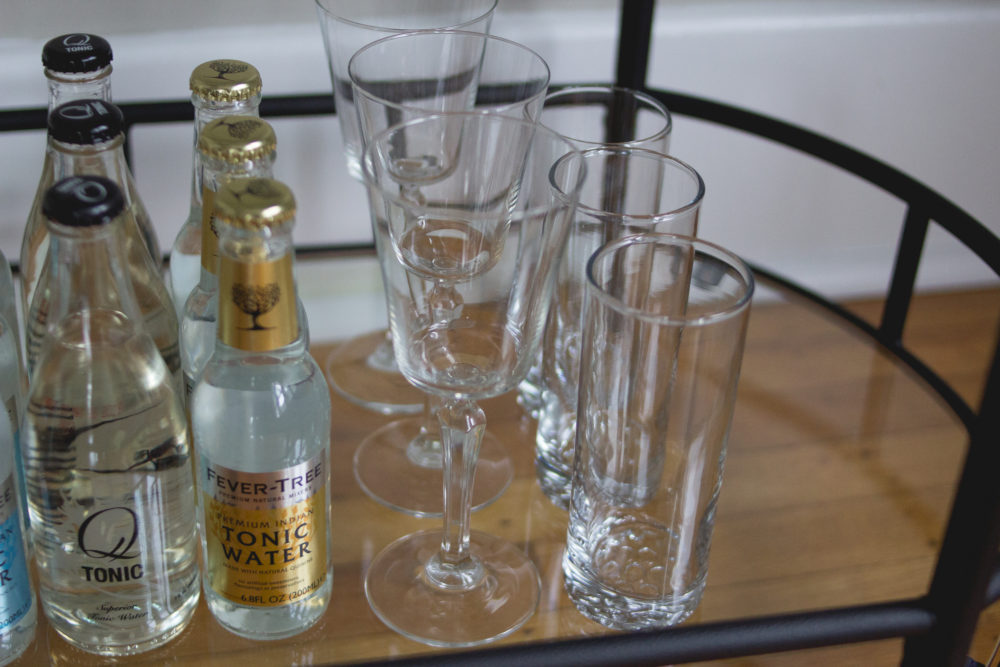 ---
Champagne Brunch
A champagne themed brunch calls for elegant drinks like lychee Bellinis, Classic Champagne Cocktails, and French 75s (not that there is anything wrong with gold old Mimosas) and lots of glamorous gold details.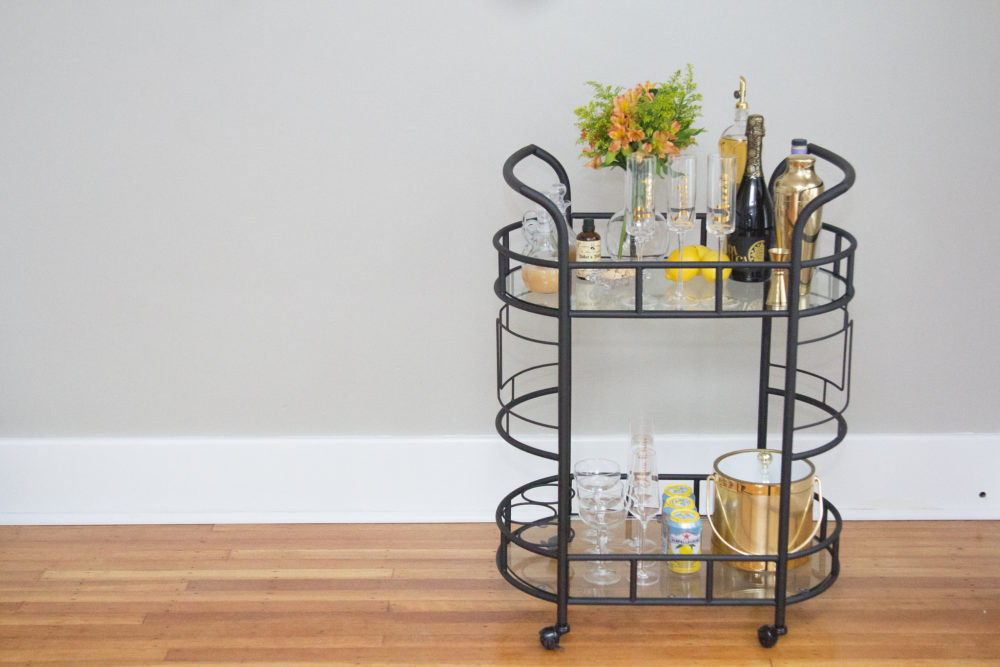 On the Menu
Lychee Bellinis (pour 2 ounces lychee juice blend in a flute or coupe; top with 3 ounces sparkling wine)
Classic Champagne Cocktails (get recipe)
Elderflower French 75s (take a classic French 75 recipe, but replace the simple syrup with St. Germain)
Spirits
Champagne or sparkling wine (You'll want at least a half bottle per guest. More if they are big drinkers.)
1 bottle gin
1 bottle St. Germain
Ingredients
American Juice Company Lady Lychee Cocktail Mixer (or fruit puree of choice)
Freshly squeezed lemon juice
Angostura Bitters (or get creative with your flavor choice here)
Sugar cubes
Whole lemons, for garnishes
Ice
Tools
Gold cocktail shaker
Strainer
Gold jigger
Channel peeler
Gold ice bucket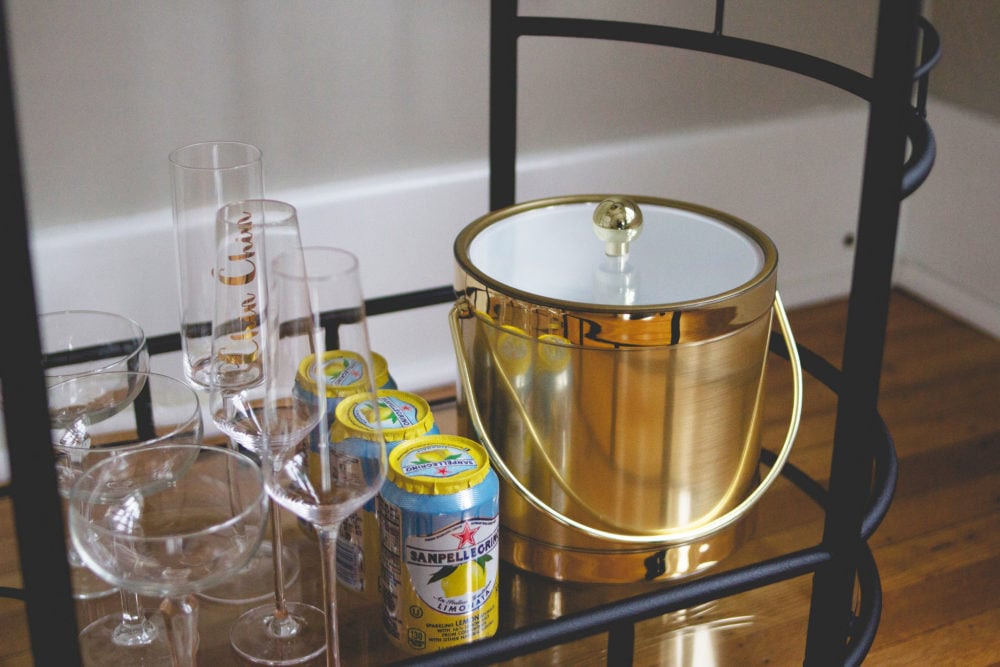 ---
An Old Fashioned Manhattan Party
Dress up your bar cart Don Draper style with the basic necessities for whiskey or bourbon Old Fashioneds and Manhattans. Handsome copper bar accessories and a vintage-style sign complete the warm, retro look.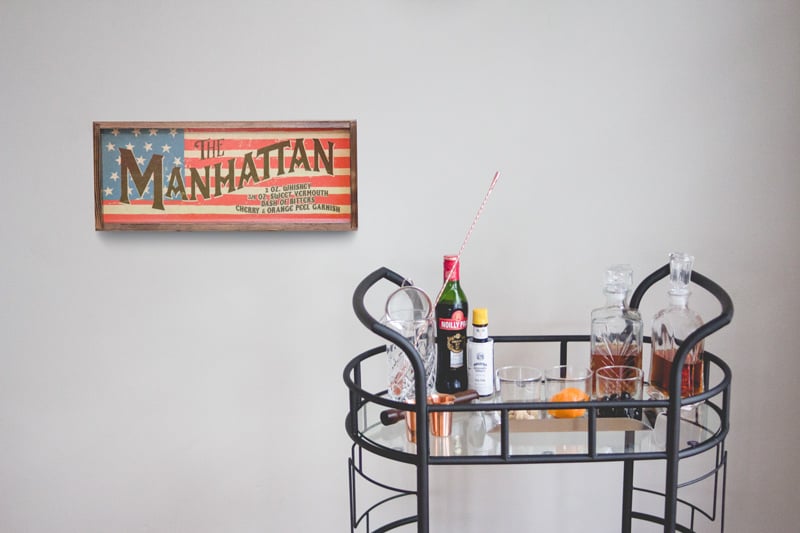 On the Menu
Spirits
Your favorite bottle(s) of rye and/or bourbon

Sweet Vermouth
Ingredients
Tools
Glassware