New Orleans is often associated with drunken debauchery fueled by oversized pours of saccharin-sweet cocktails in unholy shades of red and blue. But beyond the tourist bubble is a city with an impressive and storied cocktail culture. New Orleans may not be the birthplace of the cocktail, but since the nineteenth century, it has been a place where some of our most enduring cocktails were developed or perfected.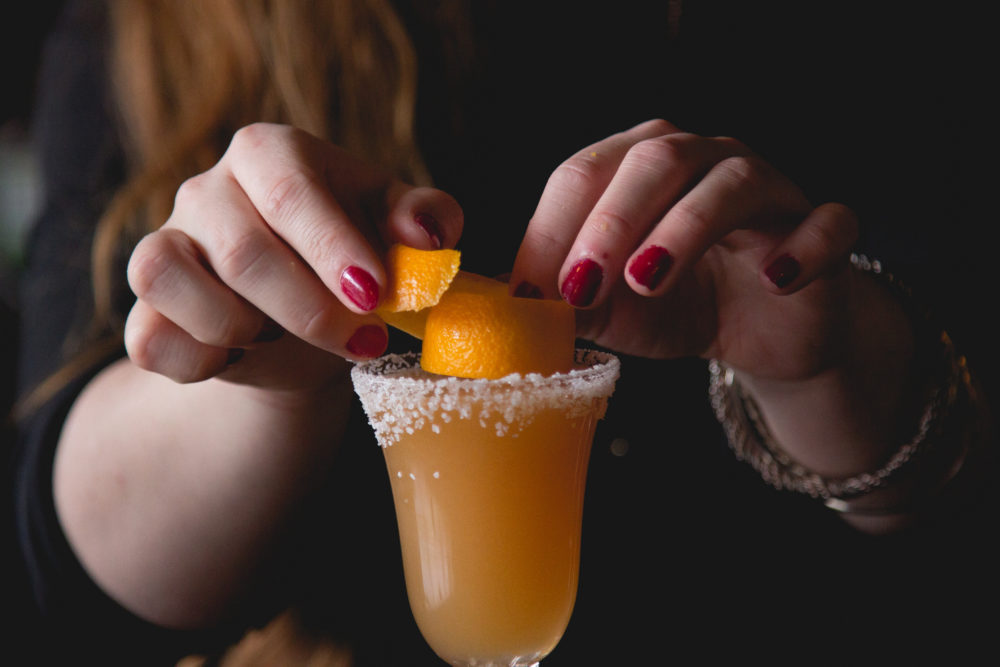 With Mardi Gras on the horizon, we asked bar manager Rachel Wright of Mès Que to give us her preferred specs for some of New Orleans' greatest cocktail contributions so you can try them at home.
---
Sazerac

New Orleans' most lauded cocktail original, the Sazerac, has disputed origins. Many sources trace its roots to the 1830s and credit creole apothecary Antoine Amadie Peychaud with creating the drink as a vehicle for serving his proprietary medicinal bitters. Back then, the drink was made entirely with French cognac, but by the 1870s, rye whiskey was the Sazerac's characteristic base spirit. This may have been due to changing tastes, the nineteenth-century phylloxera outbreak that decimated European grape production, or some combination of the two. An absinthe rinse was also added at this time.
This version of the Sazerac reintroduces cognac to the picture, which is an acceptable variation. One thing that is not acceptable, however, is serving the drink on the rocks. That's a major Sazerac faux pas.
Sazerac Cocktail Recipe
Yield: 1 cocktail
---
French Quarter Crusta

Hot on the historical tails of the Sazerac is the Brandy Crusta. It dates to 1852, making it one of the Crescent City's oldest cocktail contributions. It is characterized by its orange curaçao, lemon juice, brandy, bitters, and its calling card--a sparkling sugar rim. The cocktail is believed to be the brainchild of Joseph Santina of New Orleans' Jewel of the South bar.
This riff on the classic, courtesy of Mes Que's Rachel Wright, introduces calvados to the mix and cuts the original sugar rim with salt. It also brings anise/fennel and floral notes to the recipe by way of tarragon-infused oil and homemade flower bitters. If you prefer to keep things simple, omit the former and substitute Peychaud's or Boker's for the latter.
French Quarter Crusta Cocktail Recipe
Yield: 1 cocktail
---
Vieux Carré

A recipe for this spirituous classic first appeared in the 1937 cocktail book Famous New Orleans Drinks and How to Mix 'Em. The author attributed its invention to Walter Bergeron of the lobby bar inside the Hotel Monteleone. (Contrary to popular belief, the Vieux Carré was technically not invented at the hotel's famed Carousel Bar, since it did not open until 1949.) The drink takes its name from the New Orleans neighborhood where the hotel is sited, and its ingredients are emblematic of some of the cultures that make New Orleans so vibrant--French cognac and Bénédictine, American rye, Creole bitters, and Italian vermouth.
Vieux Carré Cocktail Recipe
Yield: 1 cocktail
---
Absinthe Frappé

Absinthe and New Orleans go hand in hand. But if the whole louching thing isn't your speed, an Absinthe Frappé is an easy-drinking alternative, especially in the dog days of a New Orleans summer. Invented in 1874 by Cayetano Ferrer of Aleix's Coffee House at the corner of Bourbon Street and Bienville (a bar now called Old Absinthe House), it cuts the rich, bracing herbaceousness of absinthe with a touch of sweetness and loads of ice.
Absinthe Frappé Cocktail Recipe
Yield: 1 cocktail
---
Ramos Gin Fizz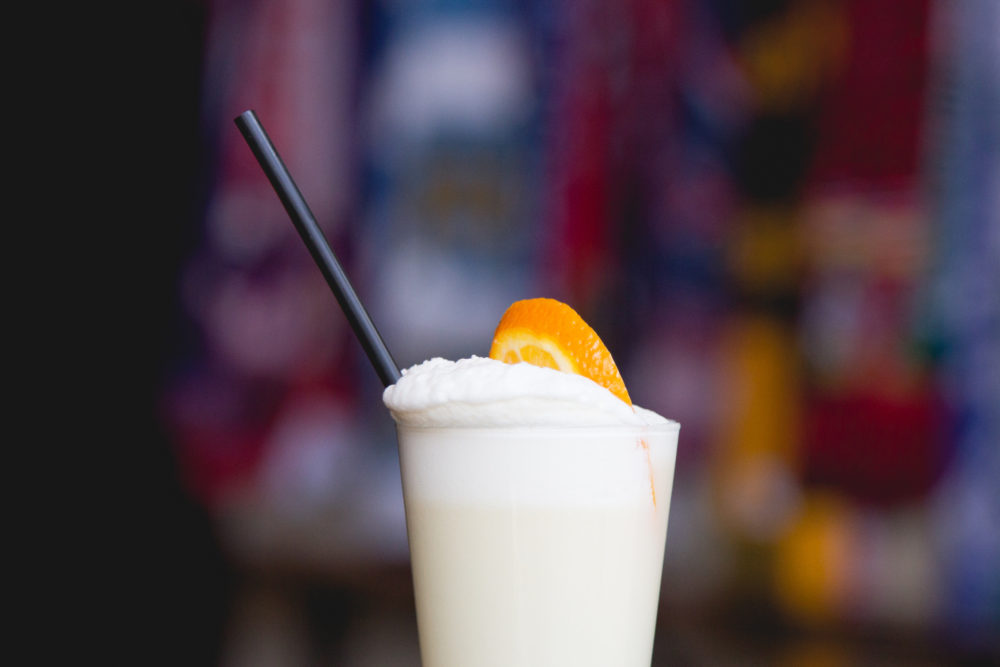 For something a little decadent, but not absurdly so, look no further than the Ramos Gin Fizz. It was invented in the 1880s by Henry C. Ramos and is notable for its creamsicle-reminiscent flavor and thick egg white cap. Legend dictates that you shake the cocktail for an arm-aching 12 minutes to achieve full-froth, but a much shorter shake yields an equally tasty drink. Wright's recipe, below, calls for a short wet shake shake followed by a prolonged dry shake.
Ramos Gin Fizz Cocktail Recipe
Yield: 1 cocktail
---
Hurricane and Hand Grenade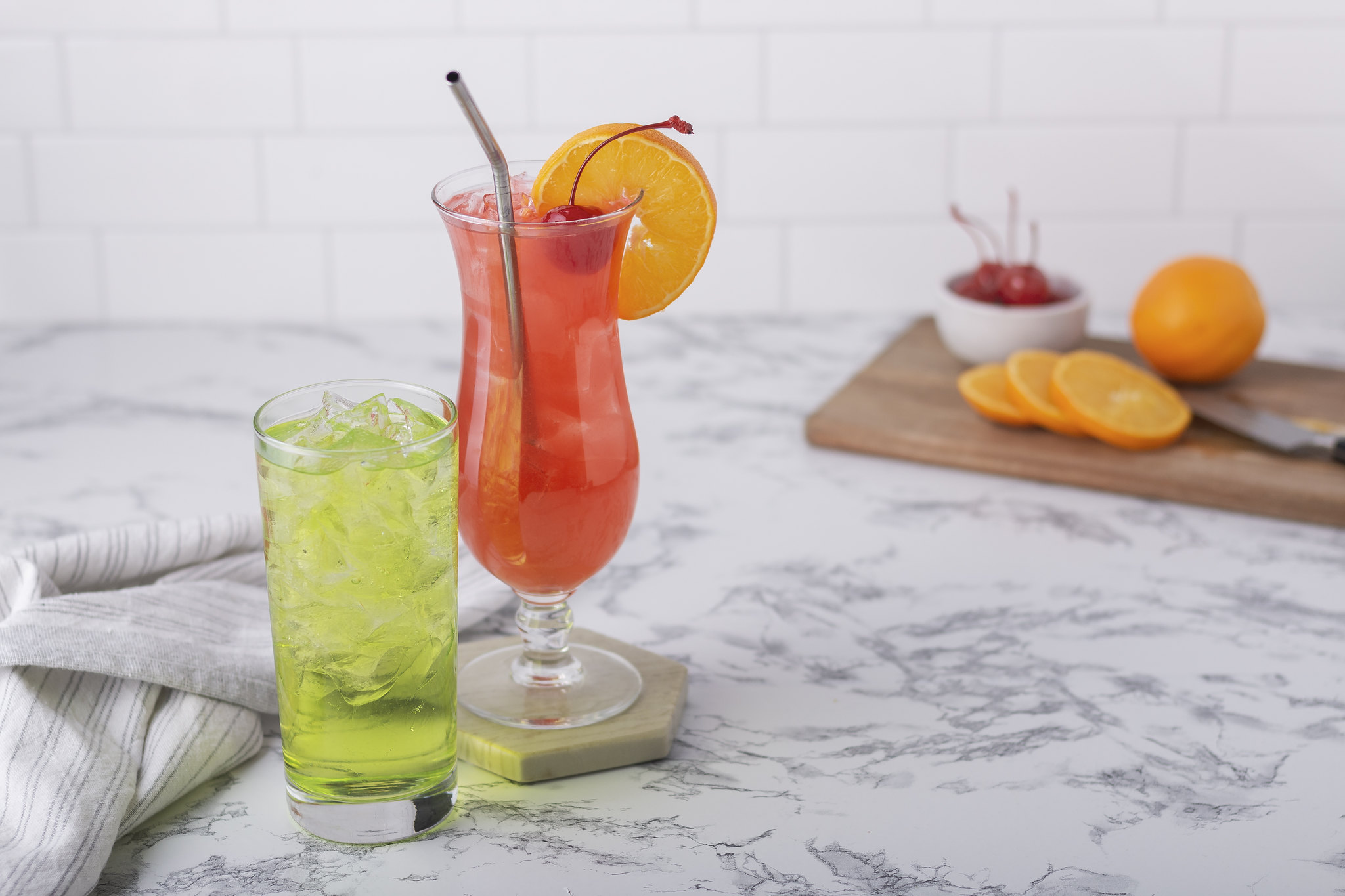 In addition to the classic cocktails above, two additional popular drink creations to come out of the French Quarter are the Hurricane and the Hand Grenade®, and they are consumed en masse during Mardi Gras celebrations in the Big Easy.
As legend has it the Hurricane was originally concocted at Pat O' Brien's bar in New Orleans. During World War II the Hurricane was created as a way for Pat O' Brien to sell through the large amount of rum he was required to order to get regular shipments of whiskey, which was somewhat scarce at that time. The mix of passion fruit, rum and other ingredients were served in a hurricane lamp-shaped glass, and given away to sailors. The experiment paid off as the drink quickly caught on.
The Hand Grenade was created by the owners of Tropical Isle bar during the 1984 World's Fair in New Orleans. The melon-flavored cocktail packs a punch that can sneak up on you. While the original recipe is a closely guarded secret, we feel our version is a wonderful tribute to the popular concoction.
Hurricane Cocktail Recipe
Yield: 1 cocktail
---
The Hand Grenade Recipe
Yield: 1 cocktail
---
Find the tools and ingredients to make famous New Orleans cocktails on our Mardi Gras party supply page!