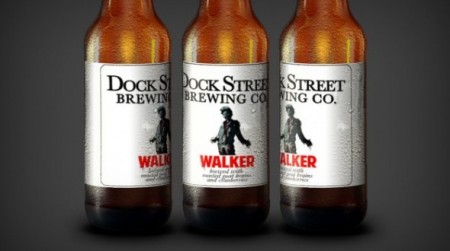 People love beers themed after their favorite TV shows. There's the "Game of Thrones" series from Brewery Ommegang, the "Breaking Bad" inspired "Heisenberg's Dark" by Marble Brewery in Santa Fe, and now Philadelphia's Dock Street Brewing Co. is celebrating the upcoming season finale of "The Walking Dead" with their "Walker" beer.
If for some reason, you're not a fan of AMC's gripping end-of-the-world drama, "walkers" are what the characters call the brain-eating zombies they're constantly killing and running from. This 7.2% ABV American pale stout is brewed with malted wheat, oats, flaked barley, and smoked goat brains. Yup. You read that right. Smoked goat brains. The beer is also brewed with organic cranberries to give it a reddish tint and offer a tart bite that balances the other...err...flavors.
Dock Street's head brewer, Justin Low, and brewery rep, Sasha Certo-Ware, are both huge fans of the show. "More often than not, monotonous Monday cleaning rituals (labors of love for brewers everywhere) were spent recapping the previous night's twists, turns, narrow escapes, or untimely goodbyes," their official press release reads. "Dock Street wanted to brew a special tribute to the show."
For those of you turned off by the idea of goat brains in your beer, remember Wynkoop's "Rocky Mountain Oyster Stout," the beer made with bull testicles? Someone from KegWorks tried it at last year's Great American Beer Festival, and she said it was quite tasty, although a bit salty.
If I could try it, I would. But unfortunately, the beer is only available at Dock Street's pub in West Philly starting Sunday, March 30th. The release date coincides with the season finale of "The Walking Dead," and while they plan to fill growlers for those who want to drink alone, they're also screening the finale and serving up pints to those who come to watch. If anyone in Philly gets their hands on a glass or growler, please tell us how it was - we're dying to know.
Tags: