A cheese board is a home entertainer's best friend. They are crowd pleasing, almost embarrassingly simple to pull together, and jaw-droppingly impressive--if done right.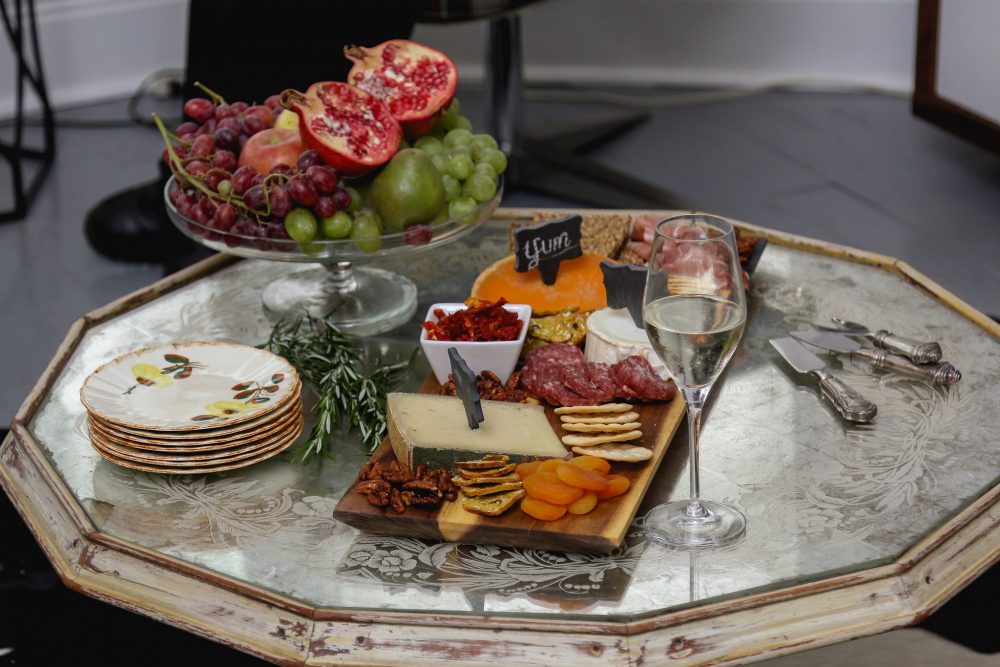 The Building Blocks of an Epic Cheese Board
Unsurprisingly, cheese is the most important element of your cheese board. As an appetizer, plan on 3 to 5 different kinds of cheese, with each person consuming ¾ to 1 ounce of each. If your cheese board is the meal, you'll want to up that quantity to perhaps as much as 1 ½ ounces of each cheese per person.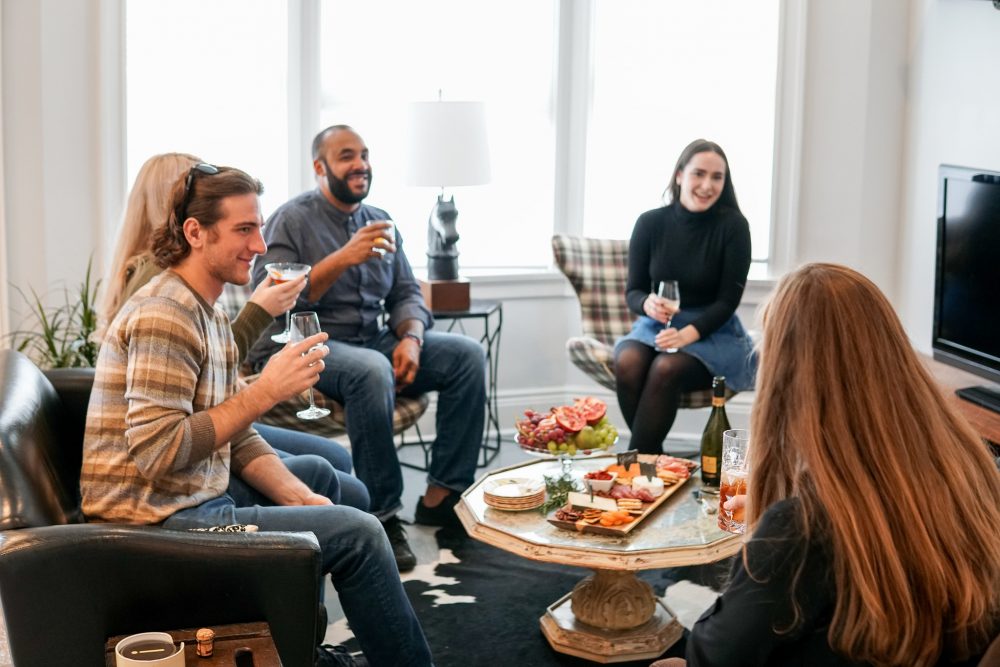 The very best cheese boards are not limited to cheese, however; they also include an array of thoughtful accompaniments. In building your cheese board, you'll want to choose one or more items from each of the following categories.
Bread & Crackers
Good choices include sliced loaves of baguette, sourdough, olive bread, or focaccia; plain, herb, or seeded crackers; and/or crunchy breadsticks like grissini. Avoid aggressive flavors like garlic, which might overwhelm milder cheeses.
Dried & Cured Meat
You can stick with traditional pepperoni, but an assortment of fine charcuterie makes a board feel special. Consider prosciutto, dry chorizo, speck, bresola, Spanish jamon, good-quality dry American ham, and even bacon. You could also include liver pâté or a rillettes.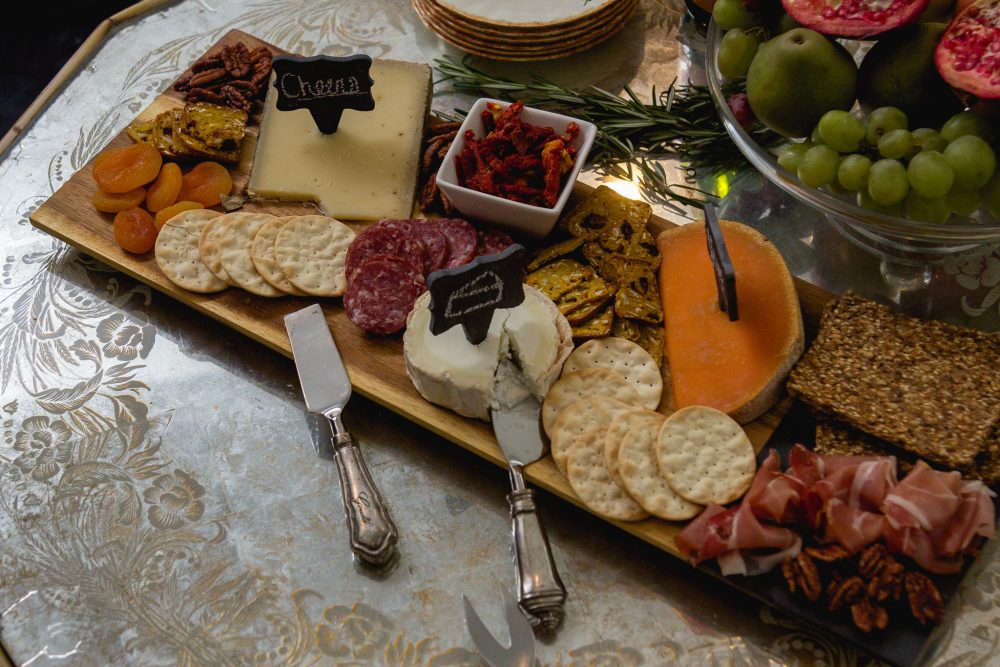 Fresh, Dried & Cooked Fruit
Sweet fruit is the perfect foil to salty cheese. Traditional options include figs, apples, grapes, peaches, pears, dates, quince paste (membrillo), dried apricots, and even baked fruit preparations like fig tortas and dense fruit cakes.
All Manners of Vegetables
Some types of crudites, like thinly sliced radishes and fresh tomato, look pretty on a cheese plate and are appropriate in season. But it's best to avoid cruciferous vegetables like broccoli and other strong-tasting vegetables in their raw form. A safer bet are briny, prepared vegetables like cornichon, bread and butter pickles, olives, roasted peppers, and marinated artichokes.
Nuts
When it comes to crunchy nuts, there really are no restrictions. Walnuts, pecans, almonds (standard or marcona), hazelnuts, pistachios--they all work on a cheese board. You can serve them raw or toasted, and plain, salted, herbed, spiced, or candied.
Condiments
Contrasting flavors work well here. Try coarse or Dijon mustard, sweet or spicy relishes, honey, thick homemade caramel, bacon jam, fruit preserves, or marmalade.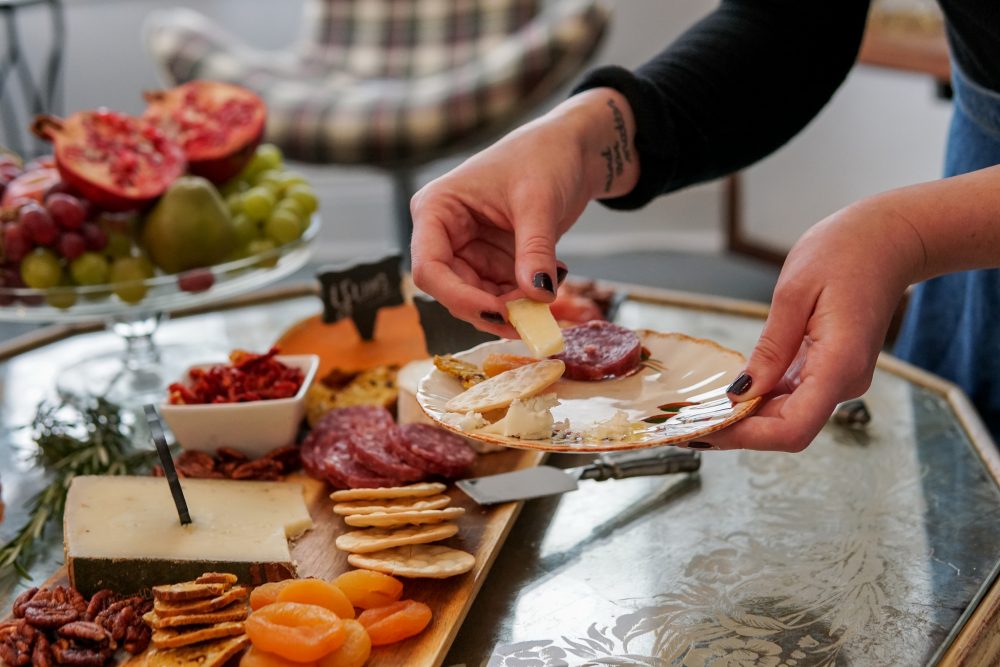 Tips for Making a Cheese Board
Taste
Great
Take your cheese out of the refrigerator at least 30 minutes before your guests arrive-- preferably sooner. Cheese is best eaten at room temperature.

Have a different serving utensil for each cheese so you don't cross-contaminate flavors.
Finally, serve complementary beverages. Beer, wine, and hard cider all have an affinity for cheese. If you want to keep things super simple, opt for a single crisp, dry sparkling wine like cava or prosecco.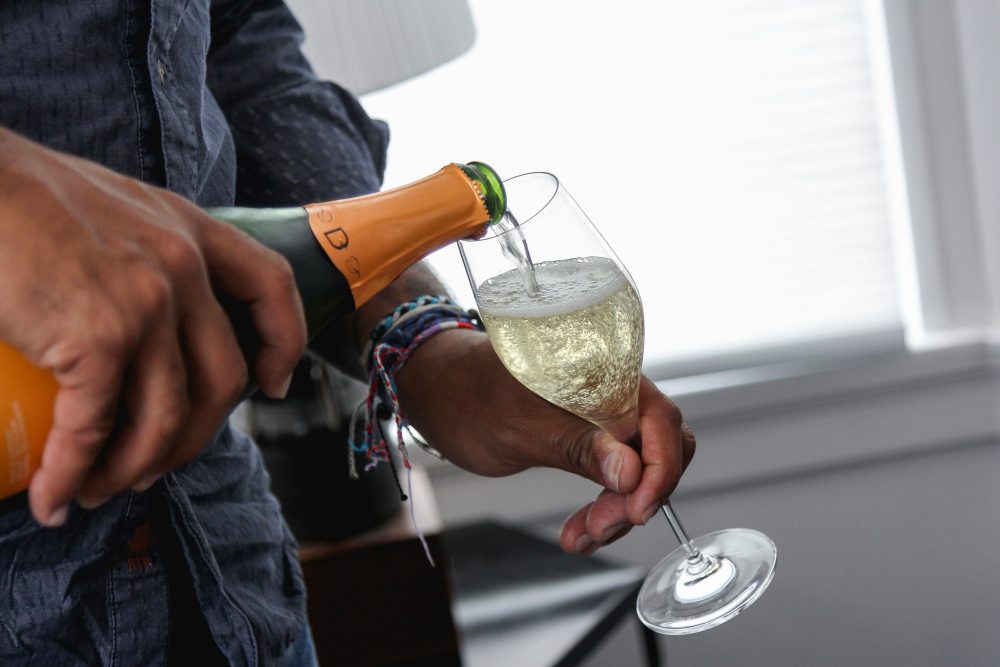 Tips for Making a Cheese Board
Look
Great
To create a drool-worthy visual feast, make sure the components you choose span a variety of colors, shapes, and textures.

Consider, for instance, the appearance of your cheeses (not just the flavors). Their pastes can range from uniformly bone white to arrestingly orange and every shade of beige and yellow in between. Some cheeses, like gorgonzola, feature interior veining of mold or vegetable ash, while other cheeses have a washed, bloomy, or cloth-wrapped rind. And still other cheeses are attractively accented with botanicals like ferns and leaves that have cosmetic as well as gustatory benefits. Selecting cheeses with different physical characteristics like these makes for a more interesting platter.

In selecting the nibbles that accompany your cheese, you'll want to keep things similarly diverse. For example, a board boasting piles of ruby red pomegranate seeds, heaps of verdant cerignola olives, fanned slices of fresh, golden-skinned pears, ribbons of pink prosciutto, round crackers flecked with seeds and herbs, and long, skinny grissini is one that takes into account contrasting visual elements.

Most importantly, an Instagrammable cheese board is not stingy. You'll want it to appear bountiful, so buy plenty of each accompaniment and don't be afraid to pile it all on. No one ever complained that a cheese board looked

too

lavish.