Mac and cheese may be one of the best comfort foods on earth. I'm not talking about the Kraft boxed nonsense (although that can be tasty, given the right situation) - I'm talking about hot, homemade, gooey, cheese infiltrated noodles with a delectable crunchy topping that adds a nice contrast in texture.
There's a sports bar across from our office that just redid their menu and they have a whole half of a page dedicated to various mac and cheese dishes. I've only tried the Buffalo chicken and lobster versions so far but I plan to go back and try them all. Each serving contains approximately one billion calories so it might take me a while (I like to save the best, most indulgent comfort foods for days that actually require extra comfort) but I will make it happen.
I'm also going to try my hand at this Beer Mac and Cheese recipe that I found on Pinterest (my new favorite website) - and I can justify it by saying it's for work (kind of like all of the craft beers that I consume.)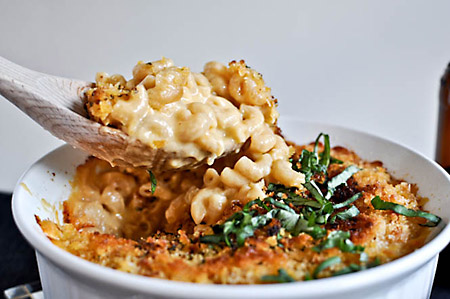 Photo Credit:
howsweeteats.com
The recipe originally came from the blog How Sweet It Is and I'd like to say it looks pretty darn sweet (although you can substitute the word "sweet" with pretty much any adjective meaning "to-die-for").
I can't take any credit - I'm just sharing the love here. Enjoy!
Easy Beer Mac and Cheese
serves 4-6
2½ cups uncooked whole-wheat elbow noodles
2 tbsp butter
2 tbsp flour
8 oz milk
8 oz beer (amber ales work well)
8 oz freshly grated cheddar cheese
4 oz freshly grated parmesan cheese
¼ tsp smoked paprika
Pinch of black pepper
Pinch of nutmeg
½ cup panko bread crumbs
10 large basil leaves, chopped for garnish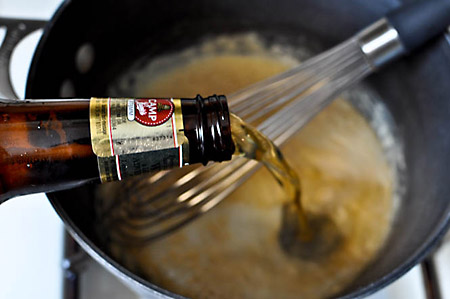 Photo Credit:
howsweeteats.com
Preheat oven to 375°F
Prepare water for pasta and boil according to directions, shaving 1-2 minutes off of cooking time since pasta will continue to cook in the oven
Heat a saucepan over medium high heat and add butter
Once melted and sizzling, whisk in flour to create a roux and cook until bubbly and golden in color (about 2 minutes)
Add milk and beer into saucepan whisking constantly, then add cheeses and stir until melted
Turn heat down to medium and continue to stir, cooking for 5-6 minutes while mixture thickens (it will most likely NOT thicken like regular mac and cheese because of the beer, but you want it to thicken a little bit)
Stir in pepper, paprika and nutmeg
Add noodles (once cooked and drained) to a casserole dish and pour cheese over the top, mixing gently to combine
Top with panko bread crumbs and an additional sprinkle of cheese if desired
Bake for 25-30 minutes or until bubbly and golden on top
Remove from oven and let cool for 5 minutes, then top with fresh basil
Tags: