Sparkling wines are a sign of celebration. Win the World Series? Get married? Survive to another New Year's? All occasions to pop open a bottle. But which sparkling wine is the best to use? What the hell's the difference? Luckily, we can provide you with the quick-and-dirty guide to becoming a world-leading expert on these carbonated delights. Or at least you can learn the basic differences between Prosecco, Champagne, and Cava wines with this quick guide called "Who is the Bubbly, and What Does it Do?"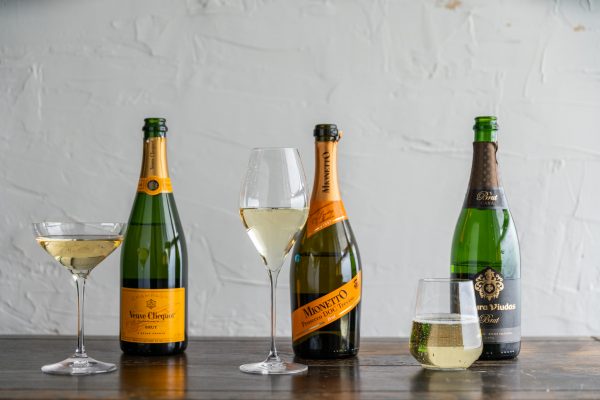 Prosecco
Where Does it Come From?
Prosecco comes from the small town of Prosecco, from Prosecco grapes. Easy enough? Well, they actually did change the name of the grapes to Glera, and Prosecco wines can also use up to a maximum of 15% of various other grapes. Prosecco/Glera grapes have a long history dating back as far as ancient Rome, with the actual wine being popularized around the 16th century.
What does it taste like?
As with most wines, there are many variations of Prosecco which lead to diverse taste profiles. Prosecco can be either spumante, the bubbliest, frizzante, second bubbliest, or tranquilo (no carbonation at all).
You can also get an idea of its sweetness based on whether it is brut, extra dry, or dry. Brut is the driest of the three with the least amount of residual sugars, whereas dry is the sweetest. Whichever you choose, you're drinking healthy compared to some of the alternatives. Even the sweetest of sparkling wines, Demi Sec, contain substantially less sugar than many of the most popular mixed drinks.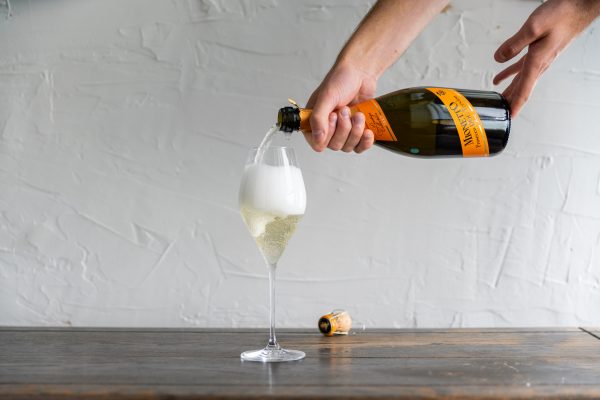 Price point?
Prosecco is much cheaper than champagne due to the fact that much of its fermentation process takes place in tanks rather than in the bottle. This is known as the Charmat method and is much less labor intensive than the traditional method, which is a big reason for the difference in price.
You can find a bottle of Prosecco for less than $10 easily, though if you want authentic Prosecco wine, you can look on the label for DOCG status. These are strict guidelines as far as where the grapes come from, the fact that they are handpicked, and that they are grown exclusively on hillside vineyards. Conegliano Valdobbiadene is the only region where Prosecco DOCG can be made. This region looks like it would make for a pretty nice vacation spot. DOCG wines are more expensive because the process is much longer and more difficult when being done on a hill.
DOC status for a Prosecco wine is more common, which are less strict guidelines but still produce very high-quality sparkling wine. Wines labeled with IGT are more readily available and many are still delicious, so don't hate.
What glass should I use?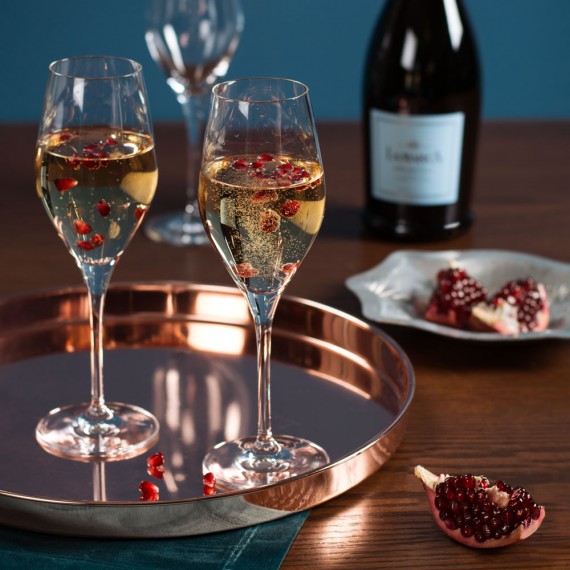 We recommend a glass with a taller tulip shape to help bring out the aromas and taste of the drink that is quickly becoming the sparkling wine choice of the masses:
What food/drinks should I pair with it?
Prosecco can be translated to "goes well with everything." Actually, that's not true, but it might as well be. Prosecco is a great sparkling wine to pair with either salty or sweet flavors. That includes salted meats like prosciutto, various types of seafood, fruits, and even easy, party-friendly foods like potato chips, popcorn, or ice cream. Prosecco ain't picky.
Prosecco is typically sweet enough to drink on its own, of course in mimosas, or with a variety of other fruity flavors. Enjoy!
Champagne
Where Does it Come From?
Champagne ONLY comes from the specific Champagne region of France and secondary fermentation MUST occur in the bottle, or else it's not Champagne. Rule of thumb: don't try and bottle and sell something and call it Champagne if it's not Champagne. It's illegal in Europe to do so.
Champagne dates back to the 1660s, when a scientist named Christopher Merret discovered the addition of sugar to a finished wine. The cork popping terrified locals, and Champagne was referred to as "the devil's wine" for years. Bubbles were initially considered a fault in the fermentation process. Today, thanks to the existence of baby dog bubble videos, bubbles are accepted as a positive. Bubbles can be used as a means to understand more about a Champagne's age and personality.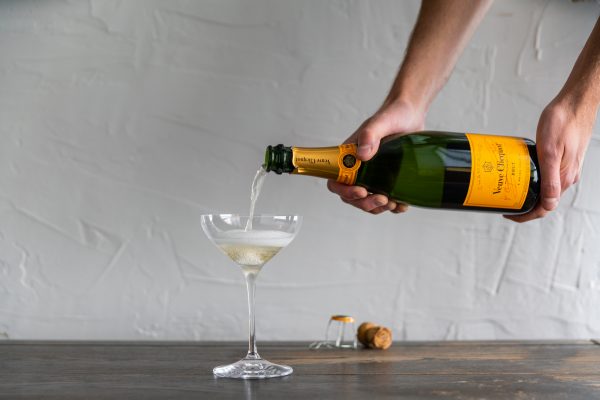 What does it taste like?
As with Prosecco, champagne varies greatly in flavor whether one is drinking Brut or Demi Sec. But what makes Champagne so different than the others? Well, it's the Champagne taste! (Time saving tip: don't watch that or go down the rabbit hole of similar videos).
Champagne is typically less sweet than Prosecco with citrusy notes and more subtle flavors overall. Crystal clear champagne is a sign of good quality, as are natural fruit smells, or the smell of fresh bread. A crisp, subtly fruity taste is a hallmark of a good dry Champagne, though flavors vary drastically. A long length is another way to tell if a Champagne is quality. This means it holds its flavor long after it is swallowed. Swish it around, try to get a taste of the various notes, and see how long that flavor stays with you after your sip.
Price point?
Authentic Champagne is generally much more expensive than Prosecco. This is due to the fact that the fermentation process for Champagne is much more hands-on. Champagne is also typically aged a minimum of 15 months. If you're not looking to break the bank, an authentic quality bottle can still be found in the $30-$50 range.
What glass should I use?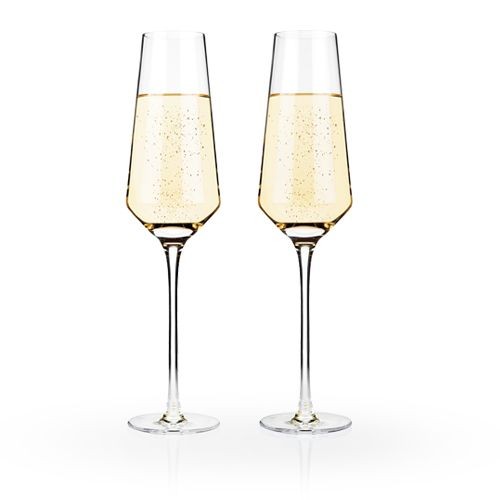 Champagne is of course best enjoyed on special occasions. Therefore, it's a wise idea to browse some of our festive, smaller glasses:
What food should I pair with it?
In France, Champagne is most often enjoyed as an aperitif prior to meals. However, like Prosecco, Champagne can be enjoyed with a variety. Brut Champagnes tend to be better enjoyed during meals, and with pretty much any non-acidic foods. Go with creamy sauce over red spaghetti sauce with these. Extra dry or demi secs go well with dessert.
Cava
Where Does it Come From?
In the 1860s, a chemist by the name of Josep Maria Raventόs i Blanc travelled to France's Champagne region, and he wanted to duplicate that traditional process in his Spanish hometown. He did when he created his first sparking wine in 1872. To this day, the vast majority of Cava wine is produced in his home region of Catalonia.
What does it taste like?
As with Prosecco and Champagne, Cava can range from brut to very sweet. Cava shares the same fermentation process as Champagne, so they share many similarities. However, Cava is generally accepted as easier-drinking than Champagne. The two wines also have slightly different flavors based on their regions. Like Champagne, Cava is often described as having toasty and nutty (almond or hazelnut), as well as citrusy notes. Cava is the combination of both red and white grapes, which brings about its own unique flavor.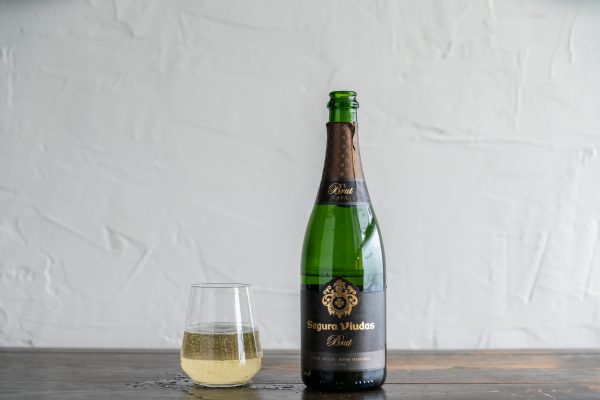 Price point?
Cava is a great alternative to Champagne if you're looking to save some money. Cava is produced the same way as Champagne but at a much lower price point. The cheapest bottles can be purchased for under $10, but authentic Cava is slightly more expensive. As with Prosecco wines, Cava wines have authenticity ratings to describe their quality. Wines rated as higher quality receive Cava D.O. status. Cava de Paraje Calificado, a higher elite status, was added in 2016. Only 12 vineyards to date have received that classification.
What glass should I use?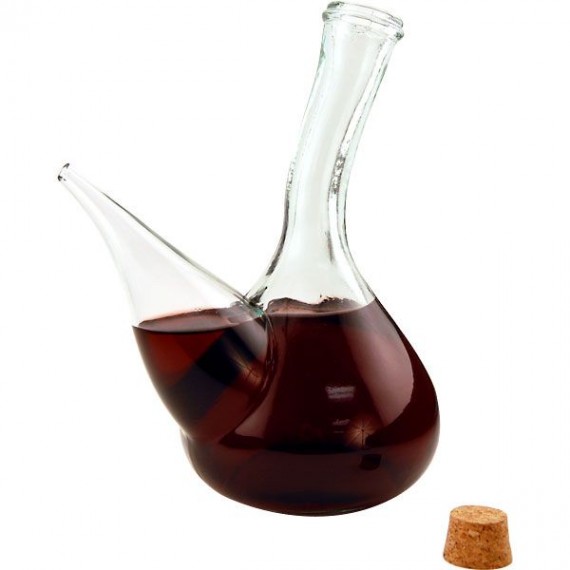 Go for the full authentic Spanish experience and drink some Cava straight out of a porron. Don't forget to remove the cork and use proper technique. Cava also tastes great out of our stemless wine glasses:
What food should I pair with it?
In a similar vein to both Champagne and Prosecco, Cava goes well with a variety of foods, including creamy sauces, cheeses, seafood, and veggies. Some delicious Spanish paella would make for a great pairing.
There are many varieties of sparkling wine from all corners of the earth these days, but these are three of the most quality crowd pleasers you can purchase for your next get-together. Any of these choices in a low sweetness choice like Brut will work great if planning to serve with a meal. Be sure to look for the lettering on the label, as well as the place of origin, when purchasing your next bottle. Try a few different options out and see which ones you enjoy best.
Next time the opportunity arises to pop some bottles, you should be fully prepared. We have many products to help you out:

Cheers!