---
Wall Stats
Approximately 60,000 bottle caps (all sent in by our incredible customers & friends)
459 square feet of wall space
Many rolls of 30 mil thick magnetic sheeting adhered to the wall
43 KegWorks employees putting up caps
Started on Tuesday, November 27th @ 3:47pm (the very first cap was a Dogfish Head)
Last cap went up on Wednesday, January 23rd @ 2:31pm (and that one was from Harpoon)
Frequently Asked Questions
Did you have to glue the caps to the wall?
Nope - we let the magnetic sheeting do most of the work.
But doesn't the magnetic wall demagnetize the credit cards of everyone who walks by?
Negative - we walk by every day and our credit cards work just fine.
How many photos did you have to take to make the video possible?
Our photographer took 10,525 pictures in all - but a few of them were just for fun.
Where did you get that awesome song you have as the background music?
It's called "Music for a Found Harmonium" by Penguin Café
Orchestra. You can check them out here.
Are you going to make another bottle cap wall?
We just might - guess you'll have to wait and see.
Should I buy all of my draft beer equipment, man cave essentials, and cocktail ingredients from KegWorks?
Yes - but only if you like cool stuff and shopping with an awesome company.
Tags: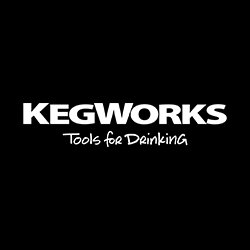 KegWorks has been selling cool tools for drinking and serving knowledge on tap since 1998. We are all about enjoying good drinks with good friends.