Dave and I recently returned from our trip to New Orleans for Tales of the Cocktail, a cocktail geek-fest and many people's excuse to start drinking at 10 a.m. When I say geek I mean it in the most endearing way, as I too am a geek in my own right, just not a cocktail geek. I'm simply trying to convey how passionate these people are about cocktails.
Before I get into a series of posts detailing some of our adventures, let me reiterate I am a cocktail newbie. Normally, if imbibing I prefer a beer. Although that fact hasn't changed since the trip, I did learn a thing or two about "mixology" and got to experience some new tastes along the way.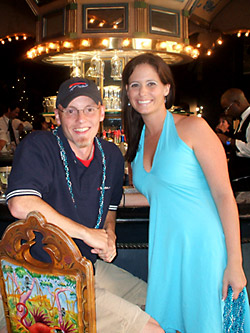 We arrived Wednesday afternoon and settled in at the historic Hotel Monteleone, which conveniently was also hosting the cocktail convention. We started with a round of Louisiana's own Abita beer while circumnavigating the room at the hotel's Carousel Bar (which, I was pleased to discover and you may have guessed, is a fully functional rotating carousel).
Check out the picture to get an idea of the ornate grandeur of the Carousel Bar. That's me with Bombay Sapphire promotional model and former Buffalonian Jodie, a graduate student at LSU in Baton Rouge and still very much a Bills fan. Not pictured: my angry wife.
Our experience in the Crescent City really kicked off with a walking tour of the French Quarter, which took us down Royal Street, past Jackson Square and back up Chartres Street with many stops along the way. I especially enjoyed the tour because our guide shared a great deal on the rich history of the Quarter in the presentations he made at each stop.
One of the more interesting tales involved 19th Century French apothecary Antoine Peychaud. You may recognize that name from the bitters bearing his name, still available today. The story involved Peychaud unwittingly creating the original cocktail, the Sazerac. Served in a small eggcup called a coquetier (ka-kuh-tyay), some people believe the word 'cocktail' is the result of Americans mangling the French pronunciation.
Another stop afforded the opportunity to try the famed and mysterious Green Fairy cocktail. The knowledgeable bartender filled us in on the history and mystique of Absinthe, the much-maligned main ingredient in a Green Fairy. She even passed around wormwood samples to examine. For everything you could ever want to know about Absinthe, check out this comprehensive website.
Our final stop on the tour was a 200-year-old bar called the Napoleon House on Chartres Street. Dave ordered us a couple of Pimm's Cups, the cocktail synonymous with the renowned bar. Here's the exact recipe they use:
Fill a tall 12 oz glass with ice
Add 1¼ oz Pimm's #1 and 3 oz lemonade
Top off with 7up
Garnish with slice of cucumber
Other recipes for the drink use club soda or ginger ale instead of 7up. Our tour guide explained that in New Orleans they use 7up for that extra touch of sweetness. It was a nice, refreshing beverage to combat the oppressive heat of New Orleans in July. The cucumber was an interesting flavor accent that really came through as you got to the bottom of the glass. Highly recommended.
That was day one. At this point, we haven't even attended a seminar yet. Check back again soon for more highlights of our long weekend in New Orleans.
Tags: