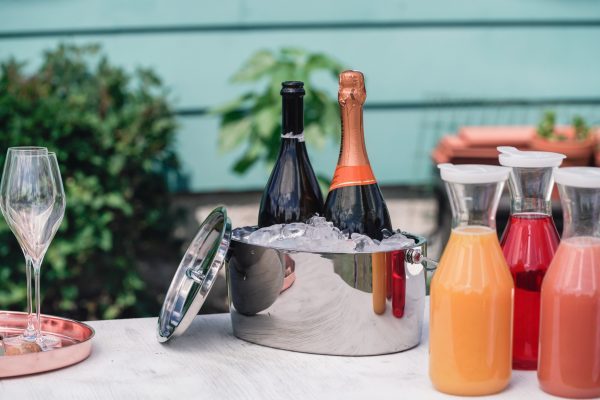 Many cocktails are difficult to prepare, and may even require the services of an experienced bartender or mixologist. A mimosa is quite the opposite. The generally accepted mimosa ratio is two parts juice to one part Champagne, Prosecco, or other sparkling wine. However, a simple mimosa bar will allow your guests the opportunity to experiment with different amounts and types of wine or juice, all kinds of garnishes, whatever their heart desires.
Some necessities you'll need:
Many bottles of Champagne/Prosecco/Cava: Plug your numbers into this drink calculator for a rough estimate, and tally up at least 1 bottle for every 1.5-2 guests if the mimosa bar will be the piece de resistance of your party. That's 10 bottles for 15-20 drinking humans for those of you who don't do decimals. All of these sparkling wines can be a contributor to a great mimosa. Mock mimosas are always a fun idea too. Set out sparkling grape and apple juice for the children and non-drinkers at your party (clearly labeled to avoid any confusion).
Juice, lots of juice: Again, experimentation is the name of the game for a mimosa bar. Orange juice, cranberry juice, mango juice, lemonade, raspberry lemonade, pineapple juice, grapefruit juice… the list of juices for mimosas is long and they're all great. Have at least three options out with backup bottles for each. One bottle for every 3 guests should do the trick. However, if kids will be at the party, you better juice up. Kids drink juice at parties like they've just completed a marathon.
Lots of fruit garnishes: Both the children and adults at your party will appreciate the fruit garnishes for their juices or mimosas. Cut up lots of fruit neatly and have extras ready in case they run out. Strawberry, raspberry, and orange were our choices, but lemon, lime, blackberry, blueberry, cranberry, pineapple, pear, pomegranate, and cherry are all great options too.
An ice tray
A garnish tray
Garnish tongs
A serving tray
Champagne glasses
People to help you drink it all: preferably friends or relatives
Preparedness from our mimosa bar ideas, tips, and products: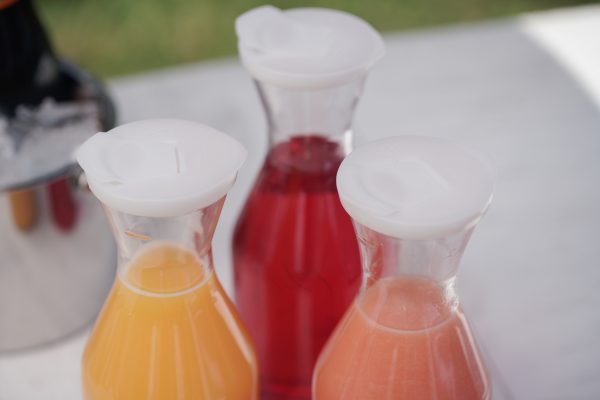 People are gawky. They spill.
There's always (at least) one guest whose clumsiness threatens to turn your mimosa dream into a mimosa nightmare. It might be that butterfingered cousin of yours who showed up uninvited. Maybe someone's child (bless their little heart) works up the courage to pour their own juice when their feeble little fingers aren't up to the challenge. Luckily, with our polycarbonate juice carafes with lids, spillage will be kept to a minimum and broken glass ain't no thang!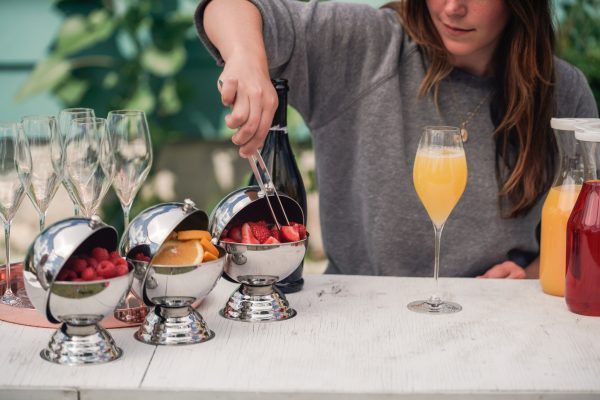 Get your greasy paws away from my garnish!
Our roll-top garnish dishes are elegant, sleek, and convenient. Still, some oaf with no respect for your sanitary sanity will have the audacity to roll up the top, reach his grimy fingers inside, and pick out his favorite garnish (being sure to touch each of the others in the process). Avoid all that, be sure to have garnish tongs on hand.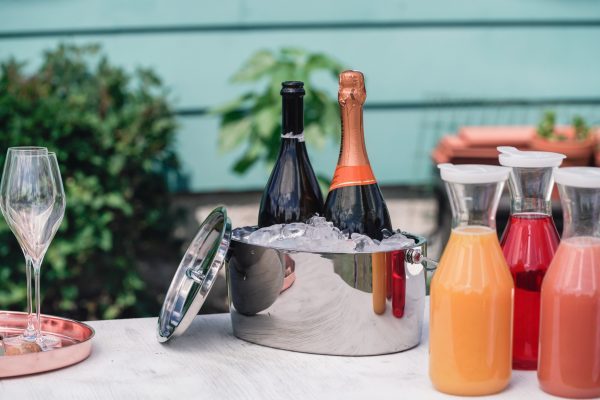 Display them in a nice ice paradise.
If you've ever watched any nature shows, you would know that Champagne and Prosecco are most comfortable in their natural ice cold habitats. Keep them cozy and enjoyable in this easy-carrying, dashing oval ice bucket.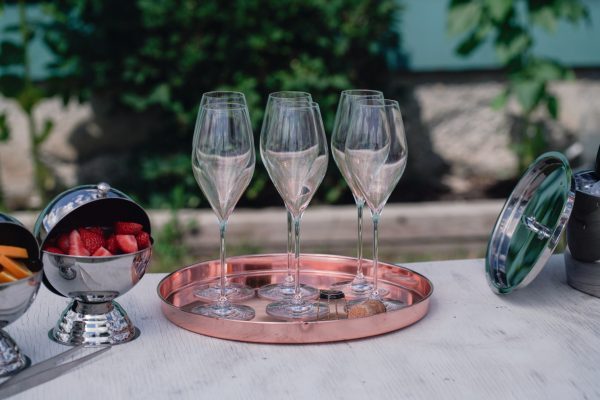 Serve 'em up in style
All of this pomp and circumstance will look really out of place if your guests are chugging mimosas out of plastic party cups. Proper glasses will both look very classy and accentuate the flavors in their cocktails. Also, this modern serving tray will add some shine to the party and doesn't get hot even out in the sun, saving your fingers from potential excruciating pain at the end of your summer party.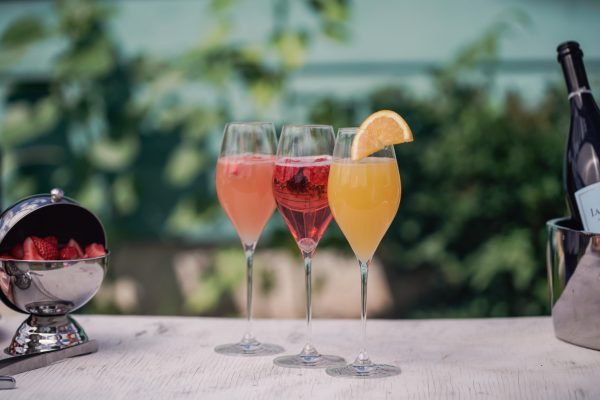 A mimosa bar is a proper touch for most any occasion. We have everything you need to outfit your bar befitting of any celebratory (or non-celebratory) mimosa bar event. The main goal of your setup is for it to be functional and colorful, with many flavor combinations available. A variety of juices, sparkling wines, and garnishes will allow your guests to be creative. This mimosa bar is user-friendly and minimizes spill, sanitary, and glass-breaking risk. Cheers!