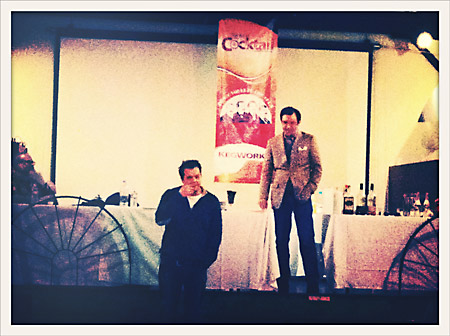 One of my absolute favorite drinks sampled at The Art of the Cocktail last week was an original by Simon Ford (top left), mixologist and bartender extraordinaire. A self-proclaimed gin man, Ford blew me away with this simple, yet delicious cocktail recipe. Positively refreshing, I had to share. This will most definitely become one of my standard classics.
Martinez
2 oz Plymouth Gin
1 oz Martini & Rossi Red Vermouth
1 barspoon Luxardo Maraschino
2 dashes Fee Brothers Old Fashion Bitters
Thin-cut lemon peel, for garnish
Pour ingredients into a mixing glass. Stir well with cracked ice and strain into a chilled cocktail glass. Garnish with a twisted swatch of thin-cut lemon peel and enjoy!