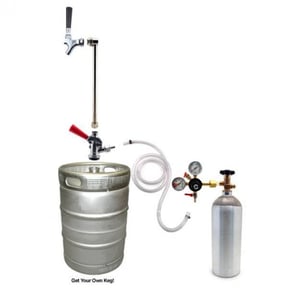 Most of this kit arrives to you already assembled. You will have to get the CO2 tank filled. Look under "Gas" in your local yellow pages. Many fire extinguisher supply companies and welding supply companies will fill them for you.
Note: The Rod and Faucet CO2 System uses a lower pressure (approx. 4 PSI) than other systems. Most breweries have about 12 to 14 lbs of CO2 in the keg. The steps below will help you get your beer flowing correctly. This system is recommended and works best for special events, parties, etc. For longer term beer dispensing (48 hours or more), a standard CO2 system is recommended.
To Connect Gas Regulator and Tap a Keg
Place a NEW fiber washer or nylon washer inside the coupling nut of the regulator and screw the nut to the cylinder valve outlet. Tighten with a wrench. Make sure that it is really tight. This is the spot where most air leaks occur. The new washer will compress to about half of its original size and fill any gaps or spaces. If not tight enough, this connection will leak at some point. Do not use old or scored washers. Some regulators may have a built-in "O" ring in the regulator stem. In these cases, a CO2 fiber washer is not necessary, but as the ring wears, a new ring or CO2 washer will be needed.
Turn the shut-off valve at the base of the regulator to the "OFF" position (to the left or right).
Open the drum cylinder valve all the way out (that's the big screw on the face of the regulator). This is important because the cylinder valve seats in two places.
Turn adjusting screw clockwise until correct pressure is indicated on gauge (approx. 4 lbs PSI).
Attach keg coupler to keg. On the side of your keg coupler is a safety/bleeder valve. Use valve to release excess CO2 pressure from the keg.
Open the beer faucet. Once the beer starts to come out slowly, open the shut-off valve at the base of the regulator and apply about 3 to 4 lbs PSI CO2 pressure to the keg. If you were to turn on the CO2 tank immediately as you initially tap the keg, without first bleeding the pressure, you would get nothing but foam.
Other Suggestions
Store a CO2 tank upright, NEVER on its side. A full CO2 tank at room temperature will read approximately 700-800 lbs PSI. At 40º F it will read approximately 600 lbs PSI.
Be careful with the regulator, as the gauges on it are somewhat delicate and can easily break. Keep the CO2 tank chained to a wall to prevent it from tipping over.
Most often this kit will be used in an 8 to 48-hour special event type application. Keep the keg as iced down as possible. For the purposes of this kit, temperatures of about 32 - 36º will be ideal with about 4 lbs applied pressure. Temperatures of about 36 - 40º will need about 3 lbs of applied pressure.
When drawing beer, always pull the faucet fully open, NEVER half way
Cleanliness is of utmost importance. Clean the entire system monthly or immediately after each keg is emptied. The faucet should be removed, disassembled and cleaned with hot water and a brush weekly. Inexpensive cleaning compounds, equipment and kits are available and are recommended. Check out our selection of cleaning kits.