At Kegworks, we know that your kegerator or draft system is important, and basically needs to be treated with the same amount of love and respect as a family member would. Well, that draft system is inoperable without using the right tools properly. It's important to know how a keg coupler works, assembly and disassembly, proper cleaning, and how to solve some common keg coupler problems to maintain quality pours for years. Here are some things you should probably know about the MVP of your draft system:
What is a keg coupler?
A keg coupler, also known as a keg tap, is a vital piece to your draft beer system. It connects the air line (the CO2 or Nitrogen tank) and the beer line to your keg so that everything flows properly. It uses the compressed air from the tank to push the beer out of your draft system and into your glass. If your beer keg coupler isn't attached properly, you won't be pouring anything out.
How to assemble and disassemble a keg coupler
To maintain a quality draft beer system, it's important to clean its parts regularly. This will mean disassembling and reassembling the keg coupler, so you'll want to get familiar with the look and function of each part.
Here's a picture of our economy D coupler, also known as a Sankey keg coupler, fully disassembled: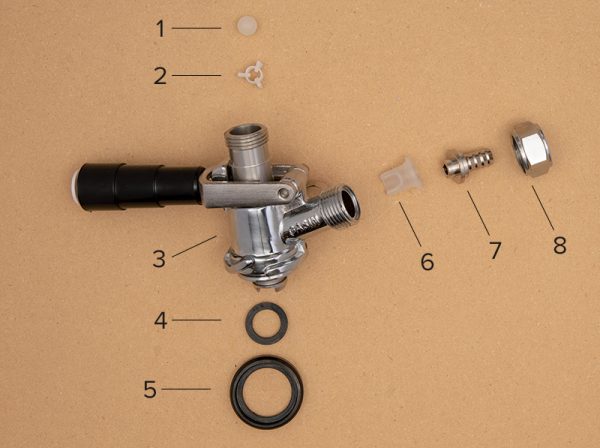 The parts are as follows:
And here's a similar standard "D" coupler, though in premium all stainless steel contact, which is better for your beer and more likely to last longer: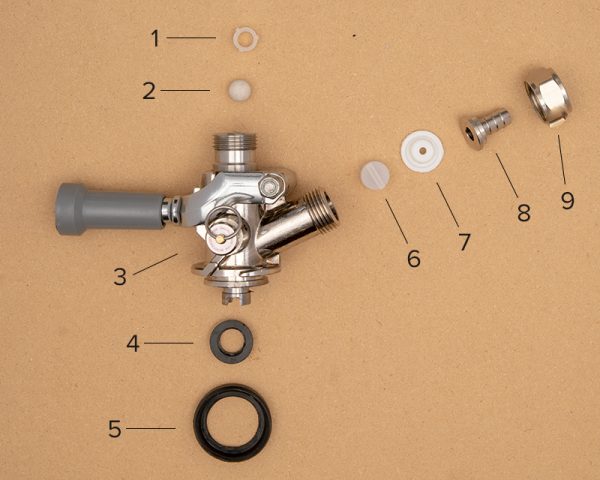 Similar with some slight differences, the parts for this keg coupler are as follows:
***Note: for proper connection of tail piece to hex nut, or if your keg coupler is leaking, be sure to have some extra Beer Line Rubber Washers on hand.
How to clean a keg coupler
Depending on how often you use your draft system, it's a good idea to clean your beer lines and keg system parts at least every two to three weeks, or every half keg. This includes your keg coupler. Remove your coupler and all of its parts from your tap. Disassemble your keg coupler.
Make a solution of approximately 1/2 oz to 1 oz of cleaning solution for every quart of water. Follow the directions on the bottle of cleaning solution for exact amounts. Place all keg coupler parts in the solution, and brush them clean. Rinse them with clean water, then towel dry before use.
All Beer Line Cleaning Products
Don't Forget to Clean Your Beer Lines as Well!
When you clean your keg system parts, be sure to clean your beer lines as well. Again, use the same combination of water/cleaning solution. Turn your CO2 or Nitrogen, as well as your regulator, completely off. Remove your keg coupler, faucet, beer line, and air line. Pour the cleaning solution/water combination into the plastic jar and attach to the beer line. Tighten one end of the beer line to the plastic jar, and the other end to a bucket of cleaning solution. Pump the cleaning solution through the line, and then pump clean water through the line a few times to remove all solution prior to use. Reattach the parts of your system and enjoy your cleaner, better tasting beer!
Kegworks can help you avoid many of these common keg coupler problems
Is your keg tap not sealing, not working at all, or the handle is stuck?
If you're using the wrong coupler, you may notice that you're having to force the coupler to attach to the keg. The right-sized coupler should attach relatively easily. Be sure to match the beer you're using with our keg coupler list:
Is your coupler leaking or beer pouring foamy?
Be sure that your rubber check valve is attached properly. Many times, people throw this part out thinking that it is part of the packaging, but the rubber check valve is a critical part of your keg coupler. Also, having extra rubber washers on hand can aid in the proper attachment of the hex nut and tail piece to the lines, and can eliminate leaks when they reinforce attachments elsewhere in your system. Anytime two pieces of metal are coming in contact in your draft beer system, it's a good idea to use a rubber washer to attach them.
Replacement Rubber Check Valves
Lost or damaged part?
As with most components of a beer dispensing system, there are many small parts involved with a keg coupler. While removing them often for cleaning or maintenance is important, it can also lead to damaged or lost parts. One lost or damaged part can often make the difference between a perfect pour and a cloudy or foamy beer. Be ready for anything with this draft beer system repair kit, which includes tools and replacement parts:
All Keg Coupler Replacement Parts
Having clearance issues, or keg coupler won't fit in your beer fridge?
If your keg coupler won't fit into your fridge, use our low-profile keg couplers when overhead clearance issues are preventing you from pouring. This can reduce the increased height above your keg added by the coupler from around 5"-6" to as little as 0.75" - 1.25 ".
As you can see in the top two images, our low-profile coupler and low-profile coupler with rotating probe both offer valuable inches of clearance in your beer fridge compared to the standard-sized coupler pictured on the bottom.
Hopefully these quick tips answered some of your keg coupler questions or problems. If not, our draft beer specialists can further answer your questions. Give us a call M-F 9:00 AM - 6:00 PM at 877.636.3673, message us on Facebook, fill out a question online here, or leave a comment below!