This American Amber (or Red Ale) makes both a great session beer, especially at 5.5% ABV, and in my opinion, a really decent crossover beer. It's refreshing and balanced enough to be enjoyed by someone who has never tried any sort of craft beer but also has a light kick of hops, which adds to the newbie's first microbrew experience.
As an aside, please disregard the horribly designed glass that this was poured into last night; my choices were limited.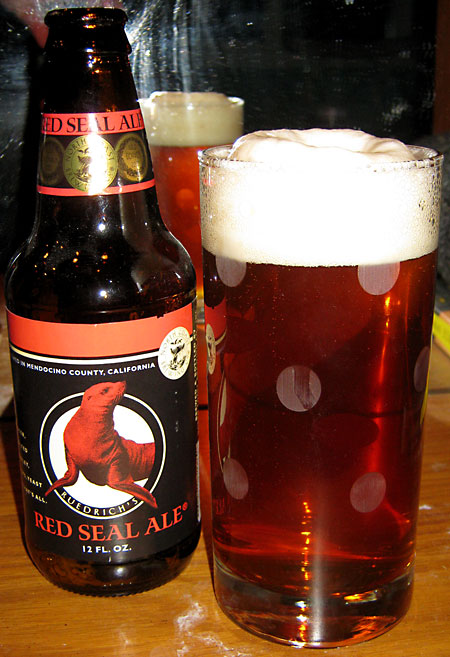 Ruedrich's Red Seal Ale by North Coast Brewing Co. poured a transparent, ruby red with amber hues and a tall, billowy off-white head that dissipated rather quickly. I have a feeling I poured with a bit too much vigor because my drinking partner last night didn't have anywhere near as tall a head as I had, but that's ok; not every pour is a great one. There were bits of sediment found at the bottom of my glass as well.
Red Seal Ale smelled of crisp, refreshing hops with a bit of malty sweetness. My first sip matched the nose rather well; malty sweet at the beginning, with a hint of caramel (which is found quite often in red ales) followed by a spicy, citrusy-hopped finished. None of the flavors were overwhelming; each were quite balanced and the beer itself doesn't offer extreme flavor.
Its balance and subdued flavor nature are exactly the reasons why I'd suggest this as a crossover beer. Actually, I can say the same for the Ommegang Belgian Pale Ale that Liz reviewed earlier this week. They're both refreshing and light enough that craft beer newbies would be able to enjoy it while still getting a heightened brew experience.
Body-wise, Red Seal Ale had a medium-light mouthfeel with medium carbonation; not so bubbly that it filled up your stomach too quickly but with enough CO2 to keep each sip refreshing. This and its ABV are the reason why I consider a good session beer, especially on a summer evening.
Tags: