Ireland has made two great contributions to the world when it comes to drinking: Irish whiskey and Irish beer. We are going to focus on the latter of those contributions as we take a look at the styles and brands of beer that Ireland is best known for.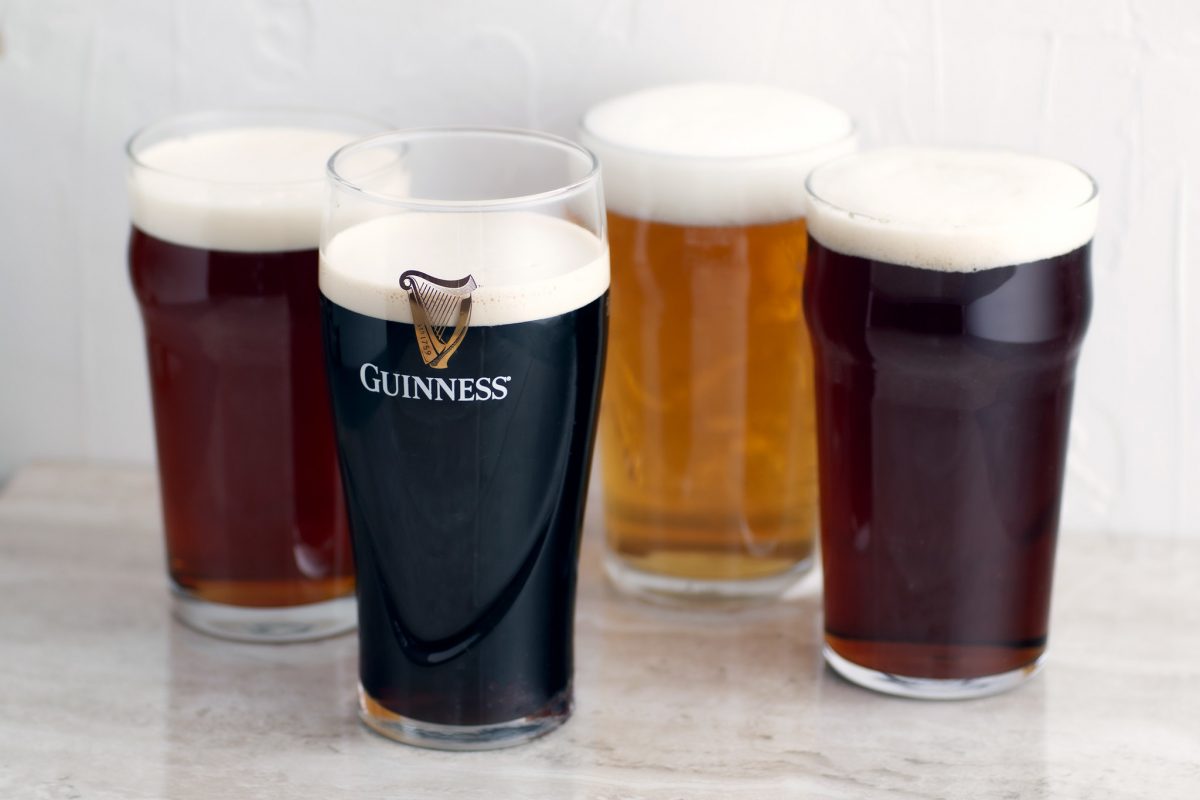 When it comes to beer, Ireland has a rich brewing history that can be traced back more than 300 years. The country has produced one of the world's most popular beers, in addition to many others that have found a following in North America and around the world. Many of these brews increase in popularity during the month of March as people celebrate St. Patrick's Day with a pint of their favorite Irish beer.
---
Popular Irish Beers
Guinness
Guinness, the world's best selling Irish beer, has origins that trace back to 1759. Made from roasted barley, hops, yeast and water, Guinness stout appears black in color, but the company states the official color is a dark ruby.
There are several variations of Guinness stout that are available in different parts of the world. The most popular of these is Guinness Draught, which was developed in 1959, and gets its trademark creamy mouthfeel and surging frothy head thanks to nitrogenated beer gas. It is available on draft and in cans and bottles, which contain widgets of nitrogen gas.
Guinness Extra Stout is another widely available variety. It features a similar taste profile, but with a little more dryness and bite on the back end. It features an ABV of 5.6% in the United States but can be as low as 4.2% in other countries. Guinness Foreign Extra Stout is a heavier and richer stout that has some chocolate and fruity notes. It clocks in with an ABV of 7.5%
Smithwick's Irish Ale
Just like Guinness, Smithwick's was the inspiration for an entire style of beer. If you're looking to enjoy a delicious Irish beer, but without the heaviness of stout, then this is for you. This Irish Red Ale is very approachable for beer drinkers of all kinds with a nice balance between malty and bitter flavors. It features an amber red color that gives the style its name.
The Smithwick's name is pronounced with the "W" silent, which sounds like "Smitticks". In addition to the Irish Red Ale, Smithwick's also produces a pale ale and blonde ale.
Harp Lager
Guinness created Harp Lager in 1960 as a response to the growing popularity of European lagers in Ireland. The beer gets its name from the Brian Boru harp that is also featured in the Guinness logo. Harp was originally brewed at the Great Northern Brewery in Dundalk but is now made at the Guinness St. James's Gate Brewery in Dublin.
Harp is a European Pale Lager with a golden color. It features a low bitterness with a balanced mix of malt and hops flavors. It's much lighter and crisper than a dry stout or red ale. This lager is often paired with Guinness in a Half & Half, which is an Irish version of the popular Black & Tan. Instead of using the British made Bass Ale or another lager, you get a 100% Irish drink by pouring Guinness on top of a half-pint of Harp. In fact, if you go to Ireland, we'd recommend that you order a Half & Half with Harp instead of a Black & Tan.
Kilkenny
What would you get if you mixed the creamy mouthfeel of a Guinness or other nitro Irish dry stout with the flavor of an Irish red ale? You get Kilkenny Irish Cream Ale. This beer originated from the St. Francis Abbey Brewery in Kilkenny and was brewed there until its closure in 2013.
Just like Harp, this was another creation by the folks from Guinness as they combined the two styles of Irish beer. Kilkenny pours with a reddish/amber color similar to Smithwick's with a creamy head that is reminiscent of a pint of Guinness thanks to nitrogen gas. The flavor is similar to a red ale with malty notes with the hop flavor toned down, but you also get the bonus of the cascading bubbles and creaminess found in nitrogenated beers.
---
Irish Beer Style Guide
When it comes to styles of beer that are truly Irish, there are two that stand out. Irish Dry Stout and Irish Red Ale have become widely appreciated on this side of the Atlantic Ocean, with a popularity that peaks in the days leading up to St. Patrick's Day in March.
Irish Dry Stout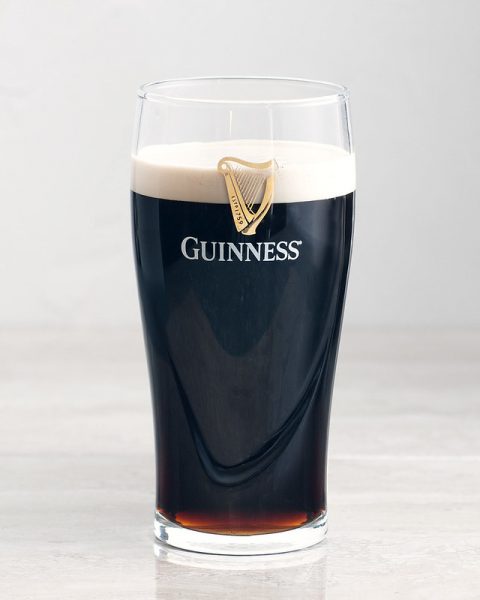 Truly a beer style that is associated more to one single brewery than any other style, Irish Dry Stout was born in 1759, when Arthur Guinness signed a 9,000-year lease on the St. James Gate Brewery in Dublin, Ireland. He had some experience brewing, but he made this move to make his fortune and in an effort to capitalize on the success of London Porters, hired an expert porter brewer to help him.
Intended to be a stronger, more roasted version, it was originally called Stout Porter, although the Porter was eventually dropped and modern versions are brewed from a lower original gravity and no longer reflect a higher strength than porters.
Examples of Irish Dry Stout
Irish Dry Stout Characteristics
Irish Dry Stouts are jet black to deep brown in appearance, with some garnet highlights here and there. It can be clear or opaque, and its second signature is its thick, creamy, long-lasting tan to brown colored head.
They have a moderate, roasty, grainy sharpness of flavor, with some light to moderate acidic sourness and medium to high hop bitterness. The roasted grains provide a dry, coffee-like finish with some bittersweet or unsweetened chocolate character in the palate, and the creaminess will provide a lot of balance.
Dry Stout can be medium-light to medium-full in body, with low to moderate carbonation, and for a beer with high hop bitterness and a large proportion of dark grains present, this style of beer is exceptionally smooth. It's no wonder so many of these stouts are served on a nitro system because that's what ices the cake for them in the smooth and creamy department.
The nitro aspect is what makes certain Irish Dry Stouts so unique. Using nitrogenated beer gas to carbonate the beer versus carbon dioxide gives nitro beers, such as Guinness, the creamy mouthfeel and cascading head of bubbles that they are known for. Putting nitro beers on tap requires special draft equipment, including a nitrogen gas tank, U-system keg coupler and stout faucet.
Irish Dry Stout Food Pairings
Incredibly versatile with food, Irish Dry Stout may throw you a few curveballs with what it can pair with. Some versions of the style are actually brewed with oysters because their briny texture and sea flavors pair so well with the dry, profound bitterness of the beer. Basically, any member of the shellfish family is a great call with this style, the sweetness from the sea is amplified ever so well when paired. Another great food family to place on the table with this style is pork, be it ham, sausage, bacon or tenderloin, especially if it's roasted. Most heartier, richer foods apply here, be it a meat pie, barbecued beef, a burger or a ribeye steak.
Corned beef and cabbage is a staple of St. Patrick's Day celebrations in America and a bottle of Guinness or Irish Dry Stout is almost essential to be poured into the pot as the meat and veggies simmer away. And, if you're making a pot of beef stew and happen to run out of stock, a bottle of this beer will complement it magnificently. Cheese isn't exactly a perfect partner here, but an aged Dubliner cheddar would work well. And as far as desserts go, fruit tarts or pies are an excellent choice, as is chocolate soufflé, tiramisu or mousse.
---
Irish Red Ale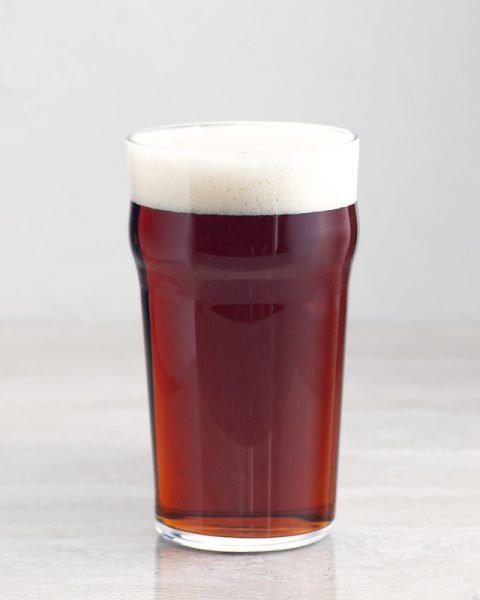 Unfortunately, little is to be discussed with the history of Irish Red Ale, because, well, there really isn't much to talk about. It originated with the Smithwick Brewery in the town of Kilkenny, in 1710, and was pretty similar to an English Pale Ale, the only difference is having a bit of roasted barley added to the grist. This type of malt gave the beer a darker, red color and added a toasty, dry flavor, making it very smooth and highly drinkable. It's not a style that has a huge following in its native homeland, being more popular in the United States due to the popularity of beer such as Killian's Irish Red (which is actually an Amber Lager). With the growth of craft beer in America, many craft breweries have created their own Red Ale, many of which are released in connection with the St. Patrick's Day holiday.
Examples of Irish Red Ale
Irish Red Ale Characteristics
These beers have a low to moderate malt aroma, with some whiffs of caramel, toast, and toffee. Some diacetyl (butterscotch or buttered popcorn flavor) may be present, and there is very little going on as far as hops, usually just enough to provide some support.
Their signature is that amber to reddish copper color that is clean and clear with a minimal off-white head. A solid, slightly sweet caramel malt flavor is the first thing you'll notice upon your first sip, with some roasted grain and a drying finish. No hop flavor will be evident, except for maybe some hints of English noble hops. Unlike English Pale Ales which may contain some fruity esters, these won't be present in your Irish Red. Most importantly, this should be a smooth drinking beer for malt fans, with alcohol levels rarely being higher than 6%, so feel free to have more than a few at the bar. The medium mouthfeel also helps in this department, with possibly some more of that diacetyl that may give them a slick mouthfeel.
Irish Red Ale Food Pairings
Since it's a rather unobtrusive beer with no assertive characteristics in any particular direction, Irish Red ale goes with just about anything that may be on your grill or going in your oven. Chicken, barbecue, seafood, burgers or even pizza would be a great pairing, and don't be afraid to have one with some spicy food – the sweetness in the beer and the clean, drying finish will help to put out the possible fire on your tongue when enjoying Thai, Indian or Chinese food. A pint with your corned beef and cabbage is a grand slam, with the cleansing properties of the beer sitting well with that salty corned beef. Tangy cheeses would be a good call here, and honestly, any dessert containing nuts or caramel is a good choice.
---
Irish Stout and Ale Glassware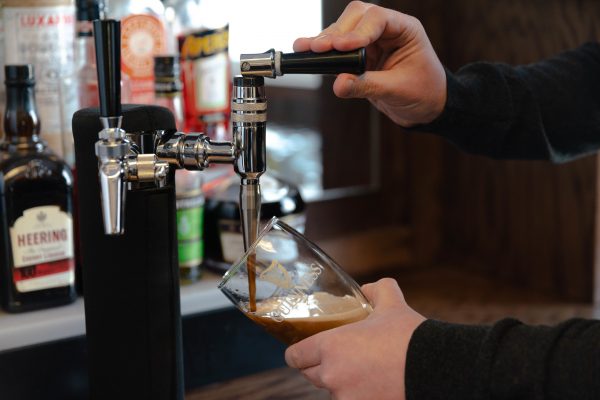 The most authentic way to enjoy a pint of Guinness Irish Dry Stout is with an official Guinness Gravity Pint Glass. The Gravity Glass features a contoured shape that widens at the top to show off the creamy head on your pint.
The Guinness logo and the Brian Brou harp are displayed prominently on the side of the glass, which aids in the process of how to pour a pint of Guinness. The traditional method for pouring states that you should aim the flow of the beer at the harp while you hold the glass at a 45-degree angle.
Irish Red Ales are best served in Nonic Pint glass. This allows for a substantial head of foam when pouring on draft or from a bottle.
---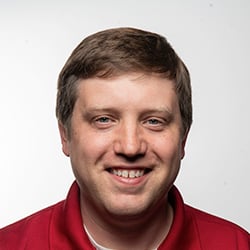 Dave Buchanan has been the Content Writer for KegWorks since June 2019. He has a fondness for craft beer that developed while working for a local beer distributor. Dave also worked for an area sports talk radio station for several years, and continues his broadcasting work as a motorsports announcer and indoor lacrosse reporter.