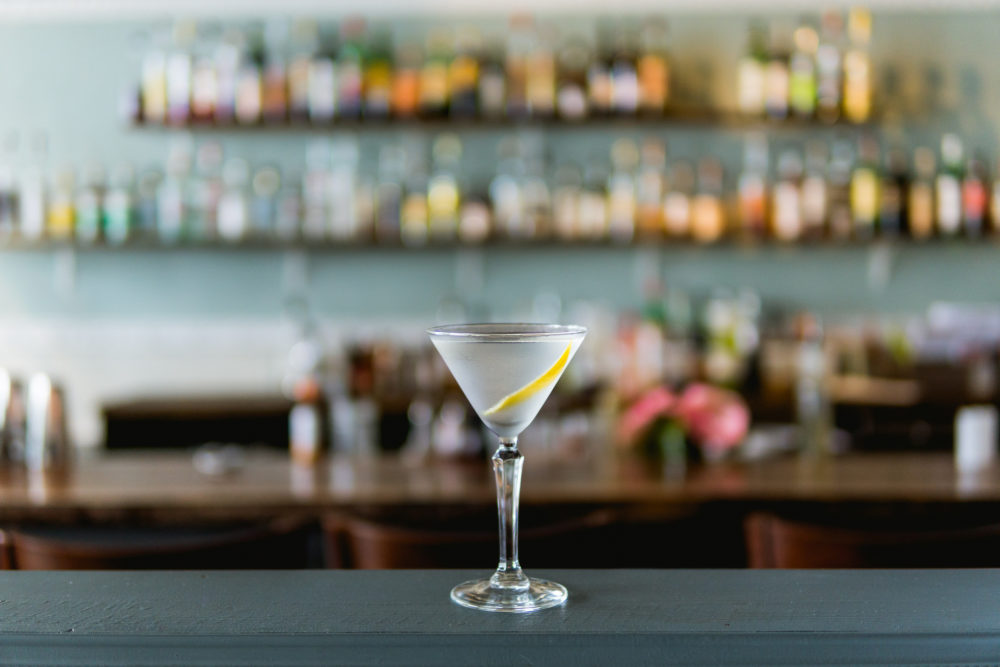 If you order a dry Martini, you are looking for a very specific experience. Even in its standard two parts gin (yes, gin) to one part vermouth ratio, it's a bold drink. Go drier, as so many of you do, and things get downright punchy. Sure, it's a sophisticated cocktail, and a good one. But like the Don Draper-ish mid-century executives who aggressively swilled them during three-martini lunches, it's a drink that feels like it has something to prove.
At risk of sounding very uncool, I am going to come right out and say that I don't always want a juniper-forward, bracingly dry, chest hair-cultivating Martini. Sometimes I want a drink that's pretty but still stiff and very much in the Martini realm. When that's the case, I reach for a bottle of Dolin Blanc and play to its strengths.
Dolin Blanc is a French vermouth that falls, in terms of residual sugar, somewhere between the ubiquitous red and dry varieties. It's soft and redolent with apple, citrus, and elderflower, but not in the cloying, obnoxious St. Germain sort of way. It's florality and sweetness are lush and balanced by subtle bitterness mid-palate and a pleasantly medicinal finish. It's delicious on its own as an aperitif, and it plays well in cocktails. If you can't tell, I'm super into this stuff.
But as a substitute for dry vermouth in a standard Martini, Dolin Blanc is at risk of being overpowered by a prattle of juniper, woody herbs, and spice. To give it room to breathe requires a gin that slinks in the background--seen but barely audible. And for that, I turn to the elevated well classic, New Amsterdam. (Seriously. I may appreciate the finer things in life, but I also have student loans to pay and avocado toast to buy, and New Amsterdam is what I have lying around.)
With proper chilling and dilution, it's a Martini that stands in testament to Dolin Blanc's beguiling charms and refusal to always play second fiddle. Some of you might say it isn't a Martini at all, but I'm too busy enjoying my broke-ass, elegant cocktail to care.
---
Dolin Blanc Martini
2 ounces New Amsterdam Gin*
1.5 ounces Dolin Blanc Vermouth
4 - 6 drops rose water
4 dashes Moroccan Bitters
Lemon peel, to express and for garnish
Directions
In a mixing glass using a bar spoon, stir everything with ice until well chilled and diluted. I usually go at it vigorously for a solid 20 seconds or more.
Strain into a chilled Martini glass.
Squeeze the lemon peel above the glass to express the oils. Run the peel over the rim, and then throw it in your drink for good measure. Drink cold.
*I tried higher-end gins but they were too in your face for this particular expression of the Martini. I imagine something like Plymouth might work, but that's on you to figure out.