Liquor bottle shelves are perfect for organizing your back bar and showing off your collection of spirits.
If you've invested the time, effort, and money into setting up a home bar, chances are you're pretty proud of it. You probably think of it as a little slice of paradise--a place for people to relax, put their feet up, and enjoy a few well-earned beverages at the end of a hard week (or perhaps a hard day).

No matter what kind of theme you've chosen, from tiki bar to man cave to no particular theme at all, you've put in tons of hard work and made your dream come true. One way to protect that investment of time and money is by adding liquor bottle shelves to your home bar. Honestly, in our estimation (and we kind of live and breathe this stuff), there's no other piece of equipment that can match the combination of form and function that they offer.
---
Why You Should Add Liquor Bottle Shelves To Your Home Bar
It keeps your bar neat and organized: This means less time being wasted looking for a specific bottle of booze and more time socializing with your company. Plus, it will make your home bar look much more presentable with a neatly organized selection of spirits.
Less chance of broken bottles: If your bottles are strewn about your bar, then there's a good probability that someone clumsy is going to bump one and knock it on the floor. This means wasting time cleaning up broken bottles and wasting money to restock your bar. Adding liquor bottle shelves gives you a central location to keep your bottles away from clumsy guests.
Ensure proper storage of liquor: The best way to store your spirit bottles is upright in a room temperature environment away from direct sunlight. Keeping those bottles perched on some handsome-looking bottle shelves will help you accomplish that. Find a spot behind your bar that provides that right environment for storage, and then set up your shelves there.
It just looks cool: Have you ever seen a nice-looking home bar or man cave bar that doesn't have a display featuring a collection of high-end or top-shelf spirits? The fact is, you haven't.
---
What to consider when buying liquor bottle shelves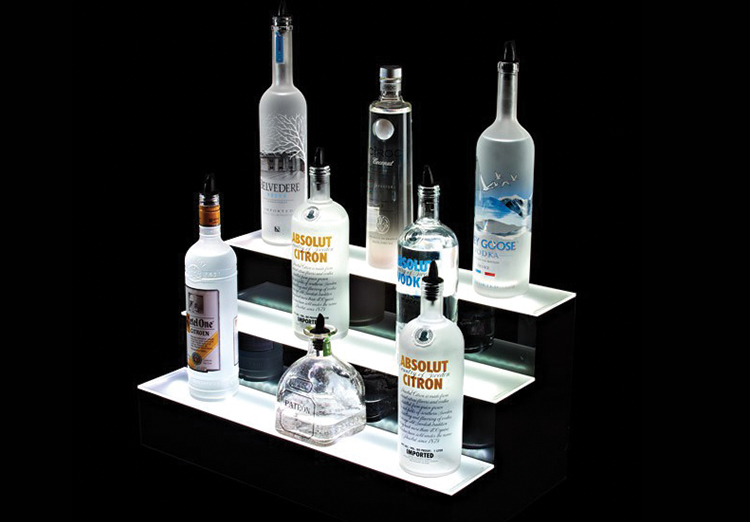 There are a few things to take into account when deciding which liquor bottle shelves you want to add to your home bar.
Length - The longer the shelves, the more bottles you can accommodate. You may be restricted on how long your shelves can be depending on the amount of space available. KegWorks carries bottle shelves in 12, 18, 24, and 34" lengths.
Number of shelves - the more shelves, the more bottles you can accommodate. More shelves or tiers can come in handy if you don't have a wide area to work with, but you do have room to go higher with your bottle shelves.
Color - KegWorks carries basic bottles shelves in both translucent and black acrylic. We also offer mirror-plated acrylic shelves in select sizes. The choice of what color to use may come down to matching your bar's decor or just personal taste.
Lighted shelves - If you want to get fancy, you might even consider upgrading to more dynamic

lighted bar shelves

. This with your bathe your collection of bottles with a glow that will make them stand out.
---
Liquor Bottles Shelves For Commercial Bars & Restaurants
Adding some organization to the jumbled collection of bottles behind your bar is a subtle way to signal to all of your customers and patrons that you have a well-executed plan to help ensure they get service in as timely a manner as possible. Having organization like this is a great way to increase your servers' efficiency when mixing up drinks because it's much easier to quickly make a drink when you don't spend undue time searching for the right bottle from a messy, haphazard pile.

Why take shortcuts with the important details? If you're looking for ways to give your bar some handsome character, ensure the fastest possible service of drinks to your anxious customers, and help boost your bottom line without spending a lot to do so, liquor bottle shelves are a must-have addition.
---
No matter if you're shopping for home or commercial use, some well-placed bottle shelves can go a long way in improving the look of a bar as well as improve the prep time for cocktails and mixed drinks. Check out KegWorks' selection of liquor bottle shelves and find the right one to fit your bar.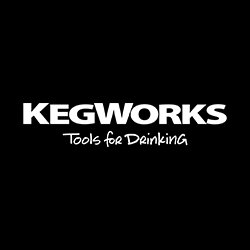 KegWorks has been selling cool tools for drinking and serving knowledge on tap since 1998. We are all about enjoying good drinks with good friends.