Another standout during my visit at Goose Island was the Maple Bacon Stout, a single batch brew that is truly one of a kind.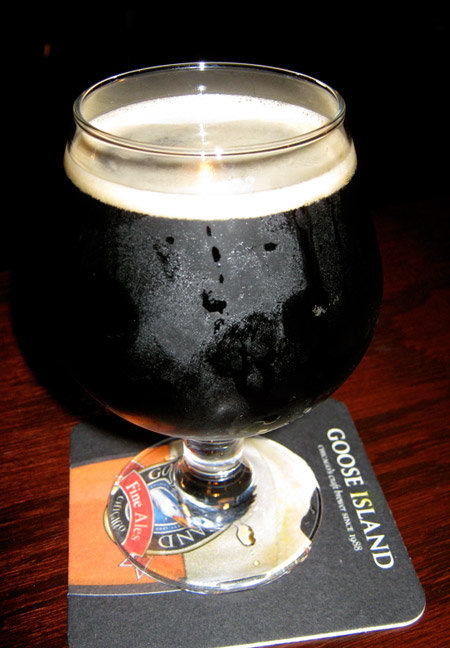 Brewed with Burton's Maplewood Farm fresh maple syrup and bacon, this 6.5% ABV American stout poured a deep ruby brown with a thick, creamy, half-finger head. It offered medium retention with a fair amount of lacing on the glass. The aroma was heavy in alcohol with a bit of chocolate and a hint of smokiness, I figure from the bacon.
Maple Bacon Stout had a medium-light mouthfeel with a pleasantly light yet effervescent carbonation, quite noticeable on the tip of my tongue. The body smoothed out quite nicely through the finish of the sip. Tastes of maple immerge, backed by bitter chocolate and a touch of smoky, delicious bacon. Lovely balance there.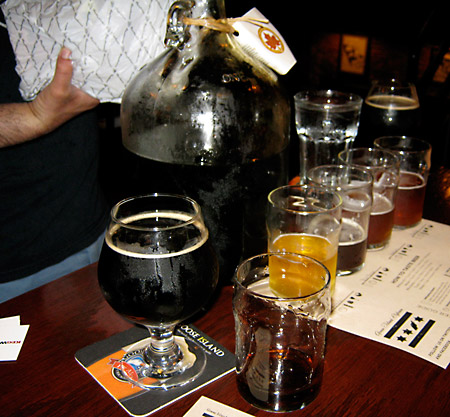 Not only did I get the lowdown from Jared, head brewer himself, but I had the opportunity to meet Tim Burton as well, owner of Burton's Maplewood Farm. His maple syrup is quite possibly the best I've ever had, even enjoyable straight from a glass (not kidding - did you see the glass of maple syrup next to my stout? mmmmm).
As a lover of bacon, syrup and breakfast in general, I'm quite enamored with this stout. Hats off to Jared for his ingenuity. Can't wait to see what he'll come up with next!
Tags: