Gift ideas for the dad who has everything (and wants nothing).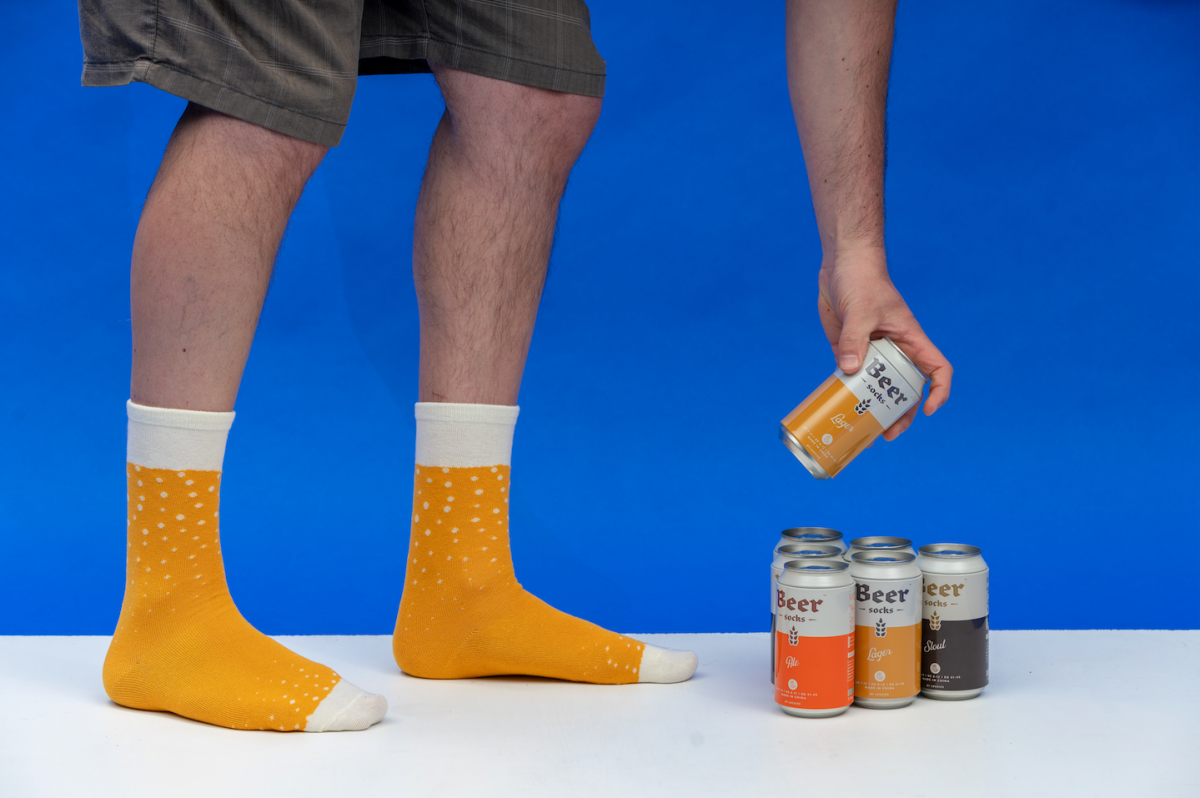 It is notoriously difficult to pick out gifts for dads. They are adults, after all, and prone to buying themselves whatever they want, whenever they want it. So, while the easy thing to do might be to buy him a new set of golf balls or–for the third year in a row—a new tie, the better thing to do is to get him something super fun and super tailored to his interests. Make it a Father's Day he won't soon forget.
---
If your dad is a sleep-under-the-stars, wrestle-a-bear, wrangle-a-fish, snag-a-buck kind of guy, his Father's Day needs are pretty specific - keeping his beer cool for the entire trip. Outdoor drinkware and mobile dispensing gifts will be sure to surprise and delight even the most rugged of dads.
KegWorks Stainless Steel Beer Growler
It's time to upgrade your dad's growler to the convenience, elegance, and sheer awesomeness of this 64-ounce food grade stainless steel growler. Featuring an attached swing top to keep his beer fresh, this space-age growler will blazing a new trail in your Dad's beer-drinking wilderness.
Single Faucet Jockey Box
Perfect for a day spent outdoors, this jockey box will be a dream come true for your adventurous dad. This 48 quart cooler is a fully-functional draft beer system on the go.. The included 50-foot jockey box coil provides the ultimate refreshing experience with each effortless pour and the coils are made of stainless steel so they will not corrode over time if maintained and cleaned properly.
BruMate Imperial Pint with Splash Proof Lid
Truly the world's coolest Imperial pint glass, this 20-oz thermal cup features a travel lid to keep your dad's beer, wine, cocktails, coffee, and more at the ideal temperature for many hours. Triple-Insulated with the extra protection of the spill and splash-proof lid, this insulated tumbler keeps beverages cold for 6 hours and hot for 3 hours.
---
Whether it's for work or for pleasure, if your dad loves traveling to new places, consider the best way for him to take his favorite beverages with him. Whether he's a trains, planes or automobiles guy, made for travel gifts should go over well on Father's Day.
Bar Backpack Bar Tool Travel Set
The Bar-Backpack travel set is an original design featuring an impressively large amount of features and space, so your dad can bring the full bar experience with him wherever his adventures goes.
Viski Admiral Steel Flask
Whether your dad's voyage is by land or sea, this attractive 5-ounce, liquor-toting vessel will ensure he has his favorite spirit close by throughout its duration. Its high polish finish is protected by a chocolate brown, faux leather carrying case that is as handsome as it is functional.
EcoVessel Vine Triple Insulated Stainless Steel Wine Bottle
Whether your dad prefers red, white, or rosé, he can bring wine with him wherever he goes with a BPA-free EcoVessel VINE Triple Insulated Stainless Steel Wine Bottle.
---
Is your dad a golfer who won't go a couple weeks without hitting the links? Getting him the latest in golf gadgetry and gear will really be a hole in one Father's Day gift.
Par 6 Golf Bag Can Cooler
No round of golf is complete without a few tasty refreshments. But if your dad doesn't have a reliable golf bag cooler, he'll be left drinking lukewarm suds. This space-age golf cooler is specially designed to fit into the shoe pocket of any golf bag and keep up to six beers ice cold and refreshing.
Instant Beer Stein Can Grip Handle
There are lots of unique golf gifts in the world, but only one Instant Beer Stein Can Grip Handle!
This red plastic handle snaps securely onto your dad's beer or soda can to create an instant stein that keeps his hot little hands from warming up his drink. And really, who feels like holding an ice-cold, dripping wet can anyway?
BruMate Hopsulator Trip Insulated Can Cooler
Upgrade your dad's beverage game to the ultimate cooling power of the Hopsulator TRíO - the 12 or 16 oz can koozie guaranteed to be cooler than the rest. This versatile beer can holder will keep regular or tall boy cans cold and secure on even the hottest of days, and also acts as the best insulated tumbler your dad will ever own.
---
Need a gift for a dad who loves a good whiskey, whether a beginner or expert-level imbiber? You can't go wrong with our drinkware selection.
Urban Bar Spey Dram Whiskey Glasses
Your dad can pour a better glass of whiskey with a set of Urban Bar Spey Dram Whiskey Glasses. Designed in Europe specifically to capture whiskey aromas and display vivid color, these four-ounce whiskey glasses (sold in a set of six) are both functional and stylish. Just one sip, and the old man will be able to tell the difference in not only the whiskey but his whole drinking experience.
Urban Bar Whiskey-Diluting Glass Water Dropper
Made of clear glass with a small five millimeter air hole, this special whiskey water dropper allows your pops to control precisely how much he dilutes his favorite spirit for a truly engrossing sensory experience.
Urban Bar Ginza Crystal Old Fashioned Whiskey Rocks Glasses
Whether you're dad is into drinking an Old Fashioned, a Sazerac, or his favorite rye straight, proper glassware is key. That's where Urban Bar's Ginza Cut Crystal Old Fashioned Whiskey Rocks Glasses come in. Their attractive, diamond-cut design and non-leaded crystal construction make them the ideal vehicle for throwing back a few in high style.
---
Lots of dads love beer, but not all dads geek out on beer. For Father's Day you could just give him his favorite 6-pack, but sometimes you want to give a gift that will last (and that can be easily shipped). Here are a few ideas for every type of beer-loving dad.
Vintage Cold Beer Surfboard Metal Bar Sign
Nostalgic tin signs will make a great addition to your dad's home bar or man cave!
SipCaddy Shower & Bath Drink Holder
Scrub a dub dub, there's some booze in dad's tub! This is more than just a shower beer holder. The patented design of the SipCaddy makes it fit for use with plastic bottles, cans, solo cups, stemware such as wine glasses, and even certain coffee mugs.
Men's Beer Socks By Luckies
These unique men's socks show will off your dad's love for the suds, but they're also classy enough for him to wear to work or events.
---
Finding the right Father's Day gift can be tricky. But if your dad loves to watch sports, we've got plenty of tailgating gifts to keep him company.
Pool Shots Billiard Ball Shot Glass Set with Serving Tray
If your dad is a fanatic of the felt, these pool ball shot glasses will run the table to his heart! Shot glass sets are a barware necessity and they make a great gift for any occasion, especially Father's Day. So go ahead and order these boozy billiard balls for the pool shark Dad in your life!
Football Field Inflatable Food & Drink Chiller
A great tailgate is all about the details. That's why you need to order your dad a Football Field Inflatable Food & Drink Chiller now! Simply inflate it, fill it with ice and your choice of beverages, and then cheer your gridiron gang on to victory.
Bucket Ball Giant Beer Pong Outdoor Game Set
This is the ultimate beach, poolside, backyard, or tailgating game that is perfect on its own but can be played with an adult twist by using your dad's favorite alcoholic libations.
---
For a dad who's a foodie, you'll want to find a Father's Day gift that's useful and something he doesn't already know. Below we have some ideas for the dad who loves a good cocktail while he's grilling and chilling.
Raw Organic Sugar Cane Swizzle Sticks
Sugar cane skewers will improve even your best dish when grilled on these. Add some sweet to your shish kebab recipes with these authentic, eco-friendly Hawaiian swizzle sticks are just the right touch. The sugar cane stalks are chew-able and can also be cut in pieces to match the size of any meal.
Picnic Time BBQ Tool Set
Is your dad the master of the BBQ? Grilling tools this good make it easy for him to prepare, serve and enjoy any barbecued feast.
Picnic Time Portable Charcoal X-Grill
Looking for the ultimate in tailgating equipment for dad? This foldable charcoal grill is compact and incredibly convenient! All of the components are stored right inside of the super slim carrying case.
---
There's a good chance your dad is into boating, OK or he's really into boating. Help him take his beverages out on the open seas, lakes, or rivers in style with a Sidebar beverage dispenser.
SIDEBAR Electric Liquor & Beverage Dispenser System
Ideal for boats and outdoor kitchens, this patented system uses five separate pumps to transport liquids from their bottles, through the faucet and into your glass. It's like having five of your favorite spirits right on tap!
High Capacity Storage Rack with 5 Containers for SIDEBAR Liquor & Beverage Dispenser
This high capacity storage rack is ideal for storing and dispensing beverages from SIDEBAR Beverage Dispensers. Each container will store 1 gallon (that's two 1.75 liter liquor bottles with room to spare!) of your favorite liquor or beverage. Each of the intake lines from SIDEBAR Beverage System drops in the respective bottle. The sturdy rack mounts to any solid surface and stays secure in mobile installations.
Tags: