The words "cocktail" and "martini" are staples in our vocabularies yet quite often misused. This is especially true for the word "martini," since the recent explosion of candy-coated drinks began lining every restaurant's menu, preceded by the title Martinis nearly every time.
Let's take a look at these two popular terms and see how they're actually defined. Who knows? You may even be able to add your new knowledge to your already large bag of party tricks.
Cocktails
A cocktail is a mixed drink containing at least two ingredients, one of which must be alcohol. Back in the day, the word "cocktail" was defined solely as a mixture of alcohol, water, sugar and bitters. This definition for "cocktail" was listed in the first published bartender's guide in 1862, How to Mix Drinks; or The Bon Vivant's Companion by Jerry Thomas. In his book, there were but ten "cocktails" included, with bitters being listed as the discerning ingredient, separating them from the other mixed drinks.
Sadly, many people don't even know what bitters are this day and age (of course it seems with the recent classic cocktail revival, bitters are indeed making a comeback) so the word "cocktail" has now come to mean essentially any mixed drink that contains alcohol.
Martinis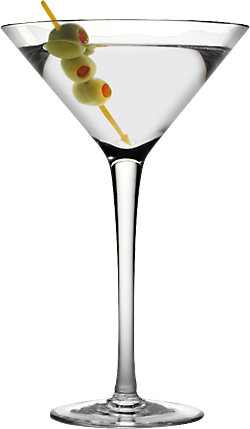 So, what then makes a martini? Many restaurant-goers might mistake today's definition for "cocktail" as the one that describes "martini," due to the aforementioned Martini sections on many drink menus, listing concoctions such as the "Appletini" and "Chocolatini" as martini options.
Sorry kids, tacking "tini" on the end of a word does not a martini make.
Rather, a martini is a drink made with gin and vermouth, then garnished with an olive. That's all there is to it. Some may even try to switch the gin for vodka, and call it a "vodka martini" but many purists would reject this and simply call it a cocktail. Even the cocktail recipe book Mr. Boston Platinum Edition, published in 1935, lists the martini as only being made with gin. There are variations of the classic martini, such as dry, sweet, medium, etc. but if it's not mixed with gin, you're not mixing a martini.
There you have it, folks. Be sure you spread your newfound knowledge to the masses every chance you get. Have a beef with my screed? Tell me about it in the post's comments section.
Cheers!
[sources: wikipedia, How to Mix Drinks; or The Bon Vivant's Companion, Mr. Boston Platinum Edition]
Tags: