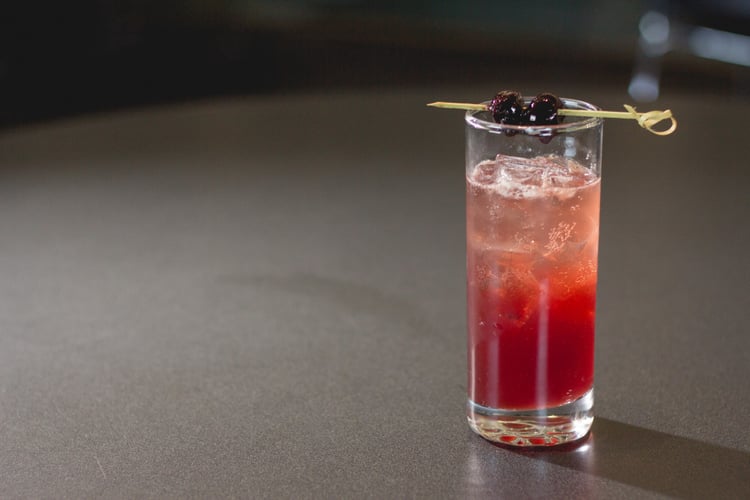 This cocktail by Kyle Takacs is the winning recipe from the KegWorks Lazzaroni Amaretto Cherry Cocktail Contest. Its name, which borrows from a short story by Edgar Allan Poe, might be a little morbid, but don't let that deter you; It is light, refreshing, and well balanced--a perfect warm weather drink!
The Masque of the Red Death
Ingredients
1 ounce vodka
3/4 ounce Cherry Heering
1/2 ounce vanilla simple syrup*
3/4 ounce lemon juice
3 Lazzaroni Amaretto Cherries
1-2 ounces club soda

Directions
Fill a tall glass with ice.
Combine all ingredients (except for sparkling water) in a shaking tin. Fill remainder of the tin with ice, seal, and shake vigorously.
Strain the drink into the ice-filled glass.

Top off the glass with sparkling water and garnish with an Amaretto Cherry.
*You can easily make vanilla simple syrup at home. Heat 1/2 cup sugar and 1/2 cup water in a saucepan, all the while giving it a few good stirs to ensure the sugar fully dissolves. Once the mixtures comes to a boil, turn off the heat. When it cools completely, stir in 1 teaspoon vanilla extract. This will make enough simple syrup for many cocktails; refrigerate any leftovers in an airtight container.
Related Recipes