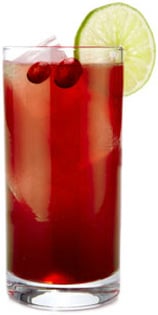 Heat things up this holiday season with a bit of tequila. This cocktail recipe deviates from the usually creamy concoctions mixed up this time of year, leaving your thirst quenched, yet wanting more.
Mexican Christmas
3 oz gold tequila
12 oz cranberry juice
3 splashes grenadine
2 splashes sour mix
Lime slice, for garnish
Whole cranberries, for garnish
Fill a cocktail shaker halfway with ice. Add tequila, juice, grenadine and sour mix. Shake vigorously, until condensation forms on the outside of the shaker. Strain into a highball glass. Garnish with cranberries and lime slice.