A festive carrot juice Pimm's Cup that's sure to have Peter Cottontail thumping.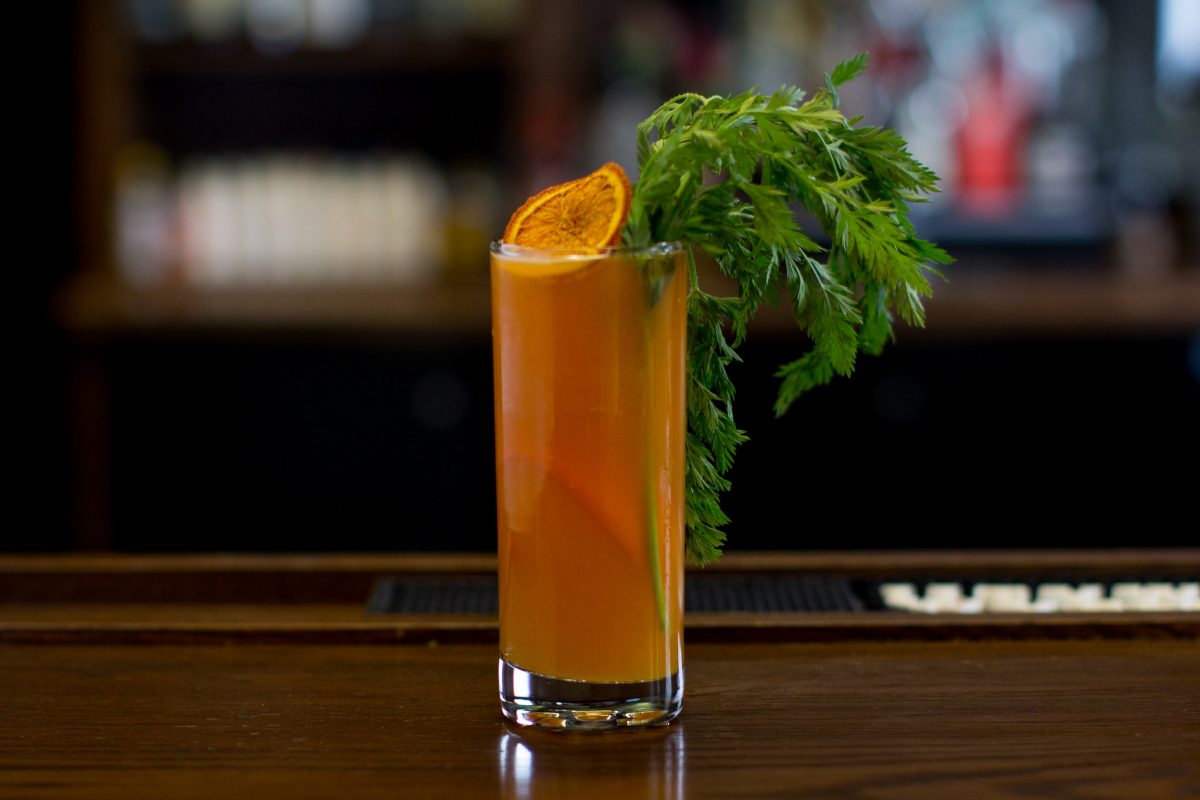 Easter is the perfect excuse for an eggs-travagant Sunday brunch. And no Sunday brunch is complete without a cocktail . . . or four. But a holiday calls for something a little more thoughtful than a Screwdriver. For a brunch as special as Easter, we're making a festive carrot juice Pimm's Cup that's sure to have Peter Cottontail thumping.
Pimm's Cups are sessionable cocktails that come in many subtle variations. The common thread among them is that they are made with Pimm's No. 1–an herbaceous, gin-based liqueur developed in London in 1840. They are also typically served over ice; lengthened with something effervescent like sparkling lemonade, ginger ale, lemon-lime soda, or champagne; and garnished with a multitude of fruit–everything from cucumbers to apples to berries.
Our Pimm's Cup recipe calls for carrot juice. You can press it yourself or buy it at any grocery store with a decent organic/natural food section. To that we add muddled ginger and thyme, fresh lemon juice, and a splash of gin, because Sunday. For bubbles, we call on Fentimans Mandarin & Seville Orange Soda. It's free of chemicals and more complex than your standard orange soda thanks to the addition of fermented ginger root and juniper and speedwell extracts. (You may be able to substitute a soda like Orangina for the Fentimans, but we can't attest to the quality if you do.)
The resulting drink straddles an intriguing line between a sweet, citrusy Mimosa and an umami-rich Bloody Mary that's sure to complement your lavish buffet of baked ham, sweet rolls, deviled eggs, and rich gratins. Trust us, every bunny will love it.

---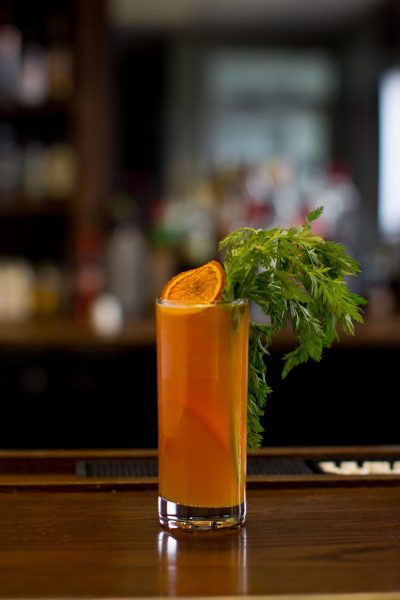 Carrot Pimm's Cup
Yield: 1 Cocktail
Ingredients
2 sprigs fresh thyme

1/2 inch knob fresh ginger, peeled and sliced

1 1/2 ounces Pimm's No. 1

1 1/2 ounces carrot juice

1/2 ounce gin

1/2 ounce fresh lemon juice

2-3 ounces

Fentimans Mandarin & Seville Orange Soda
Glassware
Tools
Instructions
Place thyme and ginger in the bottom of a cocktail shaker. Muddle to release the ginger juice. Add Pimm's, carrot juice, gin, and lemon juice to the shaker and fill with ice. Shake vigorously until the outside of the shaker is frosty. Through a fine mesh strainer, pour the mixture into a collins, highball, or other tall glass filled with ice. Top with soda and stir lightly, once or twice, to combine. (You don't want to deflate the bubbles, so less is more here.) Garnish with thyme, carrot tops, and a dehydrated orange slice.