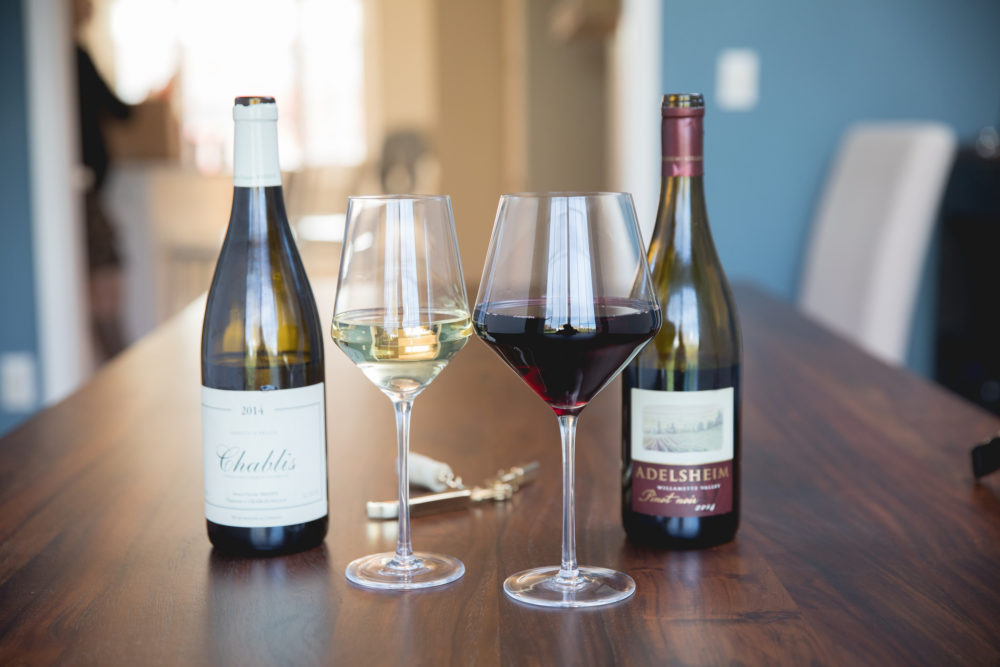 Selecting wines to serve at Thanksgiving dinner can be an anxiety-provoking a process. In the face of the stress, some people are prone to overthinking the matter. Others underprepare and resign to put out whatever bottles they have on hand. Big cabs, buttery chardonnay, unremarkable but inoffensive pinot grigios—they all go on the table.
The fact of the matter is, Thanksgiving dinner is a hallowed affair, and the wine that accompanies it deserves some consideration. But choosing Thanksgiving wines doesn't have to be difficult, time consuming, or particularly stressful.
To help you navigate the wine aisles with more confidence, we called on Eric Genau, president and founder of City Wine Merchant and partner at Mercury Capital Partners, a private equity fund that invests in top-tier wines.
What Makes a Wine Good for Thanksgiving?
Genau points out that all great Thanksgiving wine are delicious, but not all delicious wines are great for Thanksgiving. That's because a lot of the wines we love are big and audacious. They were made to stand apart from food, not share the spotlight.
But Thanksgiving is first and foremost a food holiday. That much is sacrosanct. Which is why Genau recommends choosing wines that heighten your enjoyment of your meal while avoiding wines that vie for center stage. Pouring a wine that overpowers your meal is doing the food and its makers a disservice.
He also recommends ignoring wine guides that suggest pairing wines to specific dishes. It's a rare American family that eats a coursed Thanksgiving meal, so it makes much more sense to pair your wine to the amalgamation of textures and flavors that will wind up on your plate. Something that pairs exquisitely with porcini gravy might be ghastly with candied sweet potatoes. For that reason, a versatile wine that works with a broad range of dishes is key.
Related: Wine Storage and Serving Temperature Guide [Chart]
The Case for Pinot Noir and Chardonnay
It makes sense to offer at least one red and one white wine at Thanksgiving, and pinot noir and chardonnay are often cited as excellent options. Not only are people very familiar with both grapes, they also tend to play nicely with an array of foods.

Pinot Noir
That pinot noirs aren't overly tannic and tend toward good acidity explains their affinity for the Thanksgiving meal. But not all pinots are created equal; within the category, there is ample variety in terms of style and quality.
"For Thanksgiving, we steer people toward medium-body pinots. Good examples in the $20-40 price range come from Oregon and the cooler, coastal climates of California like Anderson Valley. 2014 was an very strong vintage in both places," Genau advised.
Aside from Oregon and California, pinot noirs from Burgundy (Bourgogne), are also strong contenders for the holiday table, as the French have a long tradition of creating food-friendly wines. Genau recommends picking up a bottle from Volnay, in particular. It is a relatively small area of Burgundy that produces beautiful wines in the $20-40 range.
Chardonnay

In terms of finding a food-friendly, versatile white wine for Thanksgiving, chardonnays are classic, but they can be a little bit tricky. That's because chardonnay really falls into two disparate categories: oaky, buttery chardonnay, and unoaked (or lightly oaked), cleaner, mineral-driven chardonnay.
The big, oaky chardonnays typical of California run the risk of overpowering your holiday spread. That's why Genau suggests unoaked or lightly oaked chardonnays for Thanksgiving. Restrained chardonnays designed to pair with food are classic to Burgundy, with Chablis being a particularly good place to start (bonus points if you're serving oyster dressing or another shellfish dish).
That's not to say you can't find food-friendly chardonnays that are oaky or buttery, Genau concedes. They are just more elusive, owing to the fact that they need to be really well made and really well balanced. That makes purchasing an oaked chardonnay a less fail-safe Thanksgiving option.
But if you want to go the oaky route, Genau points to Kathryn Hall, whose 2014 WALT Chardonnay represents a nice balance of rich and buttery with good acidity. It is not so heavy that it will compete with turkey and stuffing for the attention of your palate—or worse, drown out the turkey and stuffing altogether.
Branching Out: Alternative Thanksgiving Varietals

Over the course of his career, Genau has observed that at Thanksgiving most people stick with the wines they know. But he makes a point of encouraging his customers to step outside their comfort zone if they are up to it.
"That's the most fun for us. There so many different regions, so many different varietals and styles that check off all the Thanksgiving boxes : food-friendly, not super heavy, versatile."
Alternative Reds

As an alternative red, Beaujolais is an excellent option. It has the body of pinot noir but a somewhat different flavor profile. And it is extremely well suited for food.
"Thanksgiving is an excellent time to explore cru Beaujolais," Genau opined. "I recommend Fleurie as a category that's high quality in the $20-40 range. You can get a good quality Fleurie for less than $20 in some cases."
Another good red alternative are wines from Chinon in France's Loire Valley. They are made from cabernet franc, and tend to be restrained in terms of oak and medium-bodied rather than full-bodied like the cabernet francs of Napa.
Outside of France, Genau points to Chianti from Tuscany, which are some of his favorite wines in the region. The are made from 100% (or close to 100%) sangiovese—a grape that produces wines of medium body, moderate to low tannins, and medium to high acidity. They are also typically an excellent value, with good bottles sold for as little as $15. The key is to look for classico or classico riserva and the black rooster seal on the neck of the bottle.
Alternative Whites
For an alternative white, you can't go wrong with riesling, which Genau describes as "always perfect."
"Dry riesling is one of the most overlooked great wine categories. The wines have incredibly tension and minerality and complexity."
He promises even off-dry rieslings, for people who like sweetness, are super versatile. A good rule of thumb for German rieslings is to look for kabinett on the label if you are in the market for a dry to off-dry bottle. If bone dry is more your speed, look for trocken.
"Just knowing those two words will take you a long way."
Near Germany, Alsace, too, makes a fantastic white wine for Thanksgiving: gewurztraminer. Genau says it pairs well with virtually everything on the table, especially yams and sweet potatoes, and things that have a little sweetness.
"Gewurztraminer has really great acidity but also a floral quality. It sort of tickles your palate and makes food a little bit more lively."
Champagne: The Greatest Recommendation of All
Of course, you could (and perhaps should) just drink flute after flute of Champagne. Yes, for the entire meal.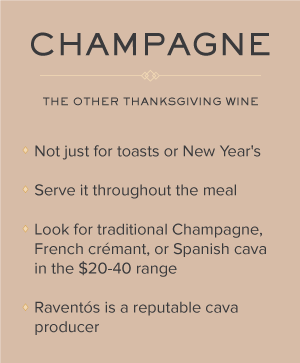 In fact, Champagne's affinity for food and suitability for ordinary consumption are ideas Genau and his staff have long championed.
"We try to always talk about pairing Champagne with food and drinking Champagne outside of celebratory toasts. It's incredibly food-friendly, versatile, and fun."
Not that your Thanksgiving bubbles have to be Champagne. Staying in the $20-40 range, you can get a nice, traditional Champagne, but you could also opt for a crémant, which is a sparkling wine produced in France but outside the Champagne region, or a high-quality Spanish cava. In the latter category, Raventós is a reputable producer.
No matter which way you go, Genau says it pays to make your Thanksgiving wine choice a thoughtful one.
"Thanksgiving is one of the only holidays where it pays off to give more thought to what wines you're serving. There are so many flavors and textures, and the whole experience is centered around the meal, around the dinner table. There aren't too many other holidays like that."
Related: