Given the sheer volume of beer and food you're going to consume during the Big Game, it's the perfect opportunity to stretch your beer-and-snack-pairing muscles. And what better snack to experiment with than the foundation of every great game day spread: crisp, delicious, monosodium glutamate-y Doritos™. A food so exquisite, so stunningly flawless, it can only be improved by a perfectly complementary beer. (For the record, this is not sponsored content. We just really like Doritos™.)
To help you in your quest for beer and Doritos™ nirvana, we asked Tim Belczak, a BJCP national beer judge and award-winning home brewer, to tell us what beer styles he would pair with five readily available Doritos™ flavors. Suffice it to say, he took the task VERY seriously.
Nacho Cheese (The O.G.)
Beer Pairing: American blonde or American pale ale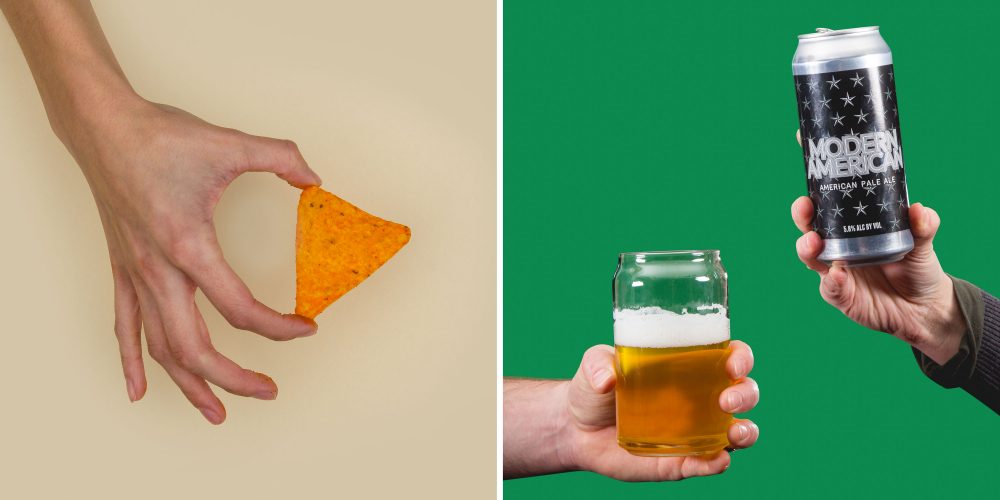 Tim's Notes: Craft beer sales show year after year that people love their hops, with IPA outselling all other categories. Whether you prefer citrusy, fruity, tropical, or resinous hops, you're drinking that beer because of its hop-forward character. The original chips provide the most neutral/forgiving base for hop-lovers to enjoy what they love best about their aggressively-hopped American pale ale or IPA (or more subtly hopped American Blonde Ale).
One to try: Modern American APA | Common Roots Brewing Company | 5.8% ABV
---
Poppin' Jalapeno
Beer Pairing: Rauchbier or other smoked lager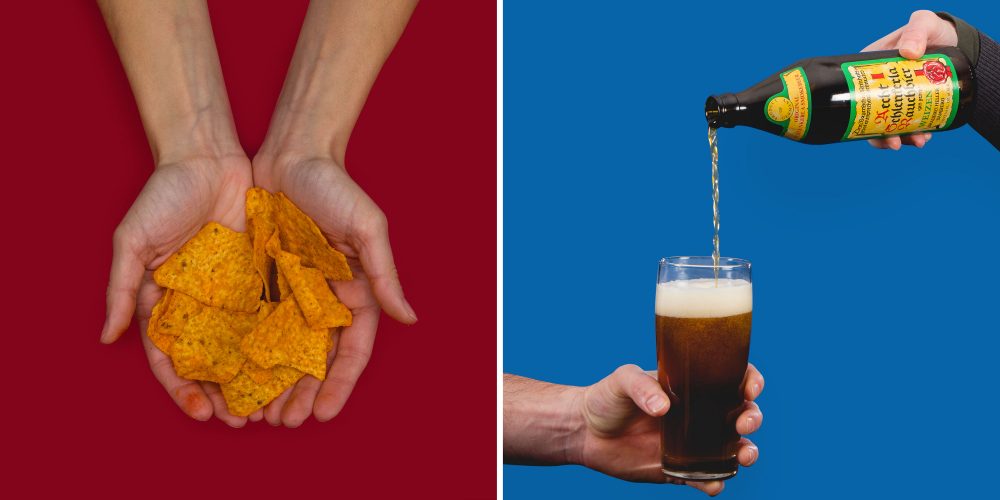 Poppin' Jalapeno leaves a pleasant pepper aftertaste with a little bit of heat. Instead of washing those flavors away, a smooth, malty Rauchbier or other smoked European lager will build another layer of complexity on top of the spicy jalapenos.
One to try: Aecht Schlenkerla Rauchbier Weizen | Brauerei Heller-Trum / Schlenkerla | 5.2% ABV
---
Cool Ranch
Beer Pairing: Gose or Berliner weisse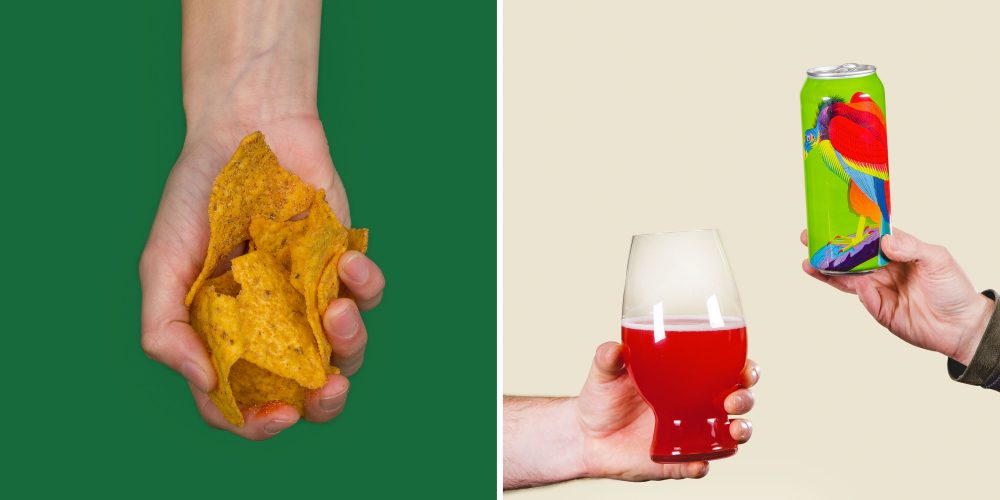 Tim's Notes: Cool Ranch leaves behind a heavy aftertaste reminiscent of buttermilk. The light acidity of a gose or Berliner weisse will help scrub the palate of these heavy, "creamy" flavors, bringing you back to the snack table for more.
One to try: Cranberry Basil Gose | Collective Arts Brewing | 4.7% ABV
[Editor's Note: Tim later admitted he detests Cool Ranch. His secret but more authentic recommendation is that you throw them in the garbage. Agree to disagree, Tim. Agree to disagree.]
---
Spicy Sweet Chili
Beer Pairing: Sweet stout or English porter
Tim's Notes: Chili is a popular ingredient in specialty chocolate bars, and pairing this chip with a chocolaty/roasty beer can lend the same impression. Look to pair this chip with a sweeter style like a sweet (milk) stout or English porter.
One to try: No Chill | Prairie Artisan Ales | 5.1% ABV
---
JACKED Ranch Dipped Hot Wings
Beer Pairing: German or American pilsner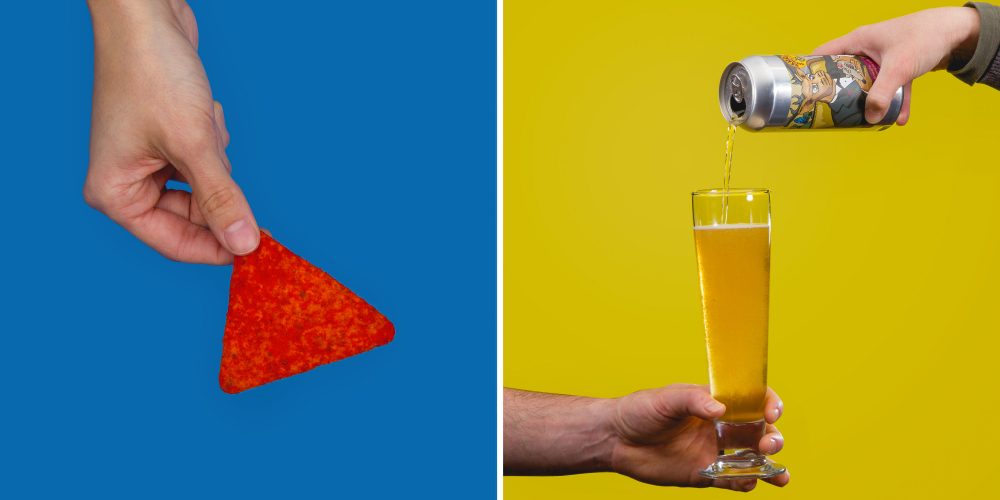 [Editor's Note: as a native of Buffalo, New York, I can say with absolute authority that chicken wings should never be dipped in ranch dressing. Blue cheese, always and only. With that said, on to Tim's recommendation...]
Tim's Notes: Nothing goes better with Buffalo wings than beer (and pizza). Most wings are probably washed down by light American macro lagers, but any crisp pilsner will clean your palate of lingering grease and spice. Try a German pilsner as a more bitter, flavorful alternative or crack open a cream ale (a style popularized by a brewery just down the road from the birthplace of the chicken wing).
---
So, what say you, readers? Tell us what beer you like to drink with Doritos™ in the comments below!
*Tim Belczak is a national beer judge in the Beer Judge Certification Program (BJCP) as well as an exam administrator, proctor, and grader, and a trainer of prospective judges. When he isn't being super judgy, Tim homebrews award-winning beer. He is an active member and past president of the Niagara Association of Homebrewers. In 2014, he helped the Erie County Fair create their Home Brew Competition and served as competition organizer for its first four years. Most importantly, Tim will do anything for free beer. If you gift him a bottle of homebrew, he is more than willing to write you up a score sheet.
You'll Also Like:
Tags: