The days of limited beer options are pretty much a thing of the past. Sure, the big macro lagers are still widely available (and always will be), but they've been joined by a wide variety of more flavorful cousins offering a more robust drinking experience. If you want evidence of this trend, look no further than the rise in popularity of sour beers.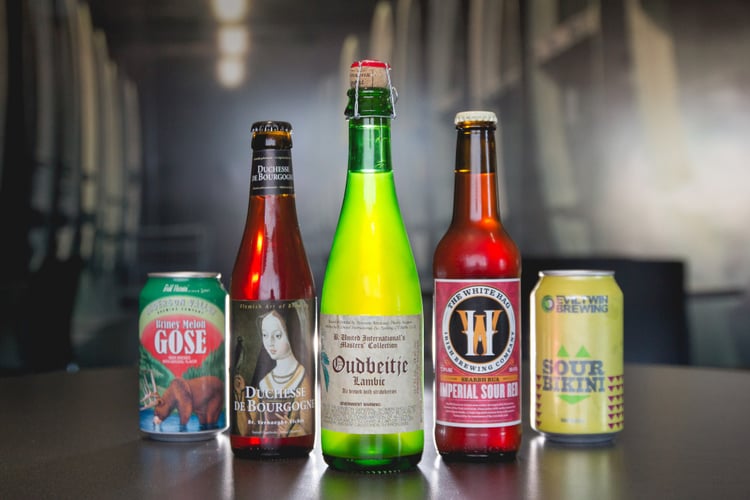 Yeah, sour. As in lip-puckering, tongue-tingling tartness more commonly associated with candy than beer. Every day, we're seeing more of these sour beers hit store shelves and barroom taps across the country, and we're sure you are, too. But just in case you haven't been brave enough to take the plunge and try one out for yourself, we thought we'd provide a little background so you can make a more informed drinking decision.
What Makes a Sour Beer?
There's one main culprit for the sourness of sour beers: bacteria. More specifically, many sours utilize a form of lactic acid-producing bacteria known as Lactobacillus. This bacteria (and other lactic-producing strains) occurs naturally, and in centuries past, brewers relied on open-air fermentation to encourage these cultures to form in the brew. In modern brewing, things are typically a bit more controlled, and brewers more strategically deploy lactic acid to create the precise sour effects they're seeking.
Main Styles of Sour Beers
Gose
Perhaps the most widely available style in the United States, Gose is a top-fermented German wheat beer that's distinguished by its use of salt and coriander. Most Goses are around 4% ABV. To create the sourness, Gose relies on the addition of lactic acid-producing bacteria (specifically Lactobacillus) after the boil.
One To Try: Blood Orange Gose (Anderson Valley)
Berliner Weisse
Another German sour, Berliner Weisse is made from a combination of wheat and barley kilned at low temperatures. Sourness is achieved through the addition of Lactobacillus bacteria, typically during a secondary fermentation. Berliner Weisses are typically quite low in ABV (traditionally not more than 3%) and often feature fruity flavors to provide a bit of sweetness that balances out the sour backbone.
One To Try: The Sauer Peach (Sloop Brewing)
Lambic
There are several varieties of Lambic, but the most prominent is the Fruit Lambic. This Belgian brew relies on spontaneous fermentation from both airborne wild yeast cultures and previously tainted barrels. After the fermentation has started, whole fruits like cherries, black currants, or raspberries are added to impart a noticeable sweetness. ABV is typically under 5% and sometimes as low as 2%.
One To Try: Lindemans Framboise (Brouwerij Lindemans)
Flanders Red Ale
A Belgian brew with a storied history, Flanders Red Ales are, as the name suggests, typically reddish in color. They are carefully aged in casks and usually feature a blend of both old and young beer to create a distinctive flavor profile that's noticeably tart, sharp, sour, and fruity all at once. Flanders Red Ales feature a moderate ABV level, usually between 4% and 8%.
One To Try: Duchesse De Bourgogne (Brouwerij Verhaeghe)
American Wild Ale
Because of their reliance on a wild strain of yeast, Brettanomyces, along with various lactic acid-producing strains, American Wild Ales usually feature some degree of sour character balanced with pronounced barnyard funk. Typically, these are very complex beers that reward patient consideration from an advanced palate. Furthermore, they are much higher in ABV than other sour styles, often coming in north of 7.5%. In other words, if you're new to the world of sours, you might want to start with one of the other styles we've mentioned here before taking the plunge into American Wild Ales!
One To Try: Consecration (Russian River)
Now that you know a bit more about sour beers, you'll know what to look for in your glass when the time comes to try one for yourself! For those of you who have already hopped on the sour beer train, feel free to tell us some of your favorites in the comments or on Facebook! We're always looking for new beers to try.
Related Articles: