Learn all about the different styles of German beer, and what makes them great. Prost!


Germany's great history of brewing dates back over 1,000 years. Throughout the centuries, German brewers created a number of different styles of lagers and ales, all while following the Beer Purity Law (Reinheitsgebot) that mandated all beer can only be made from barley, hops and water. Read on to learn all about the different styles of German beer, and you'll be an expert the next time you go to Oktoberfest.
German & German-Style Ales
Berliner Weissbier
---
Dunkelweizen
---
Gose
---
Weissbier (Hefeweizen)
---
Kölsch
---
German & German-Style Lagers
Bock
---
Doppelbock
---
Eisbock
---
Dortmunder Export Lager
---
Pilsner
---
Maibock (Helles Bock)
---
Märzen (Oktoberfest)
---
Munich Dunkel
---
Munich Helles
---
Schwarzbier
---
Roggenbier
---
Kellerbier, Zwickelbier & Landbier
---
Zoigl
---
Rauchbier
---
German & German-Style Hybrids
Altbier
---
Dampfbier
---
Kottbusser
---
Dispensing German Beer
If you're looking to host an Oktoberfest party or just want to have your favorite German beer on tap, then you will need a special keg coupler for your draft system. Many German beers that are popular in North America, including Ayinger, Franzikaner, Hacker-Pschorr, Hoegaarden, La Chouffe, Paulaner, Spaten, Warsteiner and Weihenstephan, require an A-system German slider keg coupler. You can also get an A-system coupler keg pump if you are going that route for your "biergarten".
---
Pouring German Beer
In addition to their rich brewing tradition, Germans also have traditions when it comes to pouring their beer. There are distinct pouring styles depending on the style of beer you want to enjoy to fully unlock the flavors associated with each style. Unfiltered beer styles, such as Wheat beers, have yeast particles that can get trapped at the bottom of the bottle. You want those ingredients in your glass to get an authentic experience.
One key thing to remember is that, unlike American beer drinkers, Germans enjoy a good head of foam on their beer. German beer glassware, such as a pilsner glass, weizen glass or a beer stein, is tall to accommodate a full, rich head of foam. A good rule of thumb (no pun intended) is to leave a head of foam that is about three fingers wide at the top of the glass. Not only does the thick head provide a visually pleasing presentation, it also helps to release more of the carbonation from inside the beer so you can enjoy more without the feeling of being full. Note: Please enjoy Oktoberfest and German beer responsibly.
How To Pour A German Weissbier Or Hefeweizen From A Bottle
1. Rinse your hefeweizen glass with cold water ahead of time for a smoother pour. Weissbier has more carbonation than a lager or pilsner so you can get too much foam if poured too quickly.
2. Tilt the glass at a 45 degree angle, and slowly pour the beer down the side of the glass with the bottleneck inside the top of the glass. Note: Some people prefer to stick the neck of the bottle right into the liquid, and slowly pull the bottle out of the glass as the beer pours out.
3. Continue to pour until there is about a finger width's amount of beer left in the bottle. Use that beer to help get the remaining yeast into your glass. Either swirl the beer around the bottom of the bottle or roll the bottle between your palms to agitate the yeast. Some folks will even lay the bottle on its side and roll it back and forth across the table or bar as well.
4. Swiftly empty the remaining contents of the bottle into your glass to help create a thick head of foam.
How To Pour A German Pilsner From A Bottle
1. Tilt your pilsner glass at a 45 degree angle, and vigorously pour into the glass creating a good amount of foam.
2. Once you've emptied about half of your bottle let foam settle for about a minute, and then resume pouring.
3. Alternate pouring and settling until your bottle is empty. This slower method of pouring helps to reduce carbonation and release more of the beer's flavor. Early German tradition stated that a good pilsner takes seven minutes to pour, but the accepted modern practice takes about three minutes.
How To Pour A German Lager From A Bottle
1. Tilt the glass or stein at a 45 degree angle.
2. Place the tip of the bottle in the glass, and pour the beer quickly down the side.
3. Start to straighten the glass as the beer reaches the top to create a nice head of foam.
---
How To Pour A German Beer On Tap
Those that are enjoying their German beers on tap should follow the basic rules for pouring a proper pint (or in this case stein) of delicious draft beer.
1. Hold your glass at a 45 degree angle below the draft faucet.
2. Begin pouring beer down the side of the glass until it is about half full.
3. Continue to fill the glass as you tilt it upright to a 90 degree angle, allowing a generous head of foam to form at the top of the glass.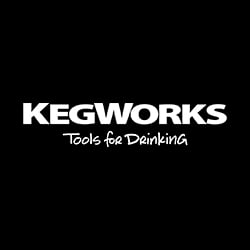 KegWorks has been selling cool tools for drinking and serving knowledge on tap since 1998. We are all about enjoying good drinks with good friends.