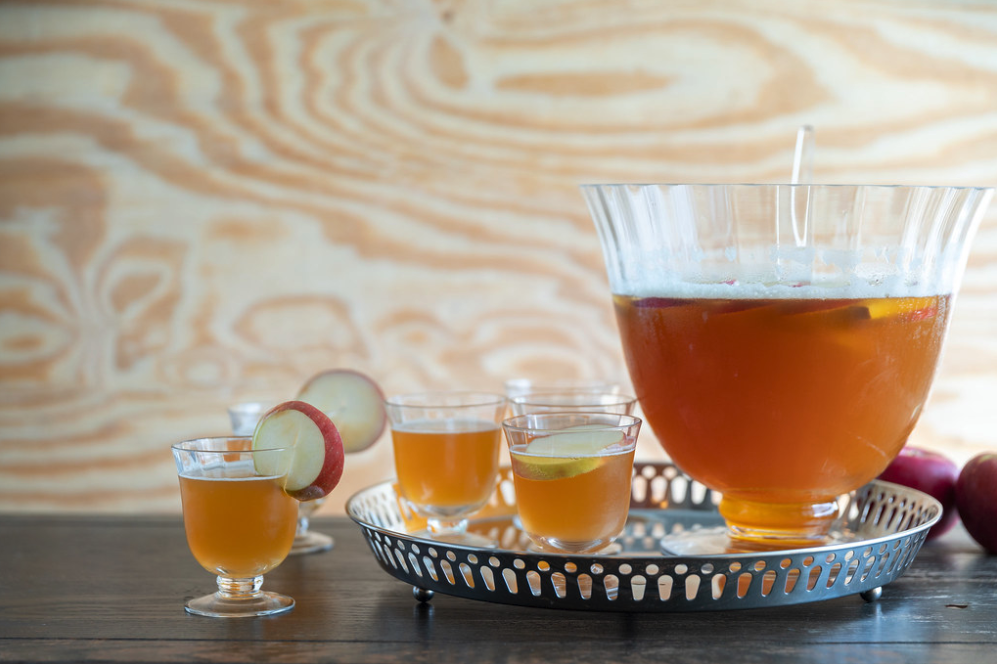 Thinking of serving some special cocktails at your next party, but don't want to stand behind the bar (or table) all night long? We get that. While it's fun to make drinks for friends and family, you threw a party so you could spend some time with them. You won't be able to do this if you're making cocktails all night. And that's why we're here today. We've got a solution for you. Batched cocktails.
Now, you might be thinking that the pre-made large quantity cocktail plan leaves you with limited options, but that's actually not the case. Below, we'll provide you with 7 pro tips for batching cocktails, including some dos, some don'ts, as well as a couple of recipe ideas.
1. Punch is Always Easiest
Punch is made for serving a lot of people, so it's always an easy option when preparing cocktails for a large party in advance. Simply mix up the punch in a large bowl, store it in your refrigerator, and when party time comes along, add a block of ice and a serving spoon so guests can take care of themselves.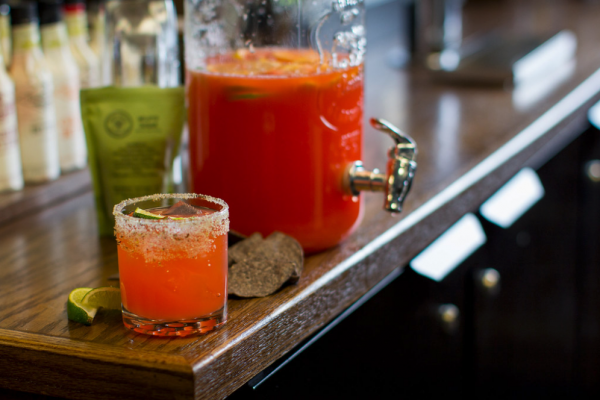 2. No Eggs
When it comes to batching, there aren't many limitations, but this is definitely one of them, and though it may seem fairly obvious to some, it's still worth mentioning. Mixing eggs takes a whole lot of shaking and/or stirring, and they're almost sure to separate throughout the day. So avoid eggs when making a big batch of cocktails. Save those drinks for a quiet night in or a small get together with only a few people.
3. Find Ingredient Ratios, And Part Them Out
Skip the complicated math, and make it easy on yourself. For the sake of example, if you have a cocktail that requires 3 ounces of a certain spirit, 1½ ounces of juice or soda, and 1½ ounces of liqueur, instead of multiplying these portions by the number of drinks you wish to make, simply figure out the ratio of ingredients in the cocktail. In this example, the ratio would be 2-1-1. You can apply these proportions to cups, gallons, liters, or whatever measurement your want to use.
4. Get The Timing Right
The whole point of batching is to save time on the day of the party. But there are a few things that can go wrong, depending on the ingredients you're using. As a general rule, it's fine to mix all of your spirits together, but leave any juices out of the mix until day of. You can still have them ready, just keep them separate. This will ensure proper taste and presentation the day of your party. If you're using anything with bubbles – soda, tonic water, ginger beer, champagne, or sparkling wine – don't mix this in until right before you plan to start serving. This will ensure carbonation throughout the day.
5. Garnish to Greatness
As with many batched cocktails, you try to keep it simple, but you have a lot of flavor opportunities in the garnish(es) you choose. Consider using citrus twists, fruit wheels, wedges, chunks, or slices. You can also add a ton of flavor with mint and other herbs, like lavender, cilantro, or rosemary. Of course, you'll want to add these right before serving as well.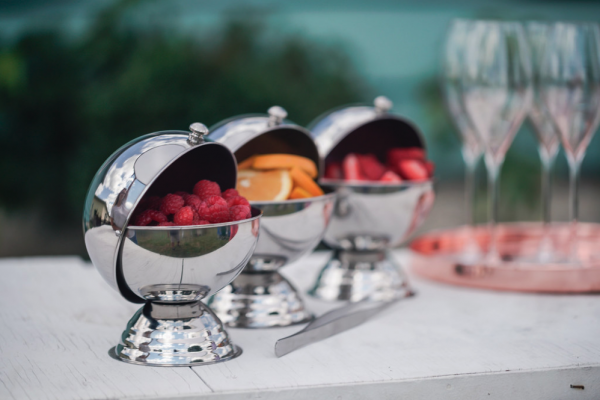 6. To Dilute or Not to Dilute?
That really is the question. Here's what the experts over at imbibe magazine have to say about it…
"Some bartenders argue that dilution simplifies batching cocktails like Manhattans and Negronis and eliminates the need for each to be individually stirred with ice—just combine ingredients, add water, chill and serve. If you do go this route, you can determine the amount of water to add by weighing a single serving of the cocktail you're planning to pre-batch before and after you've stirred with ice—the difference in weight is the amount of water that makes it into the finished drink. From there you can multiply by servings you're planning to batch and add accordingly. In the opposite corner, other bartenders will argue that not only can adding water quickly lead to mathematical error (making for a messy, and expensive mistake), but the cocktail won't be as cold as it would be if stirred with ice."
Still not really an answer, right? Well, that's because there is no definitive answer. It's up to you. Our advice is this: if it's your first time batching cocktails, forget adding water because you don't want to make an expensive mistake. If you've done this before, give it a shot. Just let us know how it turned out!
7. Spice Up Your Serving Vessels
Sure, you can certainly use a standard pitcher or punchbowl, but if you're looking for something a little more unique, why not try a Watermelon Keg or a Barrel Beverage Dispenser? Either of these will certainly set your party apart!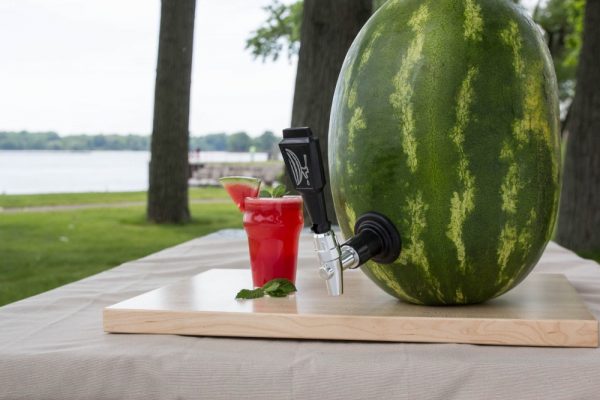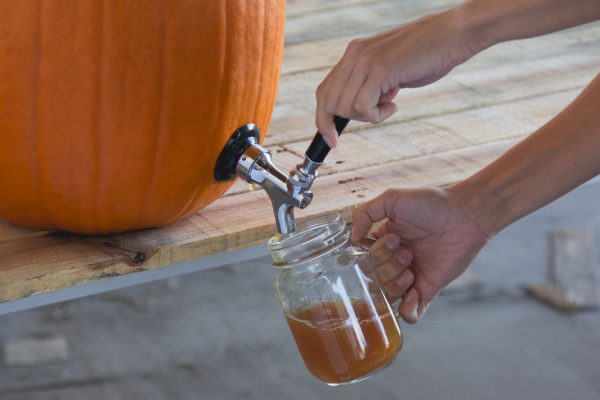 ---
Now that you have some tips on how to properly prepare big batch cocktails, let's check out a couple of recipes you can try at your next party…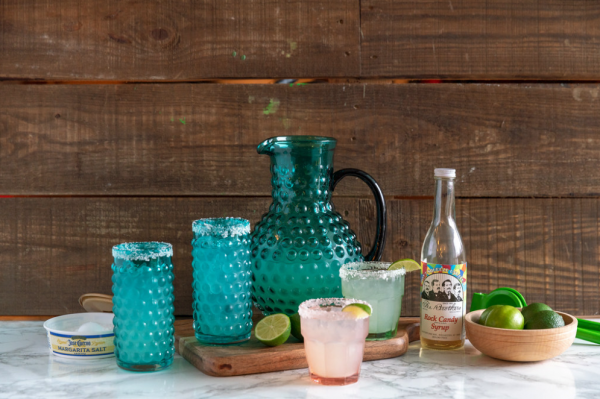 Pitcher-Perfect Margarita
Ingredients (Serves 24)
8 cups cold water

1 liter 100 percent agave tequila, chilled

2 (12-ounce) cans frozen limeade, thawed in the refrigerator

4 ounces frozen concentrated orange juice (1/2 cup), thawed

1/4 cup bottled lime juice

4 medium-sized limes, each cut into 6 wedges

Simple Syrup

(optional)

Salt

(optional)

Ice (optional)
Tools Needed
Preparation Instructions
1. Place all the ingredients in a large pitcher or container (at least 1-gallon capacity) and stir to evenly combine. Cover and refrigerate until chilled. Stir before serving.
2. Serve the mixed margarita up or over ice in a chilled margarita glass garnished with a lime wedge.
Note: To serve over ice with salt, fill a small, shallow dish with simple syrup and a second small, shallow dish with salt. Dip the rim of a glass in the simple syrup, then in the salt.
Add ice and top with the mixed margarita. Serve with a lime wedge.
Rum Punch with Ginger Beer & Pineapple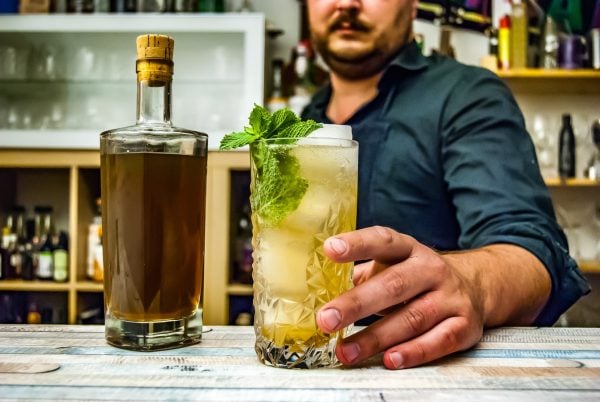 Ingredients (Serves 4)
½ cup fresh lime juice

1 cup ginger beer

1½ cups Jamaican dark rum

2 cups pineapple juice

Ice

Lime wheels for garnish
Tools Needed
Preparation Instructions
1. In a pitcher, combine lime juice, ginger beer, rum, and pineapple juice. Stir well to combine.
2. Fill glasses with ice and pour in the punch, then garnish each glass with a lime wheel.
3. If you're making the punch the day or night before, mix the rum and the lime juice, but wait on the ginger beer and pineapple juice. Refrigerate until ready to serve, and stir in those ingredients immediately before serving.
Note: You'll see that with this recipe, the ingredients are listed to serve 4 cocktails. Here's where you'll have to figure out your ratio.