Add a bright bite to drinks, dessert and more with candied citrus.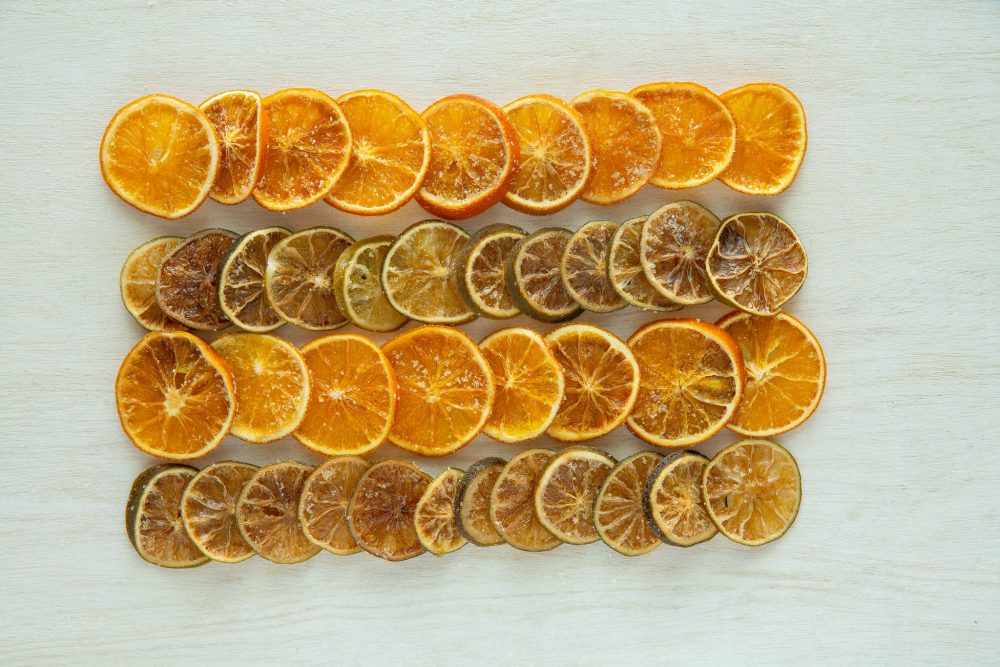 Candied fruit, or crystallized fruit, has been around since the 14th century as a method of food preservation. While still a very fine option for using up some extra fruit you may have laying around, even more so, candied citrus is an all star ingredient.
Whether you buy them pre-made or bear the fruits of your own labor and make them yourself at home, candied citrus can add brightness and texture to any dessert, salad or cocktail.
---
How-To Make Candied Citrus Peels & Slices
Making candied citrus at home is a simple process but also time consuming - as most recipes require a lengthy boiling and drying process. If you're in a rush and in need of a little lemon aid, purchasing pre-made candied citrus is an equally delicious option.
---
Candied Citrus Peels & Zest Recipe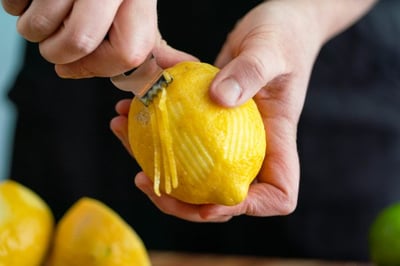 (recipe via Martha Stewart)
Yield: 1 Cup Candied Citrus
Ingredients
2-4 citrus of choice, washed

2 cups granulated sugar

1 cup cool water
Tools
Instructions
Remove zest from lemons with a citrus zester or peeler, keeping in long pieces. Place zest in a small bowl; cover with boiling water. Let stand for 30 minutes and drain. Bring sugar and the cool water to a boil in a small saucepan over medium-high heat. When sugar is completely dissolved, add zest, reduce heat to medium low, and cook 10 minutes. Remove from heat, cover, and let stand overnight.
---
Candied Citrus Slices Recipe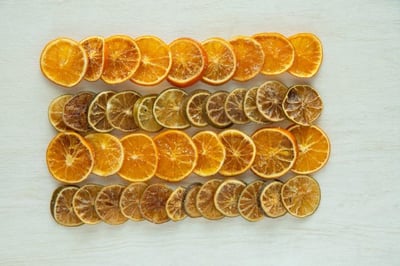 (recipe via Martha Stewart)
Yield: 1 Cup Candied Citrus
Ingredients
1-2 citrus of choice, washed

1 cup granulated sugar

8 cups cool water

2 cups ice
Tools
Instructions
Prepare an ice-water bath with 2 cups water and 2 cups of ice. Set aside. Using a paring knife, cut lemon into 12 paper-thin slices - removing seeds and ends of rind. In a medium saucepan, add 5 cups of water and bring to a rolling boil. Remove from heat, and add lemon slices; stir until softened, about 1 minute. Drain, and immediately plunge slices into ice-water bath. Drain. Bring sugar and 1 cup water to a boil in a medium skillet, swirling to dissolve sugar. When liquid is clear and bubbling, reduce heat to medium-low. Add lemon slices, arranging them in one layer with tongs. Simmer (do not let boil) until rinds are translucent, about 1 hour. Transfer to a baking sheet lined with parchment. Let stand until ready to serve. Lemon slices can be stored in an airtight container at room temperature up to 1 day.
---
Pre-Made Candied Citrus
Blue Henry fruit garnishes are first candied, then dehydrated, then coated with cocktail bitters-infused organic sugar. Made with all-natural flavors and non-alcoholic, they make for nice healthy drink garnishes and beyond.
Bittered Candied Lime Slices
---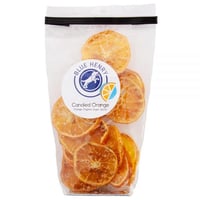 Bittered Candied Orange Slices
---
Ways To Use Candied Citrus
1. Candy
There's nothing much classier than whipping out a chocolate-covered candied citrus for your guests to enjoy for dessert.
2. Baked Goods
Candied citrus is a chic topper for cakes and a wonderful ingredient to help brighten up your morning scone.
3. Homemade Salads & Trail Mix
Jazz up your daily fruit serving by swapping out dried cranberries and apricots for candied citrus in your salads and trail mix.
4. Cocktail Garnishes
You can elevate any citrus-based cocktail with a candied citrus garnish - and if you make yours at home you can use the leftover simple syrup from cooking them in your drink itself.
---
Sparkling Lemon Citrus Cocktail Recipe
Fresh citron of all kinds brightens and sweetens even the darkest of spirits - and with the combination of sparkling wine, lemon and a candied lime, this easy-to-drink citrus cocktail will be sure to keep life tangy.