Thirteen craft beer wedding ideas for the beer enthusiast couple.
The love of beer is precisely the kind of love that should be honored. In fact, as the craft beer culture continues to grow, it's becoming more and more popular for beer enthusiast couples to integrate their shared love for craft beer into their big day – and we're not just talking about what's offered behind the bar.
History of Weddings & Beer
Throughout history beer has a lot more to do with weddings than many of us might know. The word "bridal," for example, actually comes from "Bride-Ale," which refers to a special beer brewed just for the wedding. What's more, guests traditionally gave wedding presents in exchange for the special brew.
Even the honeymoon tradition is based in beer. 4,000 years ago, in Babylon, the father of the bride traditionally supplied a month's supply of mead (best described as a honey beer) to the groom for a lunar month. The idea behind this is that the beer supposedly gave the new couple a greater chance of producing a son. If a son was born nine months later, the brewer of the beer would receive gifts and praise from the entire family.
Here are 13 modern beer wedding ideas to incorporate into your wedding, sans pressure to produce a male heir after.
1. Build A DIY Wedding Bar
A DIY Wedding Bar is a kick-ass way to serve up drinks to your guests, plus it saves some serious cash. Check out our step-by-step instructions and watch our how-to video to learn how to build your own wedding bar for your big day.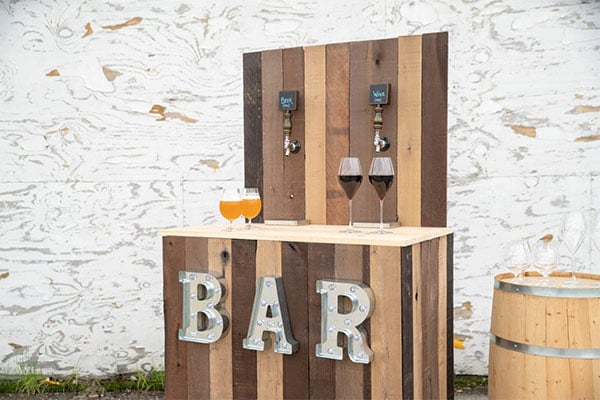 2. Brew Your Own Wedding Beer
If you're a homebrewer, an occasion like a wedding is the perfect time to show off your skills and passion with family and friends. You can easily serve up your latest recipes in a corny keg to guests or bottle 'em up.
3. Make A Beer Themed Grooms Cake
A YETI cake symbolizes the epitome of a good old-fashioned dude bonding time. Accessorize your beer themed groomsmen cake display with the groom's favorite brews to make it even more personal.
4. Include Beer Hops In Your Bouquets, Boutonnieres & Decorations
Using beer hops in bouquets, boutonnieres and floral decorations are a great way to add a node to your beer themed wedding. Plus they aren't as expensive as other flowers.
5. Make Beer Bottle Centerpieces & Decorations
Save up your empty beer bottles for a while and DIY them into your wedding centerpieces. It's a simple, easy and cost effective way to tie in the beer theme.
6. Personalize Beer Glassware
Take your beer glassware and personalize it for each guest. Personalized glassware could be used as your seating chart, plus your guests can get to keep them as their party favors.
7. Do A Beer Toast (Instead of Champagne)
Skip the champagne toast and cheers with your favorite brews to incorporate beer into your wedding.
8. Give Beer Related Wedding Favors
Natural beer soaps are an awesome beer related wedding favor that won't go to waste.
9. Give Beer Related Groomsmen & Bridesmaid Gifts
If the bride and groom are into beer, chances are their parties are too. Personalized beer products make for great groomsmen and bridesmaid gifts.
10. Send Beer Themed Save-The-Date
Beer themed save-the-dates will let everyone know what's on the agenda at your wedding. Whether they're designed with cool 'free beer' font or are shaped like beer coasters, it's a fun and unique way to let everyone know what's to come on the big day.
11. Have Your Reception At A Brewery
Breweries are a cool way to tie your venue into the wedding theme. They add an industrial feel, as well as proximity to good beer.
12. Create A Craft Beer Beer Station or Beer Garden
Beer stations make it obvious and easy for your guest to grab a cold one. Add some beer signage for extra flair.
13. Take Beer Themed Photos
The wedding may only be one day, but the memories will last forever. Take beer centered photos for you to look back at and cherish the memories of the special day.