It may not quite qualify or be called a session beer, but I'll be damned if English Porter doesn't drink like one. While not an alcoholic behemoth like Baltic Porter, and not leaning towards the hoppier end of things of an American Porter, it is usually my first choice in this old-world family of dark beers. Rich and malty, highly drinkable, and with moderate alcohol levels, there's a "satisfaction" factor that this style seems to deliver for me, and I almost always have a few in the fridge for whenever I get the craving for what I consider to be the perfect middle-of-the-road beer.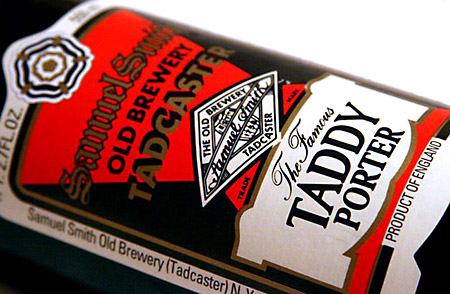 Image credit:
JustBeer
History of English Porter
Porter has a complex and interesting history that isn't quite easily explained in a few sentences. Getting its start around 1700, Porter got its name from its popularity with the river and street porters in London. A writer named John Feltham was the first person to publish an historical account on the origin of the beer, at the time calling it "Three Threads," which was the designation for a blend of three beers: and old ale, a new ale, and a mild ale. This made Porter the first real "industrialized" beer, being that it was fine-tuned to the public's taste, and was in a lot of ways a tweaked or aged version of the plethora of brown ales already available in England. At the time, it was one of the strongest beers around, and the ingredients used, particularly the type of malt, bounced around many times based on cost and what the brewers were trying to achieve as far as taste, color, and alcohol levels.
Unfortunately, due to the rising popularity of stout in the late 1800's, demand and interest in Porter began to wane. Many breweries discontinued production, and if they DID continue to produce it, it resembled more of a mild and was a shell of its former self. By the advent of World War I, it was almost extinct, and didn't really see a rise in popularity until the late 1970's, where numerous breweries were rediscovering the style, and today there are dozens of solid examples being produced in the UK and elsewhere.
English Porter Characteristics
English Porter has an assertive, malt aroma with a mild roastiness and sometimes even a chocolaty quality. Look for some non-roasted malt character, with some caramel, bread, nut, or toffee-like notes with the English hops sometimes present. They are light brown to dark brown in color, often with a reddish cast when held up to the light. Clarity is usually good, and they have a moderate off-white to light tan head with good retention.
A rich, malty flavor is the major calling card of English Porter, with a light to moderate roastiness, again with some chocolate flavors and the nuttiness you get in the aroma. Secondary flavors can be coffee, anise, biscuits, or toast, with some or no English hop flavor that will provide a medium hop bitterness. I mentioned a high drinkability with English Porter, and that's another big component that you will notice – medium-bodied but not a chore to drink. As I mentioned above, these beers have more substance, tooth, and roast that a typical brown ale.
English Porter Food Pairings
Since Porter has such a wide range of characteristics in flavor, it makes it a great utility beer to have when you need something to pair with your meal. The first thing that probably comes to mind is any kind of grilled, roasted, smoked, or broiled meat – a pint of porter with a good hamburger or a steak is a no-brainer, and anything off a grill, with that charred, seared flavor on the meat will match the roastiness in a porter. BBQ anything is always a great call here, as well as meatloaf, pork roast, or any kind of game. Shellfish is another interesting pairing that will surprise you – the natural sweetness in scallops, lobster, and shrimp is a nice partner to the delicacy to the caramel, roasty, sweet flavors in the beer, and being not too heavy in mouthfeel and flavor, a beer this dark will not dominate your dish. Feel free to grab one of these with any kind of fish that's been blackened – the char and smokiness in the seasoning calls for a porter to be paired with it. Even used as a base in chili or beef stew – go right ahead, you won't be sorry. If your dessert has chocolate in it, as long as it's not super-intense, grab a porter, kids.
It's sort of a broken record where I talk about underrated styles of beer, and even though there are a LOT of examples out there of the style these days, I still feel that English Porter is a bit ignored and gets pushed aside a lot of the time (especially in lieu of whatever barrel-aged strong stout might be on draft a few taps down the line). Either way, I encourage you to try a few of my Top 5, and let me know what you think. The weather forecast just predicted another Western New York Winter storm coming this week, so picking up a sixer of one of these sounds just like what the doctor ordered.
Cheers!
Cooperstown Benchwarmer Porter
Tags: