This Sunday is Easter and most of us will be gathering with many of our family members for possibly the first time since Christmas, and for MY family gathering, I inadvertently found out that my parents are responsible for bringing the wine. I started to count down the minutes before I got a phone call from my mother as to what wine went well with ham. I really had to think off the top of my head I know that some of the lighter reds work, as well as some of the semi-sweet whites. But historically, ham hasn't always been the predictable, go-to meat of choice for the table in my family, so I never really gave it a lot of thought. Which got my internal engine running as to what beers would be good with the stuff. And it gave me a good idea for a post here—sounds to me like another holiday where we can easily leave the wine off the table and again give beer a fighting chance.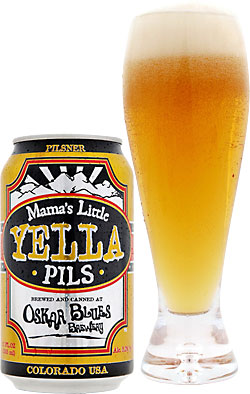 As I do much of the time, I decided to consult Garrett Oliver's The Brewmasters Table on what would complement the ham the best. Here are five beer styles (and my personal pick of each style) that will pair beautifully with that baked pig.
Irish Stout: As we know, Irish Stout is dry and full-flavored. That contrasting profile will pull the salt out of the ham and amplify its most important flavors. My pick: Avery Out Of Bounds.
Pilsner: A light, snappy beer that is another style that will yank the salt out of the meat and slash its way through the fat. My pick: Oskar Blues Mama's Little Yella Pils
Maibock/Helles Bock: Similar to Pilsner, but maltier and sweeter, which will match up with the meat but have enough hops to cut the fat and carbonation to clean your palate. My pick: Hofbrau Maibock
English Brown Ale: The caramel and nutty flavors in one of my favorite styles is a terrific complement to the sweetness of the roasted meat. My pick: Goose Island Nut Brown Ale
Belgian Strong Pale Ale: A list from me wouldn't be complete without an offering from Belgium now, would it? A thirst-quenching style with loads of scrubbing carbonation, along with plenty of citrusy spice, ham would be happy to have a goblet of this golden God next to it. My pick: La Chouffe
Happy Easter, and Cheers!