The History of Baltic Porter
Baltic porter is the biggest, blackest, and boldest of all the Porters. Considered to be a bit of an evolved version of a traditional English Brown Porter, they started to rear their heads in the late 1700s from the countries bordering the Baltic Sea. Much like the origin of India Pale Ale, these beers were brewed with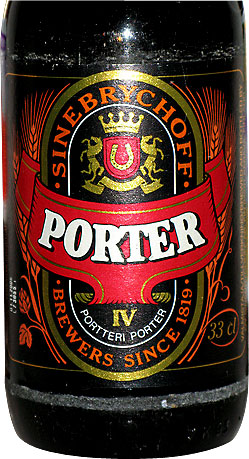 a higher alcohol content to survive their boat ride across the North Sea or beyond. Additionally, their dark brown color covered up some cloudiness, and numerous malt varieties were used to cover up imperfections. It may come as a surprise, but the majority of them are actually brewed with a bottom fermenting lager yeast as opposed to a top fermenting ale yeast.
Baltic Porter Characteristics
Baltic Porters have a rich, malty, sweet aroma that can contain caramel, toffee, nuts, toast, and even licorice. You'll probably pick up some alcohol notes of moderate strength, along with plums, raisins, prunes, cherries, or currants, occasionally with a vinous, port-like quality. Those brewed with darker malts will give off some chocolate, molasses or coffee, but keep your nose tuned for burnt notes, because they should never be there. They can be dark reddish in color, to very dark brown with a thick, sticky tan head. Oddly enough, these beers are relatively clear, but the ones on the darker side can be opaque. As with aroma, this style will have a rich malty sweetness with a complex blend of deep malt, dried fruit, and alcohol. There's a silky smooth, mouth filling schwarzbier-like roasted flavor that again, won't be burnt, and that lager yeast that it's brewed with will give it a very clean character. They start out sweet but that darker malt flavor will quickly take over and be right there to the last sip. They'll be a bit on the dry side, with some coffee or licorice in the finish, with medium bitterness from the malt and hops, but just enough to provide balance. Baltic Porters are quite a mouthful, with some well-aged alcohol warmth, but with the moderate carbonation they won't be too heavy on the tongue.
Baltic Porter and Food Pairings
Right out of the gate, if it's meat, and it's roasted, smoked, grilled, baked, braised, or broiled it's a perfect match for this big, bad style. Any kind of dish with a classic mole sauce that contains spices, chilies, nuts, and chocolate will be great with Baltic Porter, not only with the flavor profiles matching up, but that clean lager character in the background will tame some of the spice in your dish, and the roastiness will play well with whats going on. As you'll probably guess, desserts with Baltic Porter are a no-brainer. The chocolate malt in the beer will pair up with literally any kind of chocolate dessert (as long as it's not too sweet), and it will also be a great contrast to a dessert with fruit, especially anything with raspberries, cherries, or strawberries. If you want to go the simple route, get yourself some good vanilla ice cream and you'll have quite a treat.
Why You'll Enjoy Baltic Porter
If you're a fan of darker, less-bitter beer, and you haven't yet checked out this style, do yourself a huge favor and seek out a few that I have listed below. One great aspect of this style that you may not expect is that the price point for these beers is surprisingly reasonable, especially imported versions. That doesn't happen too often these days with beers of higher strength, so if cost efficient is part of your game plan when you head to your local beer store, put some of these on your shopping list.
Cheers!
Tags: