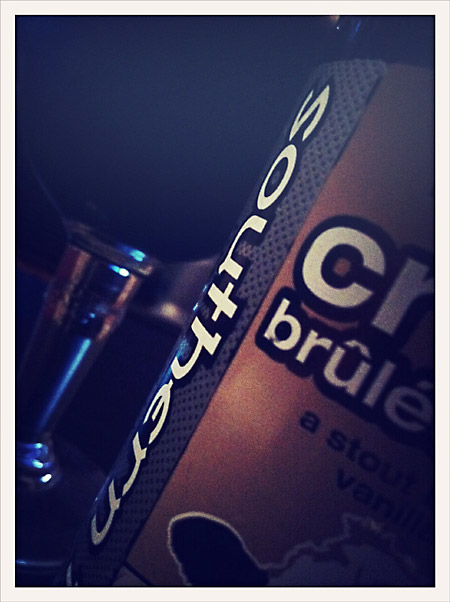 If you haven't noticed by now, I'm a huge fan of Southern Tier Brewing Company. I love everything they offer, from day-to-day brews, to seasonals, to imperials, to one-offs. One of my absolute favorites is the Southern Tier Imperial Crème Brûlée Stout, a 10% ABV seasonal brew in their Blackwater Series. This beer is one whose reputation precedes it, making it a favorite in beer trades with people who don't have it locally.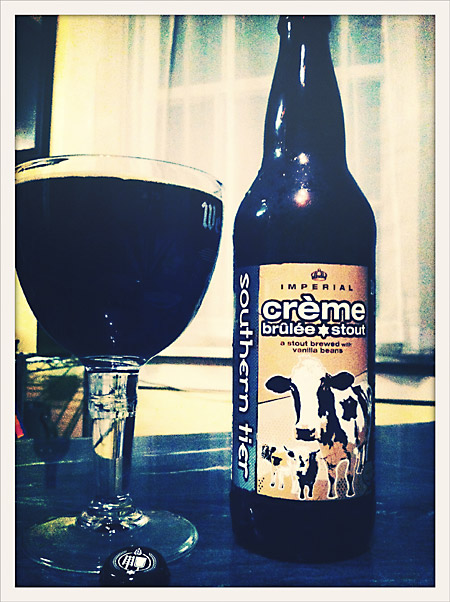 One of the people I trade with from time to time is Dave in Houston (@DaveWantBeer on Twitter). He's close to some great breweries that don't ship anywhere near me, like Jester King, Saint Arnold and Southern Star, and I can get a hold of things from up north and even around the world to send to him. It's truly a win-win.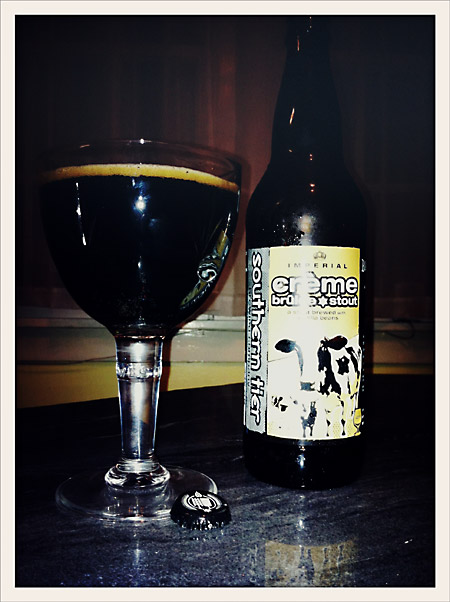 At Dave's request, I happily sent out bottles of 2011 Southern Tier Imperial Crème Brûlée Stout and asked that he send me some of his thoughts, once he got around to tasting. And so, here we have a joint review from me (@htcdesign on Twitter) and Dave in Houston.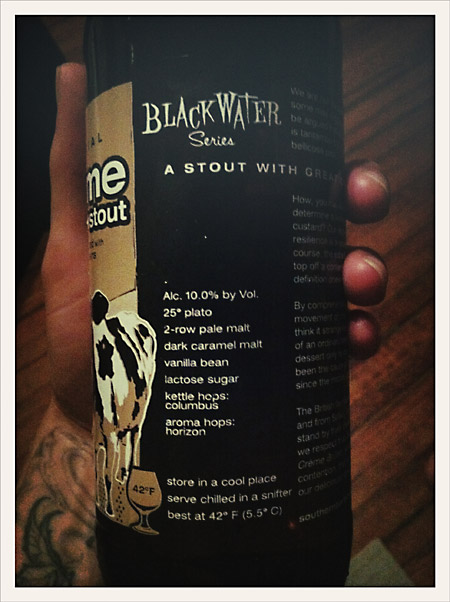 Appearance
Pours a deep, dark, raw umber, verging on black, with about one finger of toffee-colored head.
Aroma
Burnt sugar, vanilla, heavy butterscotch and light alcohol heat. If I'd been blindfolded, I would think this was actually crème brûlée custard with a touch of alcohol. Dave and his party also noted merengue and coffee in the nose, with which I wholeheartedly agree.
Taste
Sweet vanilla, caramel and butterscotch are balanced by a dry hops bitterness, leaving desiccation on the sides and back of the tongue. Each sip finishes with vanilla-sweet alcohol heat. Some in Dave's party caught a bit of astringency on their palate, but that was not the case for neither him nor I. We only felt the heat intensity from the alcohol.
Mouthfeel
Creamy, medium-heavy body with minimal carbonation; just what I'm looking for in an after-dinner beer. Like Dave and his party, I noticed that the brew left a lasting impression on the palate, long after it was swallowed.
Overall
One of my favorite seasonal brews, Imperial Crème Brûlée Stout never disappoints. It's not a beer I could drink a ton of but then, it wasn't brewed with session drinking in mind. Consensus in Dave's party was that the 2011 may be even better than the 2010 a year from now.
If you haven't yet had a chance to pick this up, I highly recommend it (and I think Dave would agree).
Cheers!
Tags: