Kegged beer always beats cans and bottles. Jockey Boxes are the ultimate in tailgating supplies - serve the coldest, crispest beer faster!
View our selection of Jockey Boxes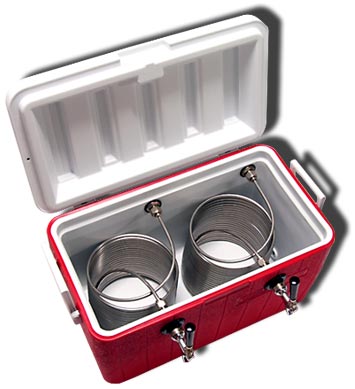 Often called a "coil box" or "cold plate box," the name "jockey" comes from "jockey around," meaning that these systems are easy to move from place to place.
Coil boxes are leagues above cold plates - they turn beer colder, faster. We only sell coil jockey boxes, and recommend you use these over cold plate kits.
Our jockey boxes come with everything you need to serve cold, crisp beer anywhere - even in your stadium's parking lot! Our complete kits come with a cooler box, beer line, stainless steel coils, shank, faucet, CO2 regulator, CO2 tank and beer line connectors. Don't be fooled by other companies that advertise lower prices, but do not give you EVERYTHING you need!
What's Great About Them?
The coil system keeps the beer chilled to just the right serving temperature. All you need inside the chest is some ice and a little bit of water to keep the coils chilled. The ideal serving temperature is between 36º and 40ºF. Our coils are 50 feet long each - plenty to cool your beer.
Does not require electricity! So, it can be set up anywhere.
Uses CO2 to serve the crispest beer possible! No comparison to beer served using a traditional pump. Traditional pumps use oxygen that causes beer to go flat very quickly. With CO2, beer is fresh and your keg will last longer.
Faucets allow you to pour beer fast! Easily pour pitchers.
Tricks and Tips
Keeping the keg cool is important. So, we recommend Keg Jackets. This will keep kegs cold in most climates. Remember, kegs should never be stored in direct sunlight or in extreme heat.
The coil should be kept submerged in an ice water bath. As the ice melts you may need
to drain some water and add extra ice.
Just like all draft beer systems, jockey box systems require regular cleaning. All beer contact points - faucet body and faucet parts, coils or cold plates, beer line connectors and drain tray should be cleaned after each use.