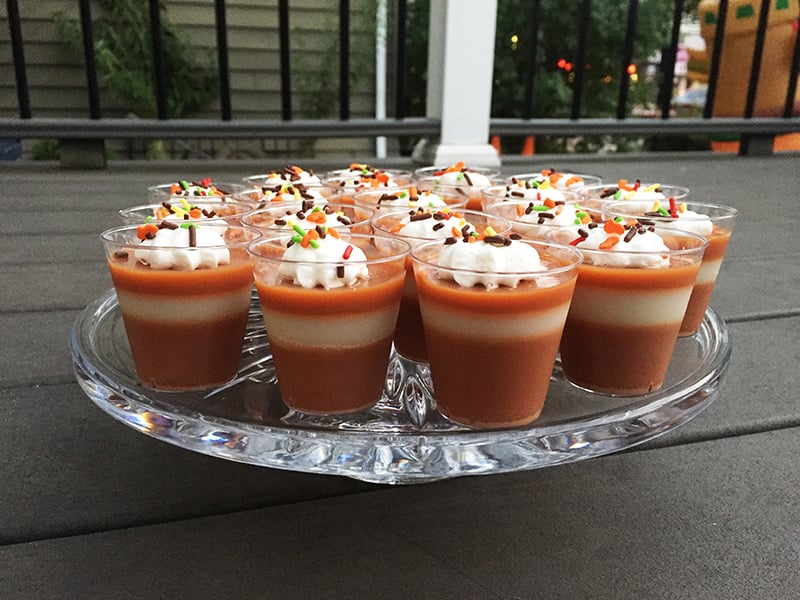 If you were to make a Venn diagram of people who love pumpkin spice lattes and people who love jello shots, we figure the overlap would probably be pretty significant. Ergo, we present to you the pumpkin spice latte jello shot.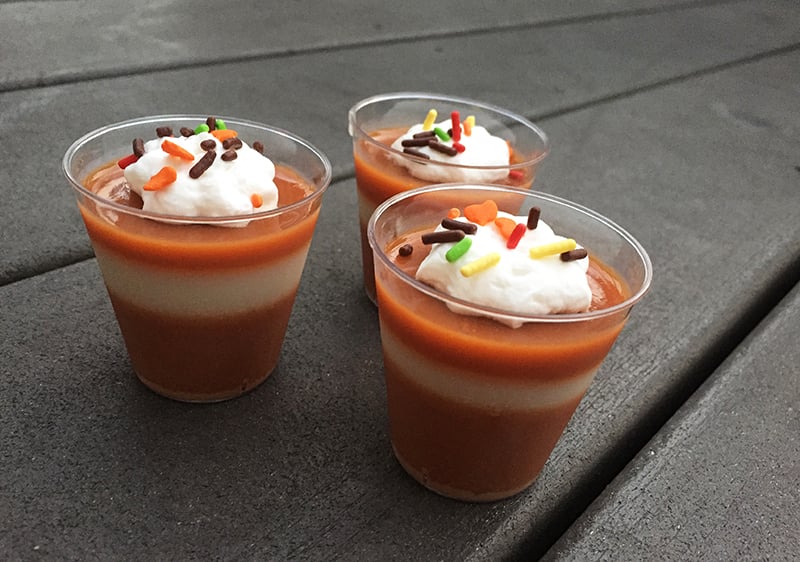 Make this crowd-pleasing recipe for any fall party or get together, like Halloween, tailgating or even apple picking pregaming. Because that's totally a thing. Right?
---
Pumpkin Spice Latte Jello Shots
Yield: Approximately 22-24 shots (more if using cups smaller than 2 ounces)
Ingredients
2 ½ cups brewed coffee, divided and at room temperature or cooler
1 ¼ cup water, divided
1 package Pumpkin Spice Flavored Jello Shot Mix
1 1/4 cup vodka or white rum, divided
1 14-ounce can sweetened condensed milk
1 packet + 1 teaspoon unflavored gelatin, divided
¼ cup creme de cacao liqueur
1 cup heavy cream
Tools
Jello shot cups
Make pumpkin spice layer. Combine 2 cups of coffee with ½ cup of water in a medium saucepan. Bring to a boil and then turn off the heat. Add jello shot mix and whisk until completely dissolved. Add ½ cup reserved coffee and 1 cup vodka or rum. Stir to combine, then transfer to a container with a spout. This will make filling the shot cups much easier.
Fill shot cups. Set shot cups out on a baking sheet or tray that can fit in your fridge. Pour enough of the pumpkin spice gelatin into the cups to fill each about ⅔. (You should have leftover pumpkin spice gelatin. Set aside for later use.) Transfer the tray to the fridge and let the shots set for about an hour.
Make milk layer. While the first layer is setting, empty the condensed milk into a medium bowl and set aside. In a small saucepan, sprinkle 1 unflavored gelatin packet over ½ cup water. Let it sit for 3-4 minutes to allow the gelatin to absorb some of the water, then heat the mixture over a medium flame and stir until the gelatin dissolves. This will only take a couple of minutes. Pour the gelatin mixture over the reserved condensed milk along with ¼ cup vodka or rum and ¼ cup creme de cacao. Stir to combine, then transfer to a container with a spout for easy pouring.

Once the pumpkin spice layer is mostly set, take the shot cups out of the fridge and pour a ¼ inch thick layer of condensed milk gelatin over the top. Return to the fridge.

When the milk layer is mostly set, remove the tray from the fridge and top each shot with a thin layer of the reserved pumpkin spice gelatin. Refrigerate until fully set.

Make stable whipped cream for garnish. Place remaining ¼ cup cold water in a small saucepan and sprinkle the remaining ¼ teaspoon of gelatin over the tip. Let sit for 3-4 minutes. While it's sitting, place the heavy cream in the bowl of a stand mixer with a whisk attachment or in a mixing bowl, if using an electric beater. Heat the water and gelatin mixture over medium flame and stir to dissolve the gelatin. Turn the mixer on to start beating the cream. Let it run for about 1 minute and then with the mixer on high, very slowly add the dissolved gelatin in a thin, steady stream. Continue beating the cream until you reach medium-stiff peaks. Dollop or pipe the whipped cream on top of the set Jello shots and decorate with sprinkles (or freshly grated nutmeg).
Related: