There's something very relaxing and dignified about drinking a nice glass of scotch. Every important business decision on Mad Men was preceded by, or followed by, a glass. A quality bottle can apparently lead one to gladly sit by the yule log for ten plus hours.
The various flavors found in different types of scotch are meant to be savored and enjoyed. I learned this myself when I attended a 'Scotch Enthusiasts' meeting with some friends a few years back. I was thoroughly laughed at when I started ripping shots of scotch. Don't do that.
For National Scotch Day, we thought it would be important to go over some of the best scotch for beginners faced with a large selection. I enlisted the help of one of the 'Enthusiasts', as well as the extremely knowledgeable and helpful staff at Billy Club Buffalo. They gave us some 'Scotch 101' tips and tricks, and we got their input on some of their many choices as we sampled some of their many choices. Tough work but if we can save one person from an uninspiring order or a horrible aftertaste face, it was all worth it.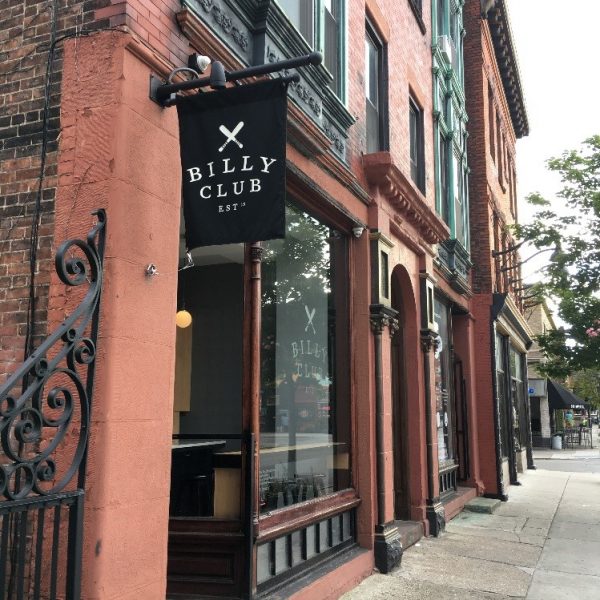 We spoke with owners Jake Strawser and Dan Hagen to set up a game plan where we could get a solid spectrum of categories from approachable, drinkable blended scotch whiskeys to more aged single-malt varieties. On to the tasting!
Round one: Blended Scotch Whiskeys
Dewar's (Doo-ers) White Label and Johnnie Walker Red Label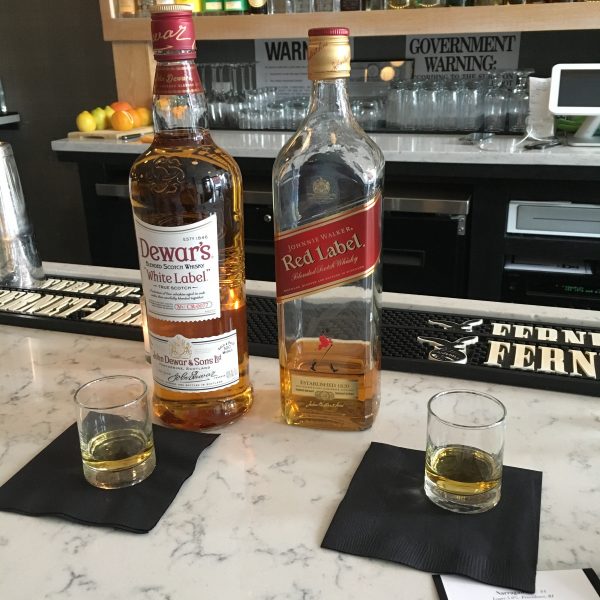 These are the more standard scotches that you'll be able to find at many non-whiskey bars. These popular orders are not usually the choice for experienced drinkers, or the smoothest scotch. Blended scotch whiskey means that different batches are blended together from multiple distilleries, rather than being all from the same distillery as with single malt scotch. As with most blends, these bottles do not include an age statement. A scotch must be aged in oak barrels for at least three years to have a verified "Aged ___ Years" on the bottle. The number is based on the least-aged spirit used in a blended variety. Because it's unclear how long each batch has been aged, a verified age stamp is not typically found on a blended bottle.
These two standards are cheaper options when ordering at a bar compared to the others on this list. However, the flavors are simply not as noticeable. As blended whiskeys, they take in batches from multiple distilleries. This leads to a wider variety of flavors. Single-malt scotches tend to have more strong, consistent notes than blended.
Round two: Honey Notes
Glenlivet (Glen-liv-it) 12 (years aged) and The Balvenie (The Ball-vinn-ee) 14 Caribbean Cask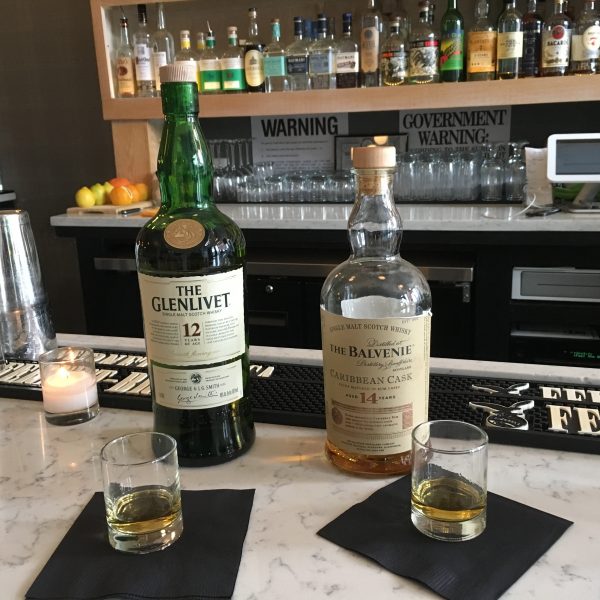 For a bourbon drinker, honey-note, sweeter scotches may make for an easier transition. These higher-quality spirits were noticeably easier drinking than either Johnnie Walker or Dewar's. Glenlivet 12 is a great choice if looking for the smoothest scotch of the reasonably-priced single-malt variety. Glenlivet is one of the world's oldest, largest, and most popular single-malt distilleries. The Balvenie is finished, or matured in a cask of a different spirit, in a rum cask to bring out extra sweetness in its flavor.
Round three: Light and Smokey
Oban (O-buhn) 14 and Laphroiag (Luh-froyg) 10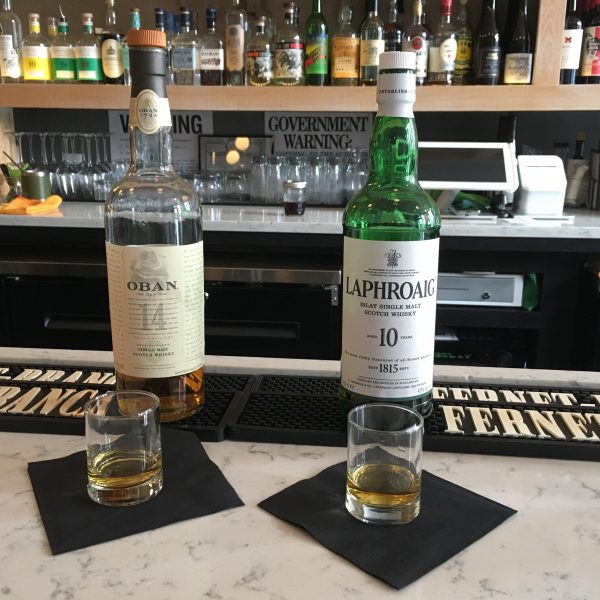 Of these two, Oban was the much lighter, easy drinking scotch, while Laphroaig was extremely peaty and smoky (peaty and smoky are two of the flavors and notes most apparent in scotch tasting-peaty being earthier, while smoky meaning an ashy or charcoal flavor/smell). You can smell the smoke in your glass even when it's sitting on the bar. You can feel the warmth and smoke going down as you drink. It's a very enjoyable smoke though, not at all harsh going down. Tastes almost like delicious barbeque.
Round four: Rich and Woody
Auchentoshan Three Wood (Ahk-en-Toe-Shen) and Lagavulin 16 (La-ga-voo-lin)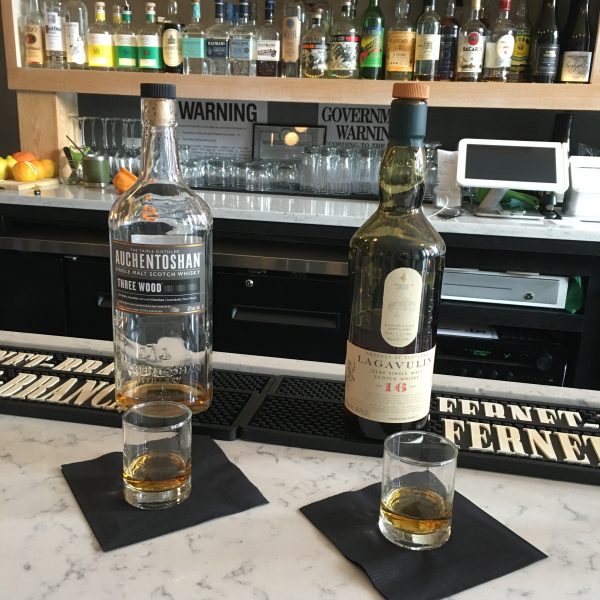 The Auchentoshan Three Wood is more of a trendy pick while Lagavulin is a true Scottish favorite. Lagavulin and Laphroaig are based in Islay (pronounced Aye-Lay), one of the 6 scotch-producing regions in Scotland, known for very peaty scotch. You can easily taste the peaty and smoky in this Lagavulin. Delicious, rich, woody flavor, but goes down smooth. Auchentoshan Three Wood is a single malt scotch finished in three different types of barrels, one bourbon and two sherry casks. This is more of a trendy type of scotch. There's no age statement on it as it doesn't sit around long and is shipped out more quickly. It was very tough to pinpoint an exact flavor note on this one. Its diverse aging process leads to competing flavors, but also a smooth finish.
Round five: Smooth & Crisp
The Macallan (The Mah-Cah-Len) 12 and Nikka Coffey (Nee-Ka Co-Fee) Grain Whisky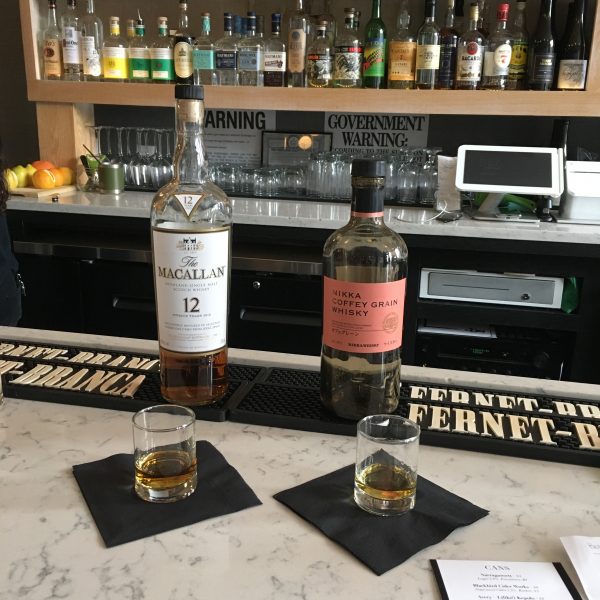 Another old favorite next to another trendy pick here. The Macallan is a respected and revered classic, adored by many. The Macallan label holds the Guinness World Record for most expensive scotch sold at auction. Despite its reverence, this is not a difficult scotch for even a beginner, as it is quite smooth and crisp. The Japanese Nikka Coffey is technically whiskey, as scotch is, by definition, from Scotland. It was one of the sweetest that we sampled, with a very fruity flavor. Very drinkable, but not quite as smooth as the Macallan.
Post-tasting Conclusions
There's a considerable difference between our first grouping and the rest in terms of drinkability and flavor profiles. A higher-quality glass of scotch may be more expensive, but for my money, there's simply no comparison between the feeling of the satisfying heat and taste you get from many of the single-malt scotch options vs. blended scotch whiskey. There are so many great options that you can't go wrong with, but Lagavulin and Laphroaig will give the novice scotch drinker a new flavor experience if you can handle some serious peaty or smoky flavor that still go down easy.
If looking to upgrade your home liquor game, we have all kinds of glasses shaped to help bring out the flavors in your spirits:
We also have functional and stylish decanters so you can store and pour from fine glassware:
We have items to enhance the scotch drinking experience of even the finest connoisseur:
Thanks again to Billy Club for the sage advice and great selection. Go check them out in person and feel free to give them a follow on Instagram and Facebook. Cheers!