Mark Dredge is a 27-year-old beer writer from Kent, England. He's a busy dude who carries a decorated resume. He runs his own beer blog, Pencil&Spoon, writes for the Guardian's Word of Mouth blog, and has contributed in the past to Draft magazine. He's also the all-around marketing guy for Camden Town Brewery.
In December of 2009, Dredge won the British Guild of Beer Writers New Media Writer of the Year award, and in 2010, won the same award, which was renamed "Online Communicator of the Year." In 2011, he won Beer and Food Writer of the Year, and I think the only reason he's without an award for 2012 is because he's been busy working on a book.
Craft Beer World. A Guide to Over 300 of the Finest Beers Known to Man is set to release this coming April, and he's given us a teaser with this Beer Flavor Wheel that will be featured in the book.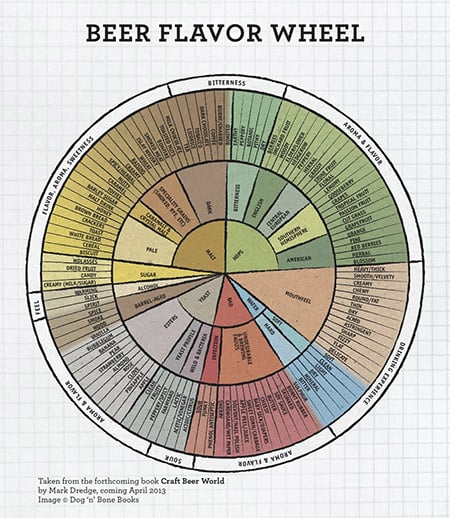 Mark's is not the first wheel of its kind. For hundreds of years, physicians used a urine wheel to determine illness based on the taste of pee. Pretty gross, I know. There's actually another beer flavor wheel as well, which was created in 1970 by a brewing chemist named Dr. Morten Meilgaard. Dredge says he respects and appreciates Meilgaard's wheel, but he wanted to create something more consumer-friendly.
"It's not for brewers and technical troubleshooters," he says, but for more general drinkers. "I wanted a wheel aimed at looking for the right word to describe how beer tastes or for figuring out what a flavor is and where it might have come from."
Dredge is planning on having the image printed onto posters, and he's hoping beer drinkers worldwide will use it to put words to what they're tasting.
I, for one, am looking forward to his book. What do you think of the wheel, though? Is it worthy of one of your walls?
Tags: