From beer festival to weddings, golf tournaments, and corporate parties, more and more people are looking for draft beer at their events. To accommodate the growing demand, you'll need a mobile beer dispensing solution that fits your needs and budget, and a classic party pump is not going to cut it. Party pumps disregard dispensing best practices for the sake of simplicity and are intended for small, house party-type functions; they are too inefficient to meet the demands of a high-volume and/or professional event. So where do you turn? There are a few different options to consider when it comes to mobile or temporary dispensing.
The Simplest Solution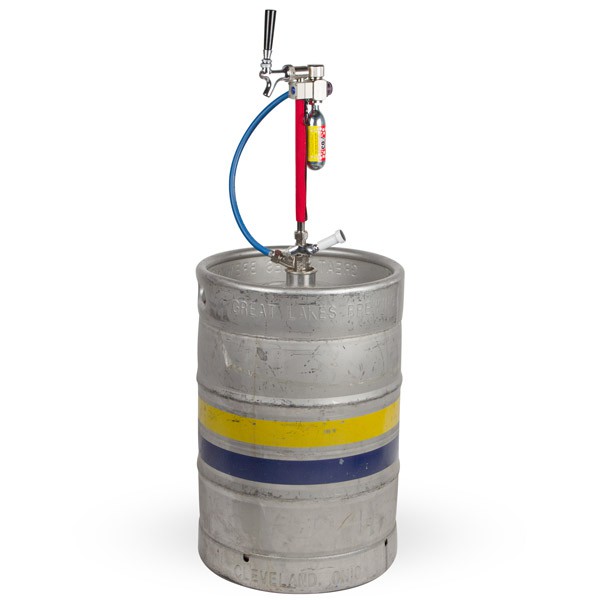 A step above the classic party pump is the Leland PicnicTap. This is not a great option for high-volume events where you are concerned about the efficiency and balance of your draft pouring. However, it is a big step up from the classic party pump that is typically given out with a keg rental.
The nice thing about the Leland PicnicTap is that it utilizes CO2 in the form of cartridges, which means, unlike party pumps, you aren't introducing oxygen into the keg. PicnicTaps also have a small regulator built in so that you can dial up and down to balance the pressure, which helps control foaming. And if you don't kick the keg, you can still use it with any draft system later. Keep in mind, it takes about one CO2 cartridge to dispense a ¼ keg and two cartridges to dispense a ½ barrel.
A Leland PicnicTap is a solution for any small outdoor event that you don't want to drag a jockey box to and where you'd rather not use a messy classic party pump. They are small and durable, which makes them super convenient to have around. PicnicTaps are also great to have around in case a last-minute mobile dispensing situation arises.
---
Jockey Boxes: The Tried and True Mobile System
A jockey box is a mobile draft beer system built into a standard, insulated ice cooler. It relies solely on ice for refrigeration, so it doesn't require any electrical power to operate.
A jockey box uses a CO2 tank to pressurize a keg. The keg sits in ice (typically in a tub of some kind) and is connected to the box via a coupler. The beer travels to the cooler, where it flows through either a cold plate or stainless steel coils. Coils are preferred as they provide more surface area to help the beer stay cold on its way to the glass. The beer is then dispensed through a standard faucet.
One- and two-tap faucet jockey boxes are most common (though you can get more taps if you need them). Many breweries have one for all the beer festivals they attend. Jockey boxes are incredibly reliable and easy to pack in a car and to set up at any location.
Once you set up your jockey box system, it will remain balanced for the entirety of the event. The cooler keeps the ice chilled, and the beer will come out at the perfect serving temperature for the duration.
Jockey Boxes are typically built from red or blue coolers, so at events with a more formal atmosphere, like weddings, they might stand out like a sore thumb. If you want to make it look more polished, you can build or buy a jockey box cover. Often made of wood, jockey box covers conceal the front-facing side of the jockey box from guests. You can also cover the box with burlap or cloth.
One other thing to keep in mind with jockey boxes is that they are not maintenance free. You will need to clean the system thoroughly after each use to prevent mold and bacteria growth. And you'll want to keep an eye on your washers and connections, as they may loosen up or wear down over time, which could cause spraying issues if not addressed.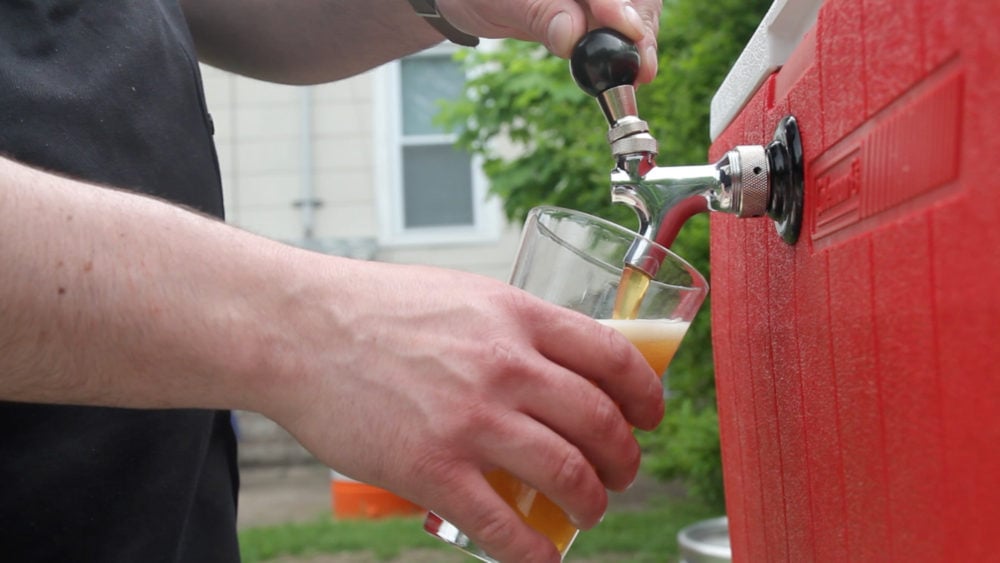 Things to Consider When Purchasing a Jockey Box
One of the decisions you will have to make when purchasing a jockey box is how you'll be using the box. There are a few different options for the coils, and size matters (in this case).
Stainless steel coils come in different sizes and shapes. Your first shape option, circle coils, comes in 50' and 120' lengths. You'll find this style in most premade jockey box setups. The 50' coil is good enough for smaller events where there isn't a need for constant pouring. That's because the beer will sit in the iced coil for a longer period of time between pours, allowing it to properly chill. If you are going to be at a beer festival or in a situation where you are continually pouring beer, you are going to want to invest in the longer, 120' coil option. Less time in the coils means your beer will need more surface area exposure to quickly come down to temperature.
When it comes to surface area and efficiency, nothing beats high-efficiency square jockey box coils. Available in 70' and 120' lengths, the square design makes for a better fit in most coolers, and this particular design also features legs that allow the chilled water to flow around the entire coil. Square coils are designed to get optimum performance from a jockey box system. They are the perfect fit for any well-trafficked function where you are pouring beer constantly.
No matter your need or budget, there is a mobile draft beer solution for you. From a simple PicnicTap, to time-tested jockey boxes, you can have a worry-free draft beer setup no matter where your events might take you.
Related:
Tags: