High-octane. Motor oil. Squid ink. These are the best ways for me to describe Mikkeller Black, in as few words as possible. That may not sound appealing to some, but for me, it's right up my alley.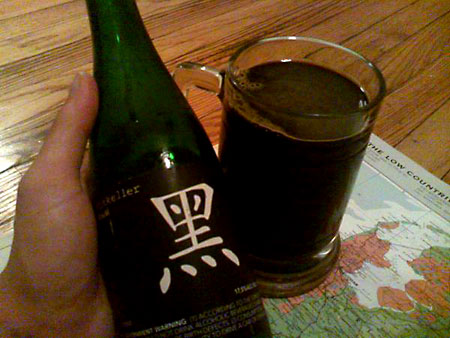 Mikkeller Black is brewed along the same vein as some of my other super-stout favorites, like DFH World Wide Stout and Goose Island Bourbon County Stout. Brewed at an exceptionally high 17.5% ABV (maybe not as high as The End of History, but still) Mikkeller Black is a perfect end-of-evening sipper. According to BeerAdvocate.com, this was a limited edition (brewed once) so if you can get your hands on it, I suggest you do.
As I mentioned above, Mikkeller Black pours pure onyx-black and thick, like motor oil, with no head whatsoever, except a thin ring of coffee-colored foam, touching the edges of my glass. Its aroma was of chocolate, coffee, alcohol and anise. I expected the first three, but the anise was a very nice surprise.
Mikkeller Black, at the start, featured the chocolate, coffee and anise I noticed in the aroma, but these flavors quickly gave way to the heat and desiccation of the alcohol, similar to that of straight bourbon whiskey in the back of my throat. If the taster isn't like me, one who enjoys bourbon neat (quite often) then this might not be the beer for you. The body was so heavy that "syrupy" might be the best way for me to describe it, with heat running throughout, and nearly non-present carbonation.
Most definitely a nightcap. One I'm glad I got to try and would again, if the situation presented itself. I suggest you do the same.
Tags: