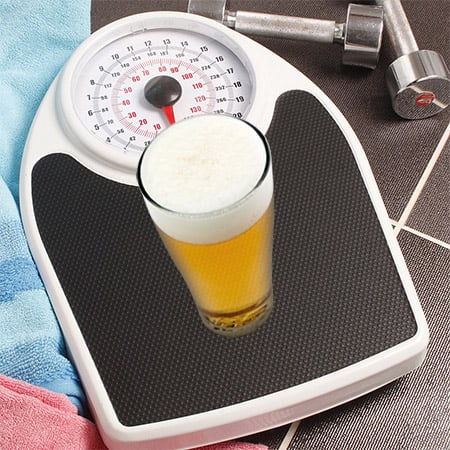 Losing weight is hard. Losing weight when your life revolves around beer can seem one step up from impossible.
It's not.
There's a Biggest Loser contest happening here at the KegWorks office; a battle of the shrinking bulge if you will. I'm the only woman participating and while my starting weight was already 50 pounds lower than the next lightest contestant, I've definitely got something to lose. More than anything I want to be healthier. I want to feel better. The looking better naked thing won't hurt either.
So here's the problem; I'd rather drink tap water than go to a bar and spend my money on Mic Ultra just to avoid a few calories. I can't imagine trying to calculate how many weight watcher points I'd be dinged for a 2-ounce sample pour of Great Divide's Yetti. I hate math and it would probably just make me sad.
So what's a girl (or guy) like me to do?
The first (and probably most important) thing I've done so far is to get moving. I'm attending group fitness classes (like cardio hip-hop and some more intense cross-fit kind of stuff) as well as small group/personal training through an incredible place called Dani-Fit. For the first time in my life, I'm actually enjoying working out.
Regrettably, the guidebook I received from my trainer Danielle includes the following in its Rules to Live By section:
Avoid beer and sweet wines. Go for dry red wine or light colored liquors.
I read that and thought, "uhh, no can do." Upon further consideration, it's more of a "I could but I won't because this is the one thing I'm not willing to give up entirely" kind of thing - but regardless, it's a challenge.
Thankfully, Danielle knows how much my life revolves around beer and she's helping me slightly modify the program - and by "slightly modify" I mean working a little bit harder at everything else.
I went to Denver for the Great American Beer Festival a couple of weeks back. The old me would have thought it was cruel and unusual punishment to be expected to spend the mornings of your brew-centric vacation doing a relatively insane amount of crunches, squats and jumping jacks. I wouldn't have wanted to lift more than my tasting glass - but this time I did.
Although I'd worked out and watched what I ate for most of the trip, I'd also consumed a fair amount of beer - and none of it was light. Upon my return, I was dreading weigh-ins. I was fully prepared to pay my $1 per pound penalty fee for weight gained but my working out actually worked! Much to my delight, after a week of traveling, three sessions at GABF, visiting every amazing beer bar we could find, touring breweries, and eating out for every meal, I'd actually lost weight. I should probably mention that it was not as much as I'd lost in other weeks - but hey, I was on vacation.
The other major change I've made is to limit my consumption to weekends. I've stopped drinking beer during the week, unless it's a very special occasion (like GABF).
Sure, there are almost always beer geek happenings going on Monday through Friday but I've learned that I can attend and not drink three or four full pours. I recently attended a Wednesday night beer event, had a sip of a couple of the samples and then ordered water to drink as we socialized. Crazy, right? The crazy thing is I felt much better on Thursday morning than I have in weeks past.
Last weekend I went to a Halloween party on Friday night and had three beers. Granted, it was three Three Philosophers - but still, I didn't think that was too bad for spending five hours at a booze fest. Saturday morning I had a training appointment and I didn't want to get out of bed let alone run and push myself - but I did. Tonight I'm going to happy hour and because I have that appointment in the morning, I think I'll only have one beer and then switch to water. Don't worry; I'll order something good and make it count.
As per advice from my trainer, I do give myself one cheat day a week. I've been choosing Sundays so I'm free to enjoy a couple of beers while I watch football. Last weekend my comforting post-Bills-loss-cheat-day-dinner consisted of salad, bread, prime dry-aged rib-eye Delmonico steak, half of a bottle of Rochefort 10 and a scoop of ice cream. It was memorable enough to get me through the protein shakes, apples, and salads that I've had since.
I'd love for this to be a success story post but we've got 10 weeks of the contest left and I'm just getting started. So far I'm in second place in the contest, I've lost 3.07% (I'll tell you exactly how many pounds I've lost once I've won) and I haven't even given up my beer.
So I guess my point here is that "everything in moderation" really is a great way to go. Take that, Budweiser Select 55.
Tags: