Hopefully you followed along with the whole Homebrew 101: Brewing Your First Batch blog series. In it, our Senior Print Designer and newly established homebrewer, Collin Corcoran, discussed his process while brewing his first-ever batch of all-grain homebrew. He touched on building a mash tun, making a yeast starter, mashing in, boiling, and, finally, bottling up the finished product.
Since he wrote up the parts of that blog series, Collin has gone on to continue growing his home brewing hobby. In fact, he even entered a local (Buffalo, NY) homebrew competition and had a very encouraging experience. As a grand finale to the Homebrew 101 series and a bit of inspiration for National Learn to Homebrew Day (Saturday, November 7th), we thought it would be a good idea to catch up with him and see how things went in the contest. Enjoy!
KegWorks: What are the details of the competition you entered?
Collin: The Dude's Homebrew Competition, at Resurgence Brewing Co., A unique fundraiser where homebrewers donate their beers and cancer-haters donate their money to taste said beers, with all proceeds benefiting The Leukemia & Lymphoma Society! Definitely a great event for a great cause.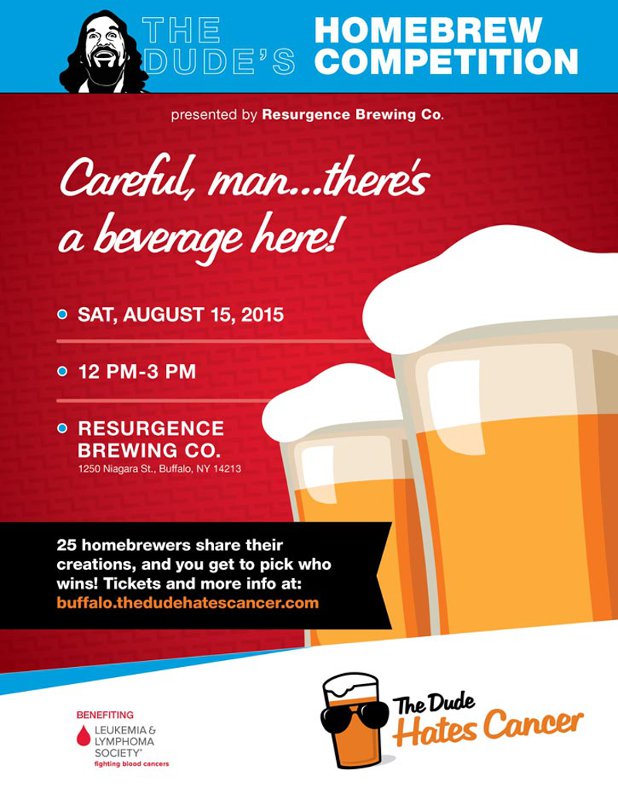 KegWorks: It was really fun to follow along with you as you went through the process of brewing your first batch. How many beers did you do end up brewing before entering the competition?
Collin: Apart from Genesis IPA (which turned out pretty good if I do say so myself), I brewed 3 other beers before entering the competition with my 5th-ever beer.
KegWorks: What beer did you bring? Why?
Collin: I brought a British Brown Ale called 88-MPH "Doc" Brown Ale mostly because the brown ale style has always been my favorite type of beer to drink. Also, a lot of homebrewers I know in the area are only doing IPA-style, heavily-hopped beers when they homebrew, since this style is so very popular. Really, I just wanted to make a solid beer with a good backbone of flavor from a relatively simple recipe. I thought that perhaps making just a simple "good" beer would help me stand out instead of making something over the top.
KegWorks: Even though you've done five beers now, you're still a pretty new brewer. What made you decide to enter the contest?
Collin: I lost my best friend to brain cancer. We were beer buddies, and now that I have this newfound hobby, I wanted to help support the research by donating time and some delicious beer.
KegWorks: What was your favorite part of the competition?
Collin: Meeting new people in the homebrew community! Since I am still very green, it was quite the experience seeing some of the great beer people are making in this area. Plus, the love and support everyone showed for this benefit was amazing!
KegWorks: Would you enter another competition?
Collin: Most certainly. It was a great deal of fun watching the smiles on peoples faces while pouring my beer. Everyone was surprised that I had only been brewing for less than six months, plus I was one of four beers chosen to have the judges sample my beer.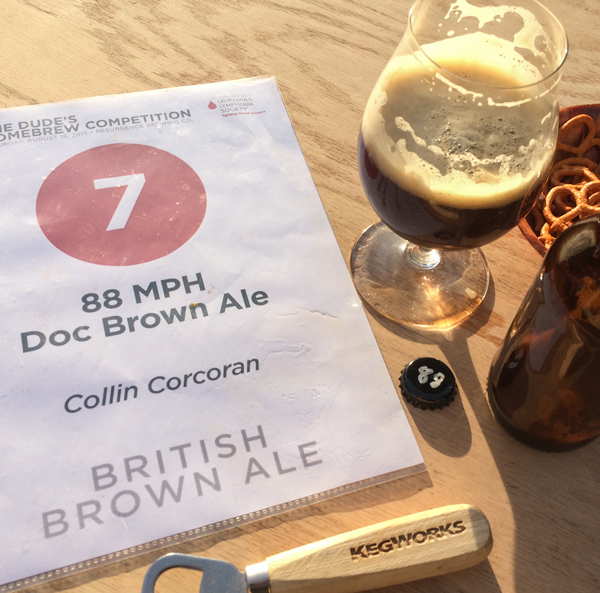 KegWorks: What other brews are you working on?
Collin: I'm currently working on a high-gravity cream ale that I plan on mixing in a bit of chai tea at bottling. I'm pretty excited about it!
KegWorks: That does sound really good. Alright. Last question: Why did you want to start brewing in the first place?
Collin: It has just always been something I've wanted to try. One of my good friends back home has been brewing for years, and he always makes such great batches. That was one major source of inspiration. Also, I've always been a huge culinary hobbyist. My wife and I love to cook at home, and I see huge similarities in brewing and cooking. Finally, working at KegWorks and having a lot of talented brewers around me all day, it was easy to ask advice, and bother them on lunch (sorry guys!) to help make my first batch successful. I'll tell you one thing for sure though...I'm really glad I started. This is an awesome hobby and I intend to just keep on brewing and keep on getting better!