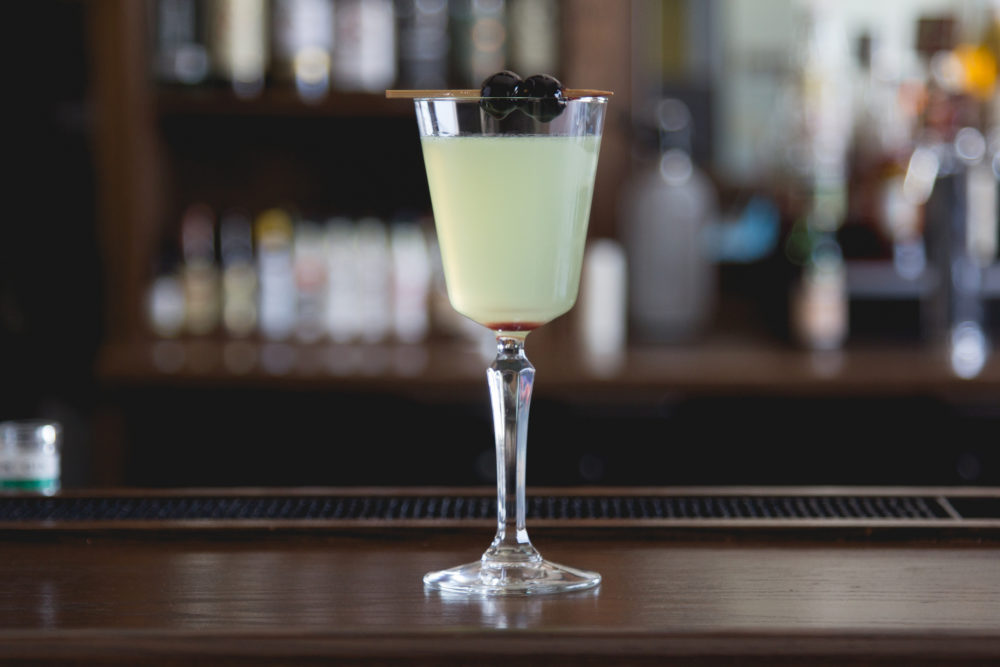 There are times I'm inclined to take risks with my cocktail order. I'll belly up to the bar, mull over the hyper-seasonal craft cocktail menu for an undue length of time, and happily subject my palate (and $10-15 of hard-earned cash) to the keep's latest fat-washed, tincture-atomized, smoked ice cube creation. Those are nights I want to be fully present and cerebral about my drinking. Those are the nights I want to weigh the merits and drawbacks of the bartender's artistic choices. They are nights I am willing to take a gamble on satisfaction in favor of experiencing something new.
Then there are nights I crave predictability. There are nights I don't want to drink something pedestrian, but I also don't care to think about trends or new flavor profiles. There are nights I want to play it safe and drink something I know love. Those nights, I turn to the Last Word.
Equal parts gin, lime juice, green Chartreuse, and maraschino liqueur, the Last Word is a drink that's in every craft cocktail slinger's lexicon. Its tough-to-screw-up ingredient ratio means--theoretically--it should only taste as different from bar to bar as the particular gin used to make it. If made correctly, the dramatic tension between its bracing, rich, and herbaceous elements make it difficult to put down. Each sip is intriguing but also familiar. It never lets me down.
These days, the Last Word is securely in the canon of cocktail classics, but it wasn't always that way. Records point to it having been invented at the Detroit Athletic Club sometime in or before 1916. Soon after that, Frank Fogarty, a well-known vaudeville actor, is said to have brought the recipe with him back to New York after trying it on a trip to the Motor City. For decades thereafter, the Last Word sat buried in the pages of Ted Saucier's 1951 bartending guide Bottoms Up! That is until the early 2000s, when bartender Murray Stenson came across it and put it on the menu at Seattle's Zig Zag Café. From there, the Last Word took off like gangbusters. It's likely more popular now than at any other point in its illustrious career.
It's new-found acclaim means you can order a Last Word at practically any bar that has freshly squeezed citrus and know you'll soon have a fantastic, timeless drink in front of you. It's no-brainer specs and easy-to-come-by ingredients also mean you can make one at home without any trouble.
---
Last Word
Yield: 1 cocktail
Ingredients
¾ ounce gin
¾ ounce fresh lime juice
¾ ounce Green Chartreuse
¾ Luxardo Maraschino
Cocktail cherries, for garnish
Tools/Drinkware
Martini glass, Nick & Nora glass, or coupe, chilled
Jigger
Cocktail shaker
Strainer
Directions
Add gin, lime, Chartreuse, and Luxardo to a cocktail shaker filled with ice.

Shake vigorously 15-30 seconds or until the outside of the shaker is well frosted.

Double strain into your stemmed glass of choice.

Garnish with a cherry or two. Serve immediately.