The kegerator is one of my very favorite inventions. Not only do these magnificent machines dispense cold, delicious draft beer at home, they make your friends jealous and your bar legit. All of that awesomeness does come with a price, though. Here are some guidelines to help you decide if buying a kegerator is a good investment for you.
First things first, you'll want to answer the following questions:
Are the kinds of beer that you drink available in kegs?
How many beers do you drink a week? A month? A year? (Include your friends and family's consumption too)
How long do you plan on using the kegerator?
Now for some basic statistics:
A half keg holds 15.5 gallons
15.5 gallons is equal to 1,984 ounces
1,984 ounces / 12 ounces (standard beer size) = 165 beers
That means a quarter keg will hold about half of that (7.75 gallons) or 82.5 beers.
When it comes to the math we're going to make some generalizations regarding costs. For the sake of our example, we'll say:
12 pack of light beer costs $9.99
A keg of light beer costs $70
A good ready-to-go kegerator will cost you around $700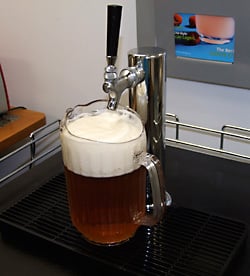 Average households will go through six 12 packs in a month (72 beers). Using these figures, an average consumer will save approximately $50 on beer, every 2 months. With those savings, it will take approximately 2.25 years to reap the benefits of buying a $700 kegerator. After those 2.25 years, you'll be saving money over the guy still buying 12-packs.
If you consume more beer per month, it will take even less time! If it's not worth the $700 for a complete system, you can always find or buy an old fridge and build your own with one of our kegerator conversion kits.