This product is no longer available. Be sure to check out our other great draft beer products.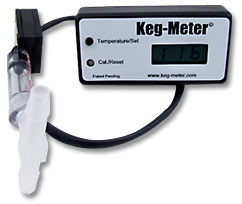 Take the work out of working the keg.
How much beer is left in my keg? It's a question kegerator owners have struggled with ever since some enterprising beer lover first took a power drill to his refrigerator door.
Keeping your kegerator continuously pouring can be frustrating. You want to get the most out of your keg, but you don't want to take a chance and have it kick in the middle of a party, during the big game or four hands into the Texas Hold'em tournament you're hosting. You don't want down time between kegs, but who has the space to keep a back up around? What is the average keg jockey to do?
There are commercial grade flow meters designed for bars and restaurants, which are very expensive. You can try the old bathroom scale method, at the cost of any true accuracy. Or maybe you think you can guess just by picking it up. Do yourself a favor, leave the guessing to your local weatherman.
This nifty gadget installs easily, mounts to the outside of your keg fridge and serves a multitude of functions. Aside from its primary duty - digitally displaying the number of servings left in your keg - it also measures, in real-time, the amount of beer that has been poured and tracks fridge temperature, ensuring your beer is stored and served at the ideal temperature.
Although this monitoring system was designed with Joe Everyman's converted refrigerator in mind, it can also be used in a more elaborate home draft system. Keep in mind it won't work with hand pumps. The keg it's monitoring must be pressurized. It can be set for full size kegs, pony kegs or 5-gallon kegs and comes with detailed installation instructions. Take the mystery out of when your keg will run dry.
Tags: